Since exploding onto the scene around the start of 2015, subscription video on demand services have taken Australians by storm. The term SVOD refers to subscription TV services such as Netflix, Stan and Presto, and the devices you need to watch them on. We assume you've heard of Netflix?
For the uninitiated, SVOD – which is generally offered as a monthly subscription service – sees users provided access to a library of movie and television content, which they can view at their discretion, streamed via an internet connection and accessible via a range of devices, from smartphones to tablets to televisions. Looked upon as the next evolution of home, or indeed travel, entertainment, streaming services represent the next-gen battleground for media players looking to stake their claim to market share. This is great news for people who just love binge-watching their favourite TV shows.
While SVOD has been around for a few years now, it was in 2015 that it really made its mark at a local level. It exploded in popularity so drastically that the future of free-to-air television – a long-held staple of the Australian entertainment diet – is now being questioned by people who are fed up with mindless programming and endless ads. It's estimated that 160 hours of TV ads were avoided by Netflix users in 2015. That's nearly one week of our time saved thanks to Netflix!
Now, consumers have the choice of mindless programming (along with other quality shows) they want to watch, instead of being stuck with what's on the boob tube. The media landscape is evolving at pace, and Australians unquestionably have a huge appetite for SVOD. The only problem (if you can really call it that) is that you'll need to subscribe to more than one service to truly enjoy all the delights of America's finest shows and movies, plus some British and local ones of course. If only there was a way to bundle all of these packages into one tidy subscription? Oh hang on, it's called Telstra TV.
What is Telstra TV?
Telstra TV is a bundled service from Australia's largest telco, and is a drastically simple way to watch all of your streaming subscriptions. It's provided free in Medium or Large Telstra broadband bundles, from $95 per month. In the bundle also includes broadband data, Foxtel and in some cases a home phone line rental.
The device is basically a rebranded device from 'Roku' – a popular streaming and media player in the US. Think of Telstra TV like the DVD player for the 21st century, and your streaming subscription is the DVDs. With Telstra TV you can easily watch shows and movies from:
Netflix
Stan
Telstra's own BigPond Movies
As well as the free services from the major free-to-air TV channels:
ABC iView
SBS On Demand
Nine Now
Yahoo 7+
TenPlay
Of course, there is also potential for future expansion of content into other areas, such as sports content, which is an increasingly lucrative market in the new media and one in which Telstra already has a significant presence. There is also the opportunity for YouTube integration, which will be a powerful coupling, and an easy way to watch YouTube videos in high quality. As far as this goes, however, a lot will depend on how the market consolidates in the coming years.
With Telstra TV you've got easy access to both your paid subscriptions and free services like the ones mentioned above. It's likely that Telstra TV will play a significant role in further introducing people to the popularity of SVOD. Time will tell how much and how quickly Telstra TV will change the landscape. It seems many consumers are still uncertain about the world of internet streaming, with Canstar Blue research showing that the majority of Australians are still not prepared to pay for TV content.
However, Telstra TV does have a range of perks, including:
It's a one-stop shop for all your SVOD needs
It's easy for the uninitiated into seeing what all the fuss is about with streaming
No wires or computers; it integrates perfectly with your TV like a set top box would
It's bundled with either a Medium or Large Telstra home internet pack so all your home communication needs are taken care of
You'll get a 3-month subscription to Stan and Netflix included
It's run on an existing, successful platform – Roku
What is Roku?
Roku is a market-leader in the US, and as such the co-branded Telstra TV represents a pretty solid bet for Telstra from a hardware perspective. The Roku 2, which retails in the US for US$69.99, comes with an infrared remote, features wireless and Ethernet connectivity, and is equipped with HDMI 1.4 and USB 2.0 ports and a microSD card slot. It features 720p and 1080p video outputs and Dolby Digital 7.1 audio. There is no in-built TV tuner, but as Telstra notes, this is in line with other comparative devices, such as Apple's Apple TV.
While not readily available in Australia, Roku has been popular in the US for a while as a powerful SVOD device. There are no computers or smartphones needed here; it uses a remote control like any normal TV would. This makes it easier for people to access streaming, which some may have thought too techy or complex.
What broadband do I need for Telstra TV?
A point of interest will be the sort of home broadband bundles Telstra will offer packaged with Telstra TV. Seeing as you can't exactly get Telstra TV outside of a Telstra broadband plan, you are relegated to choosing between either a Telstra Medium or Large broadband bundle, starting from $95 a month.
This is handy because streaming is a data-intensive exercise and consumers are increasingly keen on data-heavy plans, allowing for worry-free data use. Telstra has already stated that BigPond Movies and Presto will be unmetered for Telstra fixed broadband customers, with standard data charges to apply to other apps.
As mentioned earlier, Telstra TV is only available for Telstra broadband customers, and Telstra in this respect will be competing against other internet service providers. However, think of Telstra TV as a bonus extra. Consumers should also take into account the subscription costs of the various SVOD services. You may find that a separate broadband bundle, plus all your SVOD subscriptions and the device to stream it on costs a lot more than a Telstra bundle does per month.
The combination of Telstra TV and a home broadband plan bundle may seem like a convenient option. However, depending on your data requirements and content consumption habits, other options may be more suitable. For instance, iiNet currently offers unmetered Netflix on a range of plans, while Optus includes Fetch TV, which provides a variety of entertainment options, with a number of its plans that also come with unlimited data. Although if you go this route, you'll have to choose another SVOD device to binge watch all your favourite shows on.
How does Telstra TV compare to other SVODs?
From the hardware side of things, amid a range of media streamers currently available, Telstra will be coming up against a couple of global tech heavyweights in the form of Apple and Google, with their respective Apple TV and Google Chromecast offerings. Here's a quick rundown:
| | Telstra TV (Roku 2) | Google Chromecast 2 | Apple TV |
| --- | --- | --- | --- |
| Price From (RRP) | $95 a month | $59 | From $239 |
| App Integration | Netflix, Stan, Bigpond Movies, FTA TV streaming services | Can play anything from your computer or smartphone but works best with services like Netflix, as well as Youtube | Netflix, Stan, Presto, HBO Premium, Youtube, ABC iView etc as well as Apple Airplay and screen mirroring |
| Remote? | Yes | No, controllable through smartphone or computer app | Yes |
For maximum convenience, you can't go past Telstra TV. As far as work on your own behalf, Telstra TV requires the least footwork as it's in a bundle with broadband, home phone and Foxtel. If you figure, "Hey, I'm probably going to want those things anyway", then Telstra TV is a good bet.
However, the main drawback with Telstra TV is that you can't purchase it outside a bundle, unless you buy a Roku 2 from overseas. So if you consider that the bundle it comes with to be full of fluff, you're probably going to paying through the nose for just the Telstra TV portion of the bundle. $95 a month is nothing to sneeze at and you're locked into a 24-month contract, bringing the total cost to a minimum of $2280.
As for Chromecast, it's the cheapest of the lot, but requires the most work on your behalf. The beauty of Chromecast is that it basically turns your TV into a smart TV, and removes the necessity of having to use a HDMI cable to watch movies online – from your computer or smartphone – on the TV. It uses your WiFi connection to cast movies and shows to the TV. It can essentially work with any website with video, but you might find that Chromecast works best with apps like Netflix and YouTube. If you're trying to cast an unintegrated illegal stream, for example, you might find the quality sorely lacking.
Chromecast also doesn't come with a remote, so your smartphone or computer effectively acts as one. This means one of these devices is effectively a 'middleman'. This could be annoying for people who want to just sit down and fire up the telly, and not worry about technology for a while. However, for $59 it's the cheapest unit and is still a lot better than that old HDMI cable.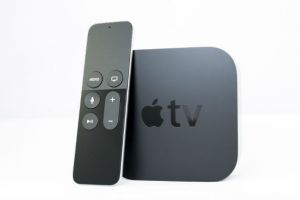 Apple TV seems to be the best of both worlds of Telstra TV and Chromecast. Its most handy feature is the remote supplied, which takes away the need for pesky smartphone or computer use. Not only do you have access to the likes of Netflix, you also have access to the huge iTunes library of music and movies, as well as Apple's comprehensive App Store, so you're no longer relegated to your smartphone for gaming. This is all accessed via the remote, or through Siri, which is integrated as well. For $239, it's four times as expensive as Chromecast, but for those looking for the ultimate home entertainment solution, you can't really go past Apple TV.
Want ultimate convenience? Choose Telstra TV, but you'll pay for it.
Want bang for buck SVOD? Choose Chromecast, but be prepared to compromise on a few key areas
Want an easy and intuitive home entertainment solution? Choose Apple TV, but you'll pay extra for the convenience of having a remote, and if you don't like Apple products then you're out of luck.
Google Chromecast and Apple TV are the two main opponents to Telstra TV, but the truth is they each cater towards different segments of the SVOD market.
Is Telstra TV worth the money?
Telstra TV comes as part of a larger home entertainment bundle, and can be had from $95 a month. If you're in the market for a new broadband plan, as well as Foxtel then Telstra's bundle might be a no-brainer. However, we imagine that paying $95 a month just to use Telstra TV to be a hugely expensive way to get effective SVOD – Apple TV and Google Chromecast each have strong streaming capabilities but for much cheaper.
Telstra brings significant clout to the battle for the living room, with the telco's well-established reach and extensive infrastructure more than capable of steering the SVOD market towards new demographics. However, there are also some notable alternatives for consumers to choose from, and Telstra, while possessing many competitive advantages, will not by any means have things all its own way. Quite simply, Telstra TV is a convenient, if expensive way, to stream movies and shows.
Telstra TV is probably not a game-changer, but it will likely more than do its part to accelerate the adoption of SVOD by the masses. Convenience will likely be a key selling point for the Telstra TV, with the consolidation of the three major SVOD providers into the one unit, packaged with broadband plans, likely to hold broad appeal for consumers. However, if you can't justify the extra cost for convenience, there are several other means of obtaining the best SVOD and home entertainment. All of these options are well worth looking into, but at the end of the day, you'll be paying for the convenience of Telstra TV.