The Ultimate Guide to Stan
Gone are the days of traditional TV watching — video streaming is now the go-to when you're looking for your entertainment. While Netflix is the biggest player globally for video streaming services, but in Australia, Stan has well and truly found its place in Aussie homes. Read on to find out all you need to know about Stan.
What is Stan?
With the growing demand of video streaming services, Stan, an Australian-based video-on-demand streaming service, was launched in 2015 — the same year that Netflix launched its Australian venture.
When Stan had first launched, it had exclusive premier rights to a handful of shows from the US, but was trailing behind in subscriber numbers compared to Netflix and Aussie-based Presto (Presto ceased operations from 2017). As of 2018, Stan hit the 1 million subscribers and that number continues to grow, making it a much stronger competitor to Netflix.
Stan has partnerships with many content producers both from Australia and overseas. It has also expanded into creating original content in more recent years with a string of original series available exclusively through the platform.
As the Australian market for video streaming services is much smaller than in other countries, especially compared to the US, Stan has managed to reach agreements with some of the world's biggest content producers, including Disney, Showtime and Sony. However, with the soon-to-be-launched Disney+ coming to Australia on 19 November, 2019, this content will soon be removed from the Stan library.
How much does Stan cost in Australia?
Stan follows a similar model to Netflix for its subscriptions, offering three paid subscriptions, which are billed monthly as no lock-in contracts, so you're free to cancel at any time. Your subscription will grant you unlimited access to the entire Stan content library, however your access to multi-screen viewing, downloading to devices and high-definition streaming depends on your subscription level.
These plans start at $10 per month for the basic plan, $14 for the Standard plan and $17 for the Premium plan. These different price points will determine the level of access you have, including how many screens you can watch Stan on at the same time, how many devices you can download video to and whether you'll have access to HD and 4K Ultra HD.
To give you an idea of which Stan account might be the right subscription option for you, the following table includes a comparison of Stan's three plans including price (in AUD) and features.
| | Basic Plan | Standard Plan | Premium Plan |
| --- | --- | --- | --- |
| Monthly price | $10 | $14 | $17 |
| HD available | | | |
| 4K Ultra HD available | | | |
| No. of screens you can watch on at the same time | 1 | 3 | 4 |
| Free trial | | | |
How to watch Stan
You can watch Stan across a range of different devices making it easy to binge-watch on the go or when you're at home. Watching on your computer — both Apple and Mac — is perhaps the more traditional way to watch Stan, with Google Chrome, Safari and Firefox among the browsers that supports access to Stan.
Want to watch on the go? There are apps for Stan available in the Apple App Store, the Google Play Store and the Microsoft Store, so you're able to download the app for free on iPhones, Android phones and other tablets or devices supporting iOS, Android and Windows 10.
When you're looking to watch in the comfort of your own home, there are several ways to stream Stan on your TV. If you have a Smart TV or Blu-ray Player that was manufactured in the past few years, chances are that your TV or Blu-ray player is compatible with the Stan app or it could already have the app installed. Smart TV brands that are compatible with the Stan app on newer models include:
If your TV isn't compatible with the Stan app, there are several other streaming devices you can use including Apple TV, Fetch TV, Telstra TV, Google Chromecast, Amazon Fire TV and Android TV devices including the Foxtel Now box. You can also download the Stan app to your Sony PlayStation 3 or PS4 and it's also available on the Microsoft Xbox One.
What to watch on Stan
Looking for a Friday-night movie or a new show to binge? Whether you like comedy, drama, documentaries or you're after something for the kids, Stan has a huge content library and there is something for everyone.
Stan offers only a small amount of original content with an emphasis on showcasing Australian talent, so if you want to check out a Stan original series, you'll have a choice of several shows including Bloom, Romper Stomper, Wolf Creek and the 'One Night Stan' stand up comedy specials featuring the likes of Judith Lucy and Tom Gleeson.
As well as its original content, Stan has reached agreements with some of the biggest global content producers, bringing a diverse range of shows and films to its platform. You'll find some familiar favourites (included in the 'Iconic Series' of shows) as well as newer shows, some of which are available exclusively through Stan, including:
The Rook
Veronica Mars
The Spanish Princess
Ru Paul's Drag Race
Kidding
Charmed
Breaking Bad
Little Britain
Friends
Frasier
Seinfeld
Fawlty Towers
The Office (UK & US versions)
Twin Peaks
Buffy the Vampire Slayer
The O.C.
Family Guy
Grey's Anatomy
Sons of Anarchy
Supernatural
The Flash
The Golden Girls
The West Wing
Lost
Will & Grace
If you want to sit back with a movie, you'll have plenty of options for the whole family with plenty of newer movies, like 12 Strong, The Big Sick, All the Money in the World and I, Tonya along with some older classics including Good Will Hunting, Pulp Fiction, Misery and the entire James Bond collection.
If you're still not sure where to get started, at Canstar Blue, we've put together a couple guides on some of the best shows and movies available on Stan, along with what new shows and movies are coming out each month on Stan and other streaming platforms.
Is a Stan subscription worth it?
While Australia doesn't have nearly as many streaming services as the US does, it's important to remember that a weekly subscription service can add up. Netflix is by far the most popular streaming platform in Australia, but Stan is close on its heels. One of the biggest draw cards for Netflix is its string of original content, which have become 'must see' shows (The Crown, You, Orange is the New Black, etc), but there is also a negative to that. The more traditional content producers are now creating their own streaming services, and pulling their content from Netflix.
This is where Stan has stepped in. For many of the US-based content producers, rather than launching their own streaming platforms in Australia, many of these companies are instead turning to the Netflix-competitors. This has lead to the likes of Disney and other companies choosing to partner with Stan. Because of that, Stan has had the streaming rights to a range of great content, including some of the most popular sitcoms such as Friends and Seinfeld.
Whether a Stan subscription is worth it comes down to whether Stan has enough shows and movies to entice you to sign up. The subscription prices are virtually the same as Netflix, however Stan's Standard plan does allow you to stream on three screens at once, compared to two screens on Netflix. Other than that, it really comes down to content.
Stan has a downloading feature (which is also available with Netflix), which means you can download select shows and movies onto your device, like your smartphone, to watch on the go. It's useful for when you're on a plane or if you don't want to use your mobile data to stream on your device when you're away from a WiFi network. The number of devices you can download to is determined by your subscription level.
Many Aussies find a video subscription service to be a necessity, opting for streaming rather than traditional TV viewing or even going out to the movies. It can also be cheaper to pay for a subscription service each month than paying for multiple tickets to the cinema each month, but it really comes down to what your entertainment priorities are.
Which Stan plan is right for me?
If you're keen to sign up to Stan, you'll need to consider a couple things to help you pick the right plan for your needs. If you'd rather not spend over $10, the Basic plan might be the right option for you, however you will be restricted to standard-definition (SD) streaming and only be able to view and download onto one device. This plan might be best suited to single-person households, couples or anyone who primarily watches Stan on the go, as SD is good quality on a smaller screen such as a phone or tablet.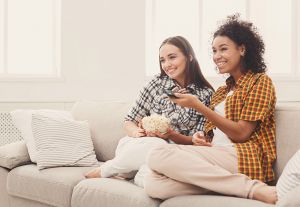 If you've got a few more people in your household or want access to high-definition (HD) quality, a Standard plan might be more your thing. It allows you to stream simultaneously on up to three screens and download onto a maximum of three devices. It's a good option for smaller households like couples or young families where you'll want multi-screen viewing.
As for the Premium plan, this is most likely the best option for larger families or families with teenagers. It gives you access to four-screen simultaneous viewing and downloading on up to five devices. It's also the only plan with access to 4K Ultra-HD quality, which is handy if you have a 4K TV and want to enjoy the best video quality available.
If you already have a budget in place to go towards streaming services, you can check which plan will suit your budget and let that guide you in your plan choice. Also, make sure that your plan really aligns with what your video streaming needs are — you don't want to be paying for features that you're most likely not going to need. The plus side is, you can always upgrade, downgrade or even cancel your plan as your needs change.
What are the best internet providers for Stan?
While Stan doesn't offer a report into the streaming speeds and performances of Aussie internet providers like Netflix does, you can use the Stan speed test to check your current internet connection and whether you might need to switch NBN plans for a faster connection.
Stan provides a handy guide explaining the minimum requirement of speeds you'll need for video streaming. The Stan help site recommends you'll need a minimum of:
2.0Mbps for good-quality picture
3.0Mbps for Standard Definition (SD)
4.5Mbps for High Definition (HD) 720p
7.5Mbps for High Definition (HD) 1080p
15.0Mbps for Ultra High Definition 4K (UHD 4K)
When it comes to choosing which NBN speed tier is right for you, NBN Co recommends the Standard Evening Speed (NBN 25) for SD video streaming, Standard Plus Evening Speed (NBN50) for HD video streaming and Premium Evening Speed (NBN 100) for 4K video streaming.
Keep in mind that there are many factors that can affect your NBN speed including time of day (especially during high-traffic times), the provider and plan you're on, along with the number of people in the home who are online at the same time.
With that in mind, let's take a look at some NBN plans on the NBN 50 speed tier. The following table shows a selection of plans from Canstar Blue's database, listed in order of cost from lowest to highest and all featuring unlimited data. Use our comparison tool to see all plans available on Canstar Blue's database. These are products with links to referral partners.