Haier Washing Machines Review
Haier produces a vast range of home appliances, from refrigerators and dishwashers to air conditioners and washing machines. It has both front and top-load washers, aiming to deliver high spin speeds across the full range. While you won't find a large amount of standout features with Haier, it nevertheless does pack in everything you would expect from a modern washing machine, at a reasonable price. Let's see exactly what the major Chinese appliance brand has to offer here in Australia by reviewing the specs and features of its washing machines in this review.
Haier Washing Machines
In Haier's washing machine product line you will find a number of capacity models to suit different sized homes. The two main sizes are:
7.5kg capacity & 1200 RPM (spin speed) – suited for 3-4 people
8.5kg capacity & 1400 RPM – suited for 4+ people
What's notable across the range is Haier's 'Direct Drive Motor technology', which is claimed to provide a machine with a longer life span, reduced noise, increased efficiency and a higher spin speed by replacing the belt or gearbox-driven system with a specifically designed motor. All front loader machines are also equipped with a long lasting anti-bacterial treated door seal and detergent dispenser.
Most Haier washing machines allow for quick wash cycles, so you can quickly clean lightly soiled items without needing to chuck them through a regular cycle – saving time and energy. Some of the 'Smart' features that Haier offers are a time remaining display, pause button, and a time delay system, which gives you the ability to delay when you want the wash program to end. Additionally there is a lockable door and a child lock for safety. Let's now get a specific overview of each model.
Haier Front Loaders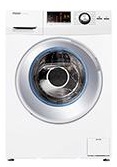 Haier HWM75-B12266 7.5kg Front Load Washing Machine – RRP: $699
This 1200 RPM washing machine features 16 different wash programs and is suited for 3-4 people. Along with the features mentioned above, it's equipped with a Memo option to set and save your most used wash settings.  Some of the programs available include hand wash, regular, cold wash and quick wash. It has a 4 star energy rating and a 4.5 star water rating (WELS), making it a fairly efficient appliance.
It features a multifunction electronic touch control with LED display, a stainless steel inner drum, and adjustable front feet. It's claimed to feature a wave drum specifically designed for a gentler and more efficient wash. According to the Standard Test, this model would use $80.62 of energy per year.
Haier HWM85-B14266 8.5kg Front Load Washing Machine – RPP: $799
A slightly larger washing machine with a spin speed of 1400 RPM, it's a true family washing machine. It has a fast wash option along with several other programs including jeans, hygiene, daily wash, shirts and baby care. It has the same 'Smart' features as well as the long lasting anti-bacterial treated door seal. With its 4 star energy rating, it uses around $92.80 of energy per year. The main difference between this model and the one above is its size and RPM spin power. Depending on how many people will be using it, you may like to choose accordingly.
Haier HWF75AW1 7.5kg Front Load Washing Machine – RRP: $649
This 7.5kg front loader is stackable, allowing you to save space if you are planning to chuck a dryer on top. It has 3.5 energy star rating, using approximately $96.86 of energy per year. It features a diamond dial control with LED display and has 16 inbuilt programs. There isn't much difference in terms of design to the washing machines above, with this model also being equipped with a stainless steel inner drum, adjustable temperature control and a speed up wash option. Similarly to the previous models, there is an 8.5kg capacity design that has a 4 star energy rating, if you are looking for a larger machine.

Haier HWX8040DW1 4kg & 8kg TwinTasker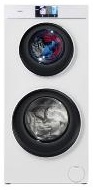 This washing machine is quite an innovative design, combing two drums into one appliance. Essentially, it's as if you have two washing machines to do two different loads of washing – at the same time. What a time saver!
The top drum has a 4kg capacity and the bottom 8kg, allowing it to suit 4+ people. It has a 3 and 4 star energy rating respectively, as well as a 4 and 4.5 water rating (WELS). Having a smaller 4kg tub allows for washing smaller loads without feeling guilty of using unnecessary energy. Its total height is 1280mm. It features a touch TFT LCD display, where the TFT (thin-film transistor) technology helps to improve the image quality. It's also Haier's fastest washing machine, with a spin speed of 1,500 RPM. It's equipped with 30 programs, a fast wash option and several wash temperatures ranging from 20° to 90°.
With the TwinTasker, you will also find all the same features that Haier washing machines offer including the Memo option and Delay End program. Several other design features include the Direct Drive Motor and stainless steel interior tubs. There is a 5-year parts and labour warranty for peace of mind. But all this will cost you – around $2,500.
Haier Top Loaders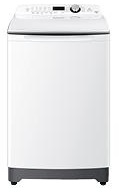 Along with an extensive range of front loaders, there are a number of models in the top loader category from Haier to consider. If you're asking yourself the question – what type is best? – have a read of the pros and cons of top and front loaders to help you decide. Although many manufactures don't make top loaders anymore, there is still merit to these bad boys, including adding clothes mid-wash.
The latest Haier top loader is the HWT10MW1 model. Its load capacity is 10kg and it has a 3 star energy rating, as well as a 3.5 star water rating (WELS). It features 12 wash programs, 750 RPM spin speed and adjustable spin times. For stability is has been designed with an 'Auto out of Balance' correction feature. There are 12 washing programs pre-set into this model to suit a number of fabric and stain types. It also features one-piece tempered glass lid for durability and a soft close lid to help avoid loud slamming.
These features can also be found on other top loader washing machines in the range, just with different size capacities. Some other designs, including the HWMP95TLU model, also boast pulsating wash action and the HWT70AW1 features a memory program.
Haier Twin Tub XPB60-287S
Another model that Haier produces is a 6kg Twin Tub, which uses one tub to wash your clothes and the other to dry them. It's a fairly simple model, equipped with two wash cycles, a lint filter and roller feet for movability. In terms of its efficiency, it sits at the lower end with a 2.5 star energy rating but has a 3 water rating (WELS). The video below helps to show the specific specs of this type of washing machine.
Is a Haier washing machine a smart move?
Haier has a large range of washing machines including both top and front loaders, so there will surely be one to suit your home and family size. Its washing machine capacity tends to sit between 6-8 kg, with one model – the TwinTasker – providing a total of 12kg with its split dual 4kg and 8kg tubs.
Prices for Haier's washing machines sit around the $600 to $800 mark, making it a reasonably affordable choice – along with gaining some good value for the features it provides. The Direct Drive Motor functionality is particularly innovative as it aims to replace the noisy and less efficient belt or gearbox-driven systems of old, making the laundry process a quieter task.
Its most advanced washing machine – the TwinTasker – does have a pretty hefty price tag of $2,500, but it provides two separate washers in one, ideal for saving time when doing your laundry. But only you can decide whether or not this convenience is worth paying for. It would naturally be wise to compare Haier to other brands before making a final decision. Its washers and their features are certainly impressive, but only if you're actually going to make use of them.
Front Load Washing Machine Reviews
What do customers think about Haier Washing Machines
In 2018, Australian customers gave Haier 3 out of 5 stars for Overall Customer Satisfaction for Washing Machines
Haier Washing Machines
Canstar Blue
Award:
Overall Satisfaction