Haier Washing Machines Review
Haier produces a vast range of home appliances, from refrigerators and dishwashers to air conditioners and washing machines. It has both front and top-load washers, aiming to deliver high spin speeds across the full range. While you won't find a large amount of standout features with Haier, it nevertheless does pack in everything you would expect from a modern washing machine, at a reasonable price. Let's see exactly what the major Chinese appliance brand has to offer here in Australia by reviewing the specs and features of its washing machines in this review.
Haier Washing Machines
Haier offers several washing machines in a variety of capacities to suit different sized homes. The front loaders and top loaders typically range between 6kg and 12kg.
What's notable across the range is Haier's 'Direct Drive Motor technology', which is claimed to provide a machine with a longer life span, reduced noise, increased efficiency and a higher spin speed by replacing the belt or gearbox-driven system with a specifically designed motor. All front loader machines are also equipped with a long lasting anti-bacterial treated door seal and detergent dispenser.
Most Haier washing machines allow for quick wash cycles, so you can quickly clean lightly soiled items without needing to chuck them through a regular cycle – saving time and energy. Some of the 'Smart' features that Haier offers are a time remaining display, pause button, and a time delay system, which gives you the ability to delay when you want the wash program to end. Additionally, there is a lockable door and a child lock for safety. We review a few Haier washing machines, their prices and features.
Haier Front Loaders
Haier offers several front loaders, varying between 7kg and 12kg in capacity. These generally come with a fairly reasonable water efficiency rating of 4.5 stars, with most models also providing a 4-star energy efficiency rating. Prices start from $659 for a 7.5kg unit and can reach up to $2,949 for a 4kg and 8kg Twin Tub.
The Direct Motion motor is one of the common features and is claimed to ensure quiet operation, reliability and efficiency. Many Haier washers also contain an Anti-Bacterial Treated (ABT) door seal to prevent the growth of bacteria caused by moisture on the door seal. The Steam Plus mode is additionally another function to help remove bacteria and allergens from linen and garments, offering a potentially useful solution for people with sensitive skin.
Here are several Haier front load washing machines currently available:
Haier 7.5kg Front Load Washer HWF75DW1: $769*
Haier 7.5kg Front Load Washer HWF75AW2: $659*
Haier 8kg Front Load Washer HWF85BW1: $829*
Haier 8.5kg Front Load Washer HWF85DW1: $939*
Haier 12kg Front Load Washer HWF12D1W1: $1,499*
Haier 7.5kg Front Load Washer HWF75DW1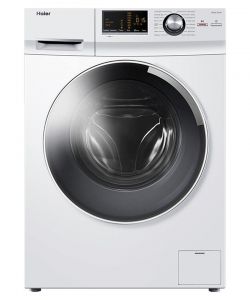 This 1200 RPM washing machine features 16 different wash programs and is suitable for a three or four-person household. It's equipped with a Memo option to set and save your most used wash settings, Direct Drive Motor Technology as well as a Wave Drum design for a supposedly gentler and more efficient wash. Other features include an Anti-Bacterial Treated (ABT) door seal & detergent dispenser, adjustable temperature control, delay start function and automatic door lock. Here are some specs:
Water efficiency rating (WELS): 4.5 stars
Energy efficiency rating: 4 stars
Maximum spin speed: 1,200 RPM
RRP: $769* 

Haier 12kg Front Load Washing Machine HWF12D1W1
This Haier front loader offers a generous 12kg capacity, making it a true family-size washing machine. Compared to the smaller unit, it offers slightly better energy efficiency and a more powerful maximum spin speed of 1,400 RPM. Some standout features include Steam Plus, which can be used when using specific wash programs, the Speed Up wash function and the extra rinse option. This front loader also contains electronic touch controls, variable spin speeds, a Door Cover for heat protection and an automatic out-of-balance correction safety function.
Water efficiency rating (WELS): 4.5 stars (consumes 101L/cycle)
Energy efficiency rating: 4.5 stars
Maximum spin speed: 1,400 RPM
RRP: $1,499*

Haier HWX8040DW1 4kg & 8kg TwinTasker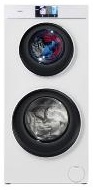 If you have two different loads of washing to get through, but don't have time (or patience) to wait, this twin tub from Haier might be worth considering. The top drum has a 4kg capacity, while the bottom can fit a larger 8kg load. The entire unit measures 1280mm high.
The Haier TwinTasker is the brand's fastest washing machine, providing a spin speed of 1,500 RPM. It's equipped with 30 programs, a fast wash option and several adjustable temperature options ranging from 20° to 90°. With the TwinTasker, you will also find all the same features that Haier washing machines offer including the Memo option and Delay End program. Several other design features include the Direct Drive Motor and stainless steel interior tubs. This washing machine comes with a 5-year parts and labour warranty.
Water efficiency rating (top drum): 4 stars
Water efficiency rating (top drum): 4.5 stars
Energy efficiency rating (top drum): 3 stars
Energy efficiency rating (bottom drum): 4 stars
Maximum spin speed: 1,500 RPM
RRP: $2,949

Haier Top Loaders
Along with an extensive range of front loaders, there are a number of models in the top loader category from Haier to consider. If you're asking yourself the question – what type is best? – have a read of the pros and cons of top and front loaders to help you decide. Although many manufactures don't make top loaders anymore, there is still merit to these bad boys, including adding clothes mid-wash. Here are some key specs:
Here are several Haier top load washing machines currently available:
Haier 6kg Top Loading Washer HWMSP60: $659*
Haier Top Loading Washer HWT70AW1 : $659*
Haier 8kg Top Loading Washer HWT80AW1: $769*
Haier 9kg Top Loading Washer HWT90MW2: $1,049*
Haier 10kg Top Loading Washer HWT10MW2: $1,149*
Haier 10kg Top Loading Washer HWT10MW2
One of the latest models to hit Haier's shelves is the HWT10MW2 mode. It offers a generous 10kg load capacity and features 12 wash programs. The unit also provides adjustable spin time, with the 750 RPM spin speed being one of the fastest for Haier's top loaders. Other unique features include Direct Drive Drive motor technology, a pillow drum for gentle treatment on clothes, and a soft close lid to prevent the machine from accidentally slamming on fingers. Here are some key specs:
Water efficiency rating: 3.5 stars
Energy efficiency rating: 3 stars
Maximum spin speed: 750 RPM
This particular model comes in two other capacities, including 8kg and 9kg.
RRP: $1,149*

Is a Haier washing machine a smart move?
Haier has a large range of washing machines including both top and front loaders, so there will surely be one to suit your home and family size. Its washing machine capacity tends to sit between 6-8 kg, with one model – the TwinTasker – providing a total of 12kg with its split dual 4kg and 8kg tubs.
Prices for Haier's washing machines sit around the $650 to $800 mark, making it a reasonably affordable choice – along with gaining some good value for the features it provides. The Direct Drive Motor functionality is said to be particularly innovative as it aims to replace the noisy and less efficient belt or gearbox-driven systems of old, making the laundry process a quieter task.
Its most advanced washing machine – the TwinTasker – does have a pretty hefty price tag nearly $3,000, but it provides two separate washers in one, ideal for saving time when doing your laundry. But only you can decide whether or not this convenience is worth paying for. It would naturally be wise to compare Haier to other brands before making a final decision. Its washers and their features are certainly impressive, but only if you're actually going to make use of them.
Front Load Washing Machine Reviews
*Prices taken from Appliances Online and respective retailers, correct as of July 2020.
About the author of this page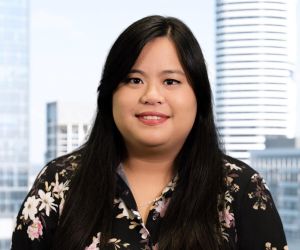 This report was written by Canstar Blue's home & lifestyle journalist, Tahnee-Jae Lopez-Vito. She's an expert on household appliances, grooming products and all things grocery and shopping. In addition to translating our expert research into consumer-friendly ratings reports, Tahnee spends her time helping consumers make better-informed purchase decisions on all manner of consumer goods and services, while highlighting the best deals and anything you need to be aware of.
What do customers think about Haier Washing Machines?
In 2018, Australian customers gave Haier 3 out of 5 stars for overall customer satisfaction for washing machines
Haier Washing Machines
Canstar Blue
Award:
Overall Satisfaction