Are Kmart ovens any good? Review

Fact Checked
As the world of kitchen appliances continues to grow, consumers are being given more options as to how they can cook, and this is especially true of Kmart's expanding line of affordable cooking technology. Kmart's range of ovens brings the heat with attractive price tags and offers customers in small spaces, and with small budgets an opportunity to whip it up in the kitchen with the best of them. Canstar Blue has reviewed Kmart's ovens, so you can see which of these bargain cookers deserves a spot in your kitchen.
Kmart ovens review
Kmart's range of ovens has all the basic features you'd expect from any oven, but for less than half the price you'd pay for an installed model. The entire range, although small, is priced under $100! It includes a 12L glass convection oven, a basic 28L electric convection oven, and a combi steam oven. Common features across the range include variable temperatures for roasting and baking, timers with alarms, multiple cooking methods, and easy-to-clean parts. If online reviews are anything to go by, Kmart's range of ovens offers easy cooking, a small footprint, and overall great value.
Kmart Steam Oven: $45 RRP*
Kmart 12L Convection Oven: $55 RRP*
Kmart 28L Oven: $69 RRP*
---
Read more: Are Anko appliances any good?
---
Kmart Combi Steam Oven − $45*
Kmart's smallest (and cheapest) oven features a handy combination of conduction and steam cooking technologies, using a top and bottom quartz heating element. It's closer to a toaster oven than a steam oven, but the combined oven and steam capabilities give you the best of both worlds, allowing you to crisp, toast, and warm-up food with the steam, as well as use the oven settings to achieve the crispy and golden results you're looking for. The oven comes with a toasting rack, baking pan, and crumb tray and features five pre-set steam cooking functions suitable for toasting and crisping things like toast, croissants, and bagels. In addition, it has three regular settings for oven cooking at 160°C, 200°C, and 250°C, and a pre-set 15-minute timer. Being on the smaller side, Kmart's combi steam oven is best suited to households of three people or less.
Kmart has designed the steam function to be simple to use. The oven comes with a detachable 5ml measuring cup for filling up the water tray and fuelling the steam component. Kmart warns users to avoid placing runny or highly sugary foods into the oven as they could become fire hazards. Oil, fat, butter, sucrose, and other cooking substances can be is flammable at extremely high temperatures.
Online reviews of this steamy Kmart pocket rocket are favourable with users commenting it fits well in a small kitchen while other customers enjoyed the "perfect crunch" the oven provided to dishes. Most customers said it performed as expected for such a small and cheap appliance.
Key features include:
5 steam cooking settings
3 oven cooking settings
15-minute timer
Dual quartz heating element
Power output: 1300W
Kmart 12L Convection Oven − $55*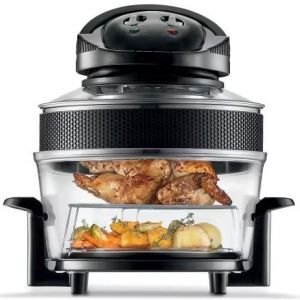 Appearing like a futuristic vision, the Kmart 12L convection oven is a triumph for those with little space or who like to cook in small quantities. Boasting a 12L capacity, the oven works just like a mini version of a conventional model and air fryer. It can roast, grill, bake, defrost and cook a wide variety of foods such as vegetables, roasts, and cakes − all by using hot air circulation. The oven features a low and high rack so you can cook multiple dishes at once, a control panel, an extension ring for bigger dishes, a thermostat ranging from 125°C-250°C, a 60-minute timer, a halogen heat ring, and glass cooking bowls. Baking times for cakes, biscuits, pastries, and bread range from 8-30 minutes, while cooking times for most meat cuts and roasts are 10-80 minutes. These times are faster than you would see with a conventional oven thanks to the smaller space and heat circulation, similar to that of an air fryer. As a nice bonus, the glass cookware allows you to see completely into the oven, so you can keep an eye on your meals. The lid of the oven contains a heating element and a fan, so the manufacturers have included a lid stand to avoid burns to surfaces while you're cooking, which is a pretty handy insight. Unlike a conventional oven, you cannot use silicone bakeware or oven bags in this Kmart 12L convection oven.
Online reviews praise the appliance for its ability to save time while cooking (especially for things like roasts), cost efficiency in reduced costs of cooking with gas, and how easy it is to clean. It should be noted that when cleaning the oven, you should never submerge the lid or any electrical parts in water but the glass dishes are dishwasher-safe.
Key features include:
Four cooking functions: roast, grill, bake and defrost
Able to cook entire roasts including cuts of meat with a bone
Temperature controls up to 250°C
12L capacity
60-minute timer
Power: 1300W
Kmart 28L Oven − $69*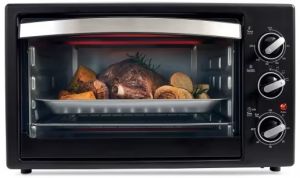 The largest Kmart 28L oven is something you might look at it if you're wanting a gutsy appliance that won't hog your kitchen bench – perfect for those moving out of home for the first time, people who want a second oven, and those who keep their roasting and baking to a minimum. It's a bit of a steal at $69, as it provides a lot of the same features as a conventional oven, including temperature controls up to 230°C, upper and lower heating elements, grill function, control panel, crumb tray, baking tray, thermostat and a 60-minute timer with an alarm. The glass door also lets you get a good peek at what's cooking, so you can achieve the perfect rise without disturbing your cakes and biscuits. The control panel includes a thermostat knob to select temperatures, a function knob to control which heating element is being used (top, bottom, or both), and a timer knob to set times. Conveniently, this oven will not turn on unless the timer has been set, and the timer can also be adjusted mid-cooking session, giving you complete control over the results of your dishes.
Some users have taken advantage of the portability of the oven, taking it to work, using it in their caravan, and even taking it away on holidays. Multiple customers online have commented on the convenient size of the oven, particularly for baking cakes and cooking pizzas, and its suitability for making meals for two people, which is harder to do with smaller ovens. It wasn't all a cakewalk, however, and one of the biggest complaints concerned the oven's temperature and thermostat settings, which users said were unreliable and left food either underdone or burnt. This can be a fairly major flaw that leaves your meat unsafe to eat, and baked goods unable to rise evenly. To remedy this, users have suggested covering food in foil before cooking.
Key features include:
Temperature controls up to 230°C
28L capacity
Grill function
Upper * lower interchangeable heating elements
60-minute timer
Power: 1500W
---
Looking for more Kmart product reviews?
---

Are Kmart ovens worth it?
Kmart's ovens will never replace a traditional oven in terms of power and settings. Most electric ovens have 2000W and 5000W of power output, while Kmart's range stops at 1500W. Ultimately this means the budget department store's ovens will use less energy, but the trade-off is that foods will take longer to cook. A convection oven, which uses airflow to effectively heat food (like the Kmart 12L convection oven), is a good compromise when looking at cheaper ovens.
In terms of settings, the Kmart ovens range is basic but effective. You'll find variable temperature settings, timers, multiple cooking methods, top, and bottom heating elements, and more. Kmart's ovens can also be a great alternative to air fryers, as their size allows them to heat up quickly and are ideal, portable, solutions for apartments with limited space, student accommodation, or as a replacement oven if yours breaks. What you may miss from higher-end brands is space, higher power outputs, multiple cooking technologies, and better heat retainment, which translates to long-term energy savings.
The bottom line is that if you're a cooking connoisseur who loves putting together intricate desserts and dishes, skip the Kmart oven aisle. However, if you have been tinkering with an idea of an air fryer, you don't need to cook a lot of food, or you just like to throw frozen treats into your oven – a Kmart oven can definitely tick all your boxes.
*Prices taken from Kmart, correct as of October 2022.
Meet our appliance experts
---
Megan Birot: Home & Lifestyle Editor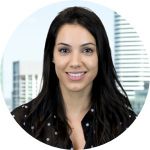 Megan is Canstar Blue's Home & Lifestyle Editor, leading the team that focuses on consumer products and services, ranging from supermarkets and groceries to home and personal appliances and retail stores. She interprets Canstar Blue's bespoke research on the thousands of brands that we compare, rate and review, to help shoppers make better purchasing decisions.
Samantha Howse: Consumer Research Specialist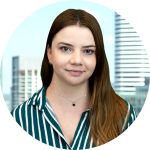 Samantha Howse is Canstar Blue's Consumer Research Specialist, coordinating the consumer research program behind our customer satisfaction awards across Canstar and Canstar Blue in Australia and New Zealand. Sam has earned a Bachelor of Business (Marketing) from Griffith University and, with seven years in market research and 2 years in marketing, she is experienced in survey design, implementation and analysis, coupled with an understanding of marketing principles and best practice.
How do Aussies rate Kmart's cooking appliances?
In 2022, Australian customers gave Kmart:
4 out of 5 stars for overall customer satisfaction for air fryers.
4 out of 5 stars for overall customer satisfaction for microwaves.