Review of Euromaid ovens
A good oven should last you more than a decade, but that doesn't mean you need to spend a fortune on one. Sure, you could splash out five figures on a top of the range oven with all the latest and greatest features, or you could spend a great deal less on a cheap oven that still performs the basic functions you need. If it's cheap and cheerful you want, then Euromaid ovens are certainly worth a look.
What ovens does Euromaid offer?
Looking at Euromaid's range, it offers a total of 14 different ovens which, for the purposes of this review, we'll break down into four separate categories:
60cm single ovens
75cm single ovens
90cm single ovens
Double wall ovens
The vast majority of these ovens (10) belong to the 60cm single oven category. We will have a look at the price and special features of each category of oven, to help you determine whether any of them are right for your needs and budget.
Euromaid 60cm ovens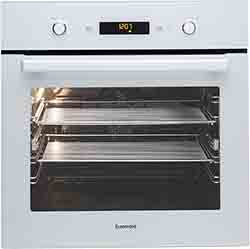 60cm single ovens are the most common household oven, and this is the standard size for single ovens. Naturally then, most of Euromaid's wall ovens are 60cm wide.
Euromaid divides its 60cm ovens into five different categories:
The 7 Function series
The Pyrolytic series
The XL touch series
The 5 Function series
The left and right hand opening series
The 7 Function series
These ovens are called 7 Function because they have just that – seven cooking functions. These functions are fan-forced, grill, conventional, fan assist, defrost, top-element with fan and bottom element with fan.
There are three different ovens in this series, with prices ranging from about $500 up to $800, which is incredibly cheap for an oven. You're unlikely to find many ovens for a lower price. They are designed to be easy to use, with rotatable-knob controls complimenting sleek white or black exterior designs. They also have an 81 litre capacity, meaning you can cook plenty of food at once without running out of space.
In terms of features, each 7-series Euromaid oven has a programmable clock, which allows you to control the cooking process. The two more expensive models – the EW7 and ES7 – also come with self-cleaning catalytic liners, which makes cleaning your oven much easier. Other notable features include double glazed doors and a cavity cooling fan.

The pyrolytic series
Pyrolytic ovens are self-cleaning ovens, superheating the inside of the appliance to turn unwanted grease and grime into ash. Euromaid has two of them – the EP12 and the EWP12 – and they have the following useful features:
14 different cooking functions as opposed to 7
An LED display plus electronic knob control
Cavity cooling
An A energy rating
Full pyrolytic and eco pyrolytic settings
Telescopic runners, which allow you to turn, baste or taste your food easily
In terms of price, these Euromaid ovens will set you back roughly $1,500. They aren't available everywhere, so check the Euromaid website for availability.
The XL touch series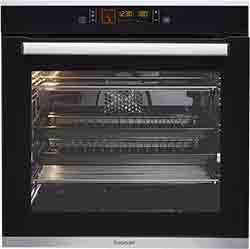 Euromaid also has two options available in its XL series – the ET12XL (pictured) and ETP12XL. These ovens are classified as the 'ultimate' in Euromaid's single oven range, and apparently make cooking for large crowds easy with a generous 94 litre capacity.
These ovens have 12 and 14 cooking functions respectively, which is about the same as the previous pyrolytic models, although we should note that the ETP12XL model also comes with a self-cleaning mode.
The price of these ovens is about $1,600 at most for the ETP model and just $900 for the other. You can decide if these prices are justified once you check out the features included:
The extra-large capacity
A programmable timer
Rapid heating function
A class energy rating
A child lock
Quadruple and triple-glazed removable glass doors
Telescopic runners
The 5 Function series
There is only one oven in the Euromaid 5 Function series, which is the BS51. Like the 7 Function series, this oven is so named because it has just five cooking functions – fan-forced, grill, fan grill, defrost and light cooking. In terms of its features, this oven is fairly light, but it still has a few that could make it a worthwhile purchase:
An 81 Litre capacity
Knob controls
Minute minder and auto-off function when finished cooking
Closed door grilling
Cavity cooling fan
An A class energy rating
No official price could be found for this model, which suggests it is only available at very select retailers.
The left and right hand opening series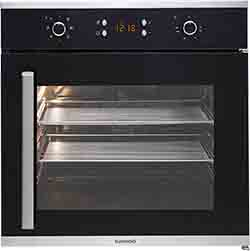 The final category in Euromaid's 60cm range of single ovens is the left and right side opening ovens. The RES7H model (pictured) has its door handle on the left and opens to the right, whereas the LES7H opens to the left instead. These are quite different from most ovens which open from the top downwards, and gives them an ease of access traditional ovens don't quite have.
These ovens, like the others, have an above average 81 litre capacity, which is useful for cooking large quantities of food. Each of them also has seven different cooking functions, giving you some flexibility with regards to your cooking. Other cool features include the usual:
A programmable clock
Catalytic side oven liners
5 shelf positions
An A energy rating
No official price could be found for these ovens either, so they may be quite tricky to find.
Are Euromaid 60cm ovens worth it?
Assuming you can find a store that stocks them, then yes, Euromaid's 60cm single ovens are absolutely worth it. The more common models like the Pyrolytic and 7 Function series are found in stores like Harvey Norman and Joyce Mayne, but the 5 Function and side opening models aren't as easy to locate.
They do seem to represent good value though, and Euromaid has a good range in terms of price. There are good budget options, such as the 7 Function series, which will cost about $600-800. Despite the low prices, these ovens still include a decent number of features, but the focus is really on ease of use.
Euromaid's more expensive ovens, meanwhile, are still quite cheap by market standards. It is common for pyrolytic ovens to cost well over $2,000, but Euromaid's cost about $1,500 give or take. In addition to being self-cleaning, these ovens also come with extra-large capacities and excellent energy efficiency, so there is good value to be found in them. The 12-14 cooking functions also give you plenty of options, so Euromaid's 60cm ovens are definitely worth buying.

Euromaid 75cm oven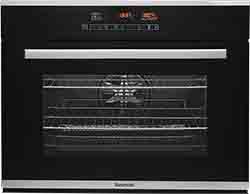 Euromaid has just one 75cm oven – the MS75 Multifunction oven. This multifunction oven has nine different cooking modes, including all the usual ones like grill and fan-forced, as well as defrost and light cooking. It has an above average capacity of 85 litres and is made of sleek black glass and stainless steel, giving it a high aesthetic value in any kitchen.
In terms of extra features, it has a few good ones:
Rapid heat up mode
LED display and touchpad control
Telescopic runners
Triple glazed removable glass door
Catalytic oven liners
3D cooking, which allows you to cook different dishes at the same tie with consistent results
According to Harvey Norman, this 75cm oven costs $1,500. So is this worth the money? There's no real reason why not. Ideal for roasts and pastries, this oven is actually less than the average price for 75cm wide ovens, which usually go for between $1,500 and $3,400.
Euromaid 90cm ovens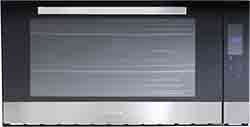 If you have enough space and feel that a standard 60 or 75cm oven isn't big enough, then you might want to consider upgrading to a 90cm wide oven. These ovens are ideal for people who do lots of entertaining or simply want to make a statement with their kitchen.
Like the 75m range, Euromaid has just one model here – the MF90 Multifunction Oven. This black stainless steel oven costs almost $1,700, so it's a bit pricier than most other Euromaid ovens. It has 10 cooking functions, including 3D cooking, which allows you to make separate dishes at once. Other notable features include:
Rapid heating mode
Touch controls
Fully programmable clock
Memory function so you can store your favourite recipes for easy access
Triple glazed door
Catalytic oven liners
Rotisserie, which makes grilling much easier
If these features aren't enough, consider the fact that it also has a huge 106 litre capacity, meaning you can cook a small elephant in there.
Generally the cheapest 90cm oven costs about $3,200. Now there are surely some cheaper ones out there, but Euromaid's 90cm oven is still over $1,000 cheaper than any of these. That is a huge difference in price, and given that it still has 10 cooking functions, 3D cooking capabilities and other very useful functions like rapid heating, this 90cm oven represents an absolute steal, and is definitely worth the money if you have the space for it.
Euromaid double wall ovens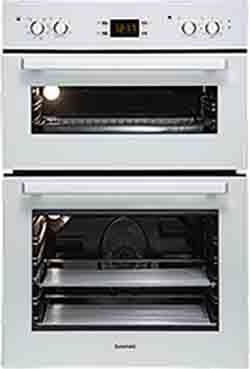 Double ovens have two separate compartments for simultaneous cooking. Like 90cm ovens, they are particularly useful for people who need to feed large numbers of people regularly. Euromaid has two ovens in this category – the DW2 (pictured) and the DS2.
Both of these ovens are '8 function x 4 function' ovens, which simply means that they have eight different cooking functions in the larger compartment and just four in the smaller one. This does not mean that they have 12 functions altogether though, as some of them are found in both. Each of these double ovens costs $1,500 at Harvey Norman.
The combined capacity of each of the compartments is over 120 litres, with the bottom oven accounting for 81 litres. They have extra features that are standard with Euromaid ovens:
A class energy rating
Catalytic side liners
Cavity cooling fan
LED display
---
Read more: Electric vs gas oven running costs
---
Are Euromaid double ovens worth it?
A double oven is only ever worth the money if you absolutely need to buy one. Unless you have a very large family, or cook for lots of people every weekend, it's hard to see the value in double ovens. However, at $1,500 each, Euromaid's double ovens are among the cheapest options in the double oven market, which is a hallmark of Euromaid's ovens in general.
What does bring them down however is the lack of additional features they have, as they do seem to be extremely basic in that regard. Some providers like Smeg have good examples of double ovens with more advanced features. So our recommendation is to consult other double oven providers before buying one from Euromaid, as there could be some out there with extra features that will make your life easier. But if that doesn't matter to you, then Euromaid are about as cheap as they come.
About the author of this page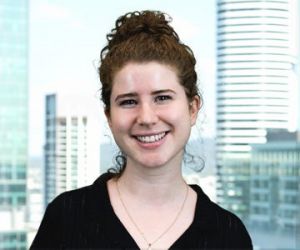 This report was written by Canstar Blue's Content Producer Luciana Lawe Davies. She writes about streaming, appliances and consumer products and services. Luciana enjoys bringing readers the best in what's on TV and at the shops, including the best deals and latest reviews.
What do customers think about Euromaid Ovens?
In 2019, Australian customers gave Euromaid 3 out of 5 stars for overall customer satisfaction for ovens.