With so many energy retailers launching account management apps, it's hard to know if these online tools are really worth downloading and engaging with. As the technology continues to advance, monitoring your electricity and gas expenses has never been easier, and it's allowing customers to tap into some seriously valuable insights that haven't always been available in the past.
One of Australia's most prominent energy retailers, AGL, provides a billing and usage app for residential customers, which claims to have a load of benefits, all accessible from the palm of your hand. In this review, we breakdown the functions, specs and usability of the AGL app to give you a better understanding of what you can expect.
What is the AGL app?
The AGL app is a way for customers to track their energy usage, keep on top of power bills and manage account information, all from the convenience of their smartphone or tablet. The app is available to all of AGL's residential customers who are looking to access multiple online tools – and is available on both Apple and Android operating systems.
It's worth pointing out early, however, that households with a smart meter installed at their property will get much more value out of the AGL app, owing to the fact that smart meters allow for almost instant energy reporting. Those who do not have a smart meter will only get the basics from the AGL app.
What does the AGL app do?
The AGL app has a variety of useful functions for customers, including:
An overview of electricity and gas usage per billing period
A breakdown of hourly and daily energy usage costs if you have a smart meter
An estimation of future bills if you have a smart meter
Access to account details and bill payments
Historical billing data
If you like the idea of having fingertip access to your energy account everywhere you go, the AGL app may make life a little easier. Since every household's electricity and gas needs are different, receiving personalised information can keep you more accountable on reducing those overall energy costs. And seeing a breakdown of the costs might help with the household budget, too!
AGL app for iPhone
The AGL app is available for iPhone users and is free to download via the App Store. According to the App Store, users must have iOS 10.0 or later to download the AGL app, and it's also compatible with the iPad and iPod touch devices. The size of the download is currently 65.2MB. Here's a screenshot of the AGL app on an iPhone: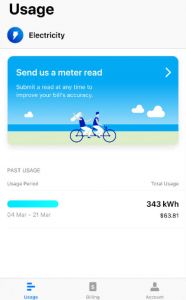 AGL app for Android
Android users can download the AGL app for free via Google Play. According to Google Play, the AGL app requires Android 5.0 or a later version to run, with the size of the download being 12MB. The screenshot below is what the app looks like on Android: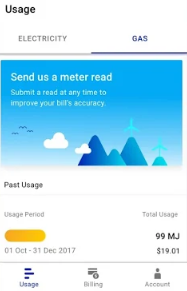 When was the AGL app last updated?
According to AGL, a new version of the app was released in October 2018. AGL claims that each update is designed to make the app "more intuitive", focusing on customer touchpoints such as:
Implementing minor visual improvements
Making account information more responsive
Keeping usage and billing data easy to understand
Directing bill payments in-app rather than via web browsers
What if the AGL app is not working?
If for any reason you cannot access certain features on the AGL app, or it isn't working at all, you can contact the AGL Mobile App Community page, via the energy company's website. From here, you can submit an online enquiry, read frequently asked questions, and provide honest feedback of your experience with the AGL app.
At the time of this article's publication, the app has not fared well in ratings and user reviews on the App Store or Google Play, scoring just 1.8 and 2.2 out of five respectively.
Can I pay my energy bill on the AGL app?
Energy bill payments can be made via the AGL app by using PayPal or credit card. Customers can view and download electricity and gas bills in the app, as well as check account balances and due dates of upcoming invoices. Depending on the mobile device, a 'billing' tab should be found at the bottom of the app.
The image below is an example of how the billing functionality is displayed on an Android mobile phone.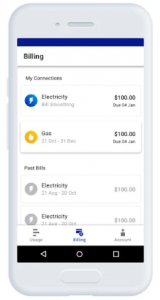 Can the AGL app monitor electricity usage if I have solar?
Any solar usage information via the AGL app refers only to power that has been imported from the electricity grid, not solar generation or energy fed back to the grid. If you're after specific information regarding your solar system, it's best to log into the AGL MyAccount, which may provide better insights on performance and usage data.
Do you need a smart meter to use the AGL app?
Although you can use the AGL Energy App without a smart meter, you will be missing out on some of the app's core features, including bill projections and current electricity and gas usage data. If you have upgraded to a digital meter recently, your energy usage information should be available through the app within 10 to 15 days.
Access to usage data via the mobile app is made available every two to three days for customers with smart meters. Like to know how to get a smart meter? Read our helpful guide here.
Is it worth downloading the AGL app?
If you're an AGL residential customer and you are keen to have access to a variety of resources in the palm of your hand, then downloading the app could prove worthwhile. However, if you don't have a smart meter or you're simply comfortable with browsing your account and usage details online via the web portal, then the app may not be worth your time.
Are AGL energy plans right for me?
AGL is one of Australia's largest energy retailers, offering customers a range of plans that may include bill credits, sign-up incentives, GreenPower options and generous solar feed-in tariffs. The majority of AGL market offers span over a 12 or 24-month benefit period, meaning that some of the features of each plan may expire after this period.
Want an in-depth overview of what AGL can offer you? Read Canstar Blue's review of AGL's energy plans here.
Finding the right energy product for your circumstances can be overwhelming, but it doesn't have to be. By using our free comparison tool, you can compare from a variety of energy plans, from a range of electricity providers. From here you can filter your search and review each plan's features, including base rates, discounts, and much more.