How to cook rice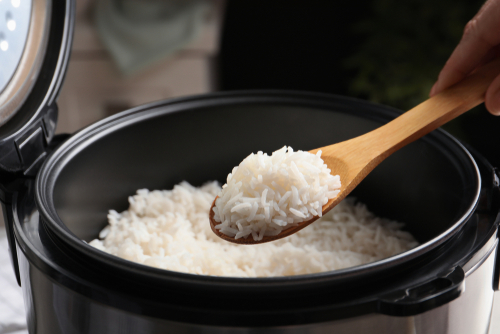 There are different ways to cook rice, with each method varying depending on the type of rice and equipment you're using. You can generally steam dry rice using a rice cooker, saucepan, and some multi-cookers. Here are the basic steps:
Fill the bowl (or the inner pot of your rice cooker or multi-cooker) with your cup(s) of rice.
Add water into the bowl, until the rice is submerged.
Stir the rice around the bowl to remove starch and any impurities.
Slowly tilt the bowl or inner pot to drain the water, before re-filling the bowl and rinsing the rice for a second time (or until the cloudy, opaque water in the bowl turns clear).
Once you've cleaned the rice and drained the water, you can now add the water needed to cook the rice. White rice typically requires 1½ cups of water for every cup of rice. Alternatively, you can use the 'finger hack' where you place your middle finger on the surface of the rice and pour water into the pot until it reaches the first joint (the line on your finger).
Most rice cookers and some multi-cookers usually come with pre-set functions that allow you to 'press and forget', although some appliances offer different buttons for brown rice and white rice (brown rice typically takes longer to cook).
To cook rice in a saucepan, simply bring the water to a boil, then reduce the heat and let it simmer for about 15 minutes until your rice is moist.
Is rice good for your health?
Rice can form part of a healthy diet since it belongs to one of the five food groups Aussies are recommended to consume daily (grains). According to Eat For Health, a single serve of rice is equal to ½ cup (75-120g).
Basmati rice and long-grain rice have a medium GI (glycemic index), similar to wholemeal bread, honey and orange juice. Meanwhile, brown and jasmine rice rank higher on the GI scale, sitting alongside potatoes, white bread, and other short-grain rice.
Picture credit: Peangdao/shutterstock.com