Fact Checked
Uncle Tobys rated as cereal-sly the best breakfast oats for 2nd year
Is your diet 'oat' of control? Why not add oatmeal to your morning routine? It's said to be gluten-free and packed with all the good stuff (i.e. vitamins, minerals, fibre and antioxidants) to make a healthy breakfast. Whether you like it hot with milk, or with a dash of yoghurt, there are plenty of breakfast oatmeal options available on the market which means finding oats that float your boat shouldn't be too hard.
To help you avoid crying over spilled milk, we surveyed more than 300 Australian consumers on the breakfast oats they bought and ate in the last three months. Brands were rated on taste, texture & consistency, range variety, packaging, value for money and overall satisfaction. Those that received the minimum sample size (30 responses) are featured in our report.
So, which oats are making Aussies' mornings a bit better? Uncle Tobys is still considered the breakfast of champions, rating best for overall satisfaction for the second year in a row. It also scored five-star reviews in most other categories.
Best Breakfast Oats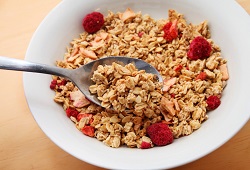 Here are the best breakfast oat brands in Australia, as rated by consumers in Canstar Blue's latest review:
Uncle Tobys
Woolworths
Coles
Uncle Tobys breakfast oats continue to rank number one for overall satisfaction, while supermarket brands Woolworths and Coles followed closely behind on a respectable four stars. It's worth mentioning though, that Woolies got the edge over this year's winner and rated best for value for money, earning five stars.
Breakfast Oatmeal Brands
Uncle Tobys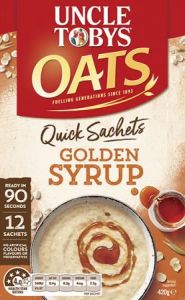 If you would rather start your day with a hot breakfast, Uncle Tobys offers a variety of sachets to choose from. Its Quick Oats Sachets range is designed for busy mornings, just add a dash of milk or water to your bowl, put it in the microwave for 90 secs and you'll have yourself a wholesome breakfast in no time! You can alternatively add it to smoothies. Uncle Tobys also offers larger portion sizes with Quick Sachets Big Bowl. Some products include:
Uncle Tobys Quick Sachets Big Bowl Banana and Honey
Uncle Tobys Quick Sachets Big Bowl Original
Uncle Tobys Quick Sachets Multigrain Variety Pack
Uncle Tobys Quick Sachets Creamy Vanilla Variety Pack
Uncle Tobys Quick Sachets Golden Syrup
A box of Uncle Tobys oats usually costs $4.80 or $5 for the Big Bowl variety.
Uncle Tobys rated best with five-star reviews across most of the board, including taste, texture & consistency, variety, packaging and overall satisfaction. It got four stars for value for money.
Woolworths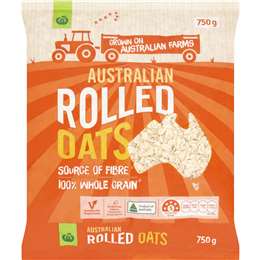 The Woolworths Essentials selection of rolled and quick oats is said to be a blend of 100% wholegrains, and supposedly makes up 62% of your wholegrain daily target intake with a single serve. Some breakfast oats available from Woolies include:
Woolworths Natural Bran
Woolworths Oat Bran
A pack of wholesome goodness from the range could cost you as little as $1.40 from Woolworths stores.
Woolworths' homebrand oats rated best for value for money, earning five stars, before landing on four stars for overall satisfaction and everywhere else.
Coles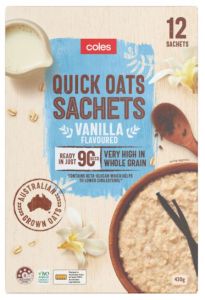 Coles' affordable private label range offers both rolled and quick oats made with locally-sourced grains. The supermarket also sells several instant oats and protein oats as part of its Organic and Wellness Road lines. Some products include:
Coles Rolled Oats
Coles Quick Oats
Coles Quick Oats Sachets Plain
Coles Quick Oats Creamy Honey Porridge
Coles Vanilla Flavoured Quick Oats Sachets
Prices for Coles oats start from just $1.65 for a large bag of rolled oats (900g).
Coles received four stars in the majority of categories, including taste, variety, packaging, value for money and overall satisfaction. The only exception was texture & consistency, where it got three stars.
Which breakfast oats should I buy?
Let's cover the basics first. Oats come in different forms – steel cut, steamed, instant, rolled and whole. All types are seen as rich in soluble fibres, vitamins and minerals. That's why oatmeal is considered a healthy breakfast option, compared to other cereals which can be high in added sugars and additives.
'Oat-timately' your choice of breakfast oats should come down to personal preference. The nutritional value of each type of oat varies only slightly based on cook time and what liquid you add to your bowl of oatmeal. As a rule of thumb, plain or 'original' oats are healthier than their flavoured counterparts.
Of course, you also want to make sure you're getting the best bang for your buck for your breakfast cereal. You can do that by looking at the unit pricing of each item. It's a labelling system that compares the selling price of a product against a standard unit of measurement (i.e. per litre, kilogram etc.). This allows consumers to compare product prices more accurately, regardless of packaging size or brand.
About the author of this page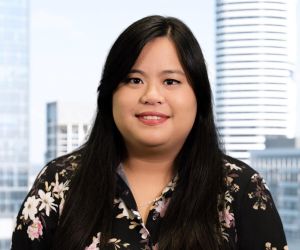 This report was written by Canstar Blue's home & lifestyle journalist, Tahnee-Jae Lopez-Vito. She's an expert on household appliances, grooming products and all things grocery and shopping. In addition to translating our expert research into consumer-friendly ratings reports, Tahnee spends her time helping consumers make better-informed purchase decisions on all manner of consumer goods and services, while highlighting the best deals and anything you need to be aware of.
Online Grocery Shopping Reviews
Picture credits: Ekaterina Kondratova/ Shutterstock.com.