Fact Checked
Aussies melt over ALDI's Choceur in chocolate block ratings
An apple a day might keep the doctor away, but munching a few squares from a chocolate block can also cure a 3pm slump and help you take a 'Time Out' from a 'Rocky Road' of a day. But which slab of cocoa goodness would be best at 'Boost-ing' our spirits?
To find out, we asked more than 1,000 Aussie consumers to weigh in on the debate by answering a few questions on the chocolate block(s) they have bought and eaten within the last three months. Respondents rated brands on taste, range variety, packaging design, value for money and overall satisfaction. Those that received at least 30 responses are featured in our ratings.
In our first-ever chocolate blocks review, ALDI's Choceur range turned out to be the real special buy, rating best for overall satisfaction. It also achieved five-star reviews in four out of five research categories!
Best Chocolate Blocks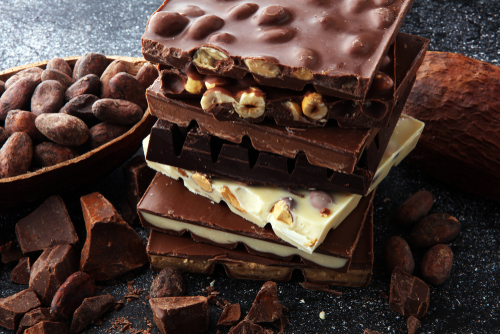 Here are the best brands of chocolate blocks in Australia, as rated by consumers in Canstar Blue's 2021 review:
Choceur (ALDI)
Lindt Excellence
Cadbury
Darrell Lea
Nestlé
Coles
German supermarket ALDI has attracted a cult following for its affordable alternatives, with its Choceur line being no exception. The private label was rated best for overall satisfaction – the only brand featured to receive a five-star review for the category. Other popular favourites, including Lindt Excellence, Cadbury, and Darrell Lea got four stars overall, while Nestlé and Coles settled on three stars for overall satisfaction.
It's worth mentioning that Cadbury and Nestlé were the only two brands able to beat this year's champion, at least in terms of range variety, each scoring full marks. Nestlé also bagged five stars for packaging design, while Lindt Excellence and Darrell Lea achieved the same for taste.
Chocolate Blocks Compared
Choceur (ALDI)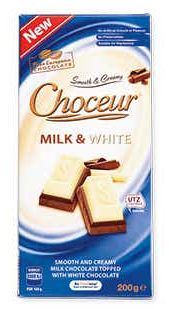 Discount supermarket ALDI has a chunky range of chocolate treats to choose from, with flavours such as Milk & White Chocolate, Salted Pretzel, Coffee & Cream, Fruit & Nut, Dark Almond and Caramel-Filled Milk Chocolate. The Choceur line also offers a mini chocolate block range in Hazelnut, White Chocolate, and Marzipan and White Crisp. Prices for ALDI Choceur chocolate start from a wallet-friendly $2.99.
ALDI's Choceur range picked up five stars for the majority of research categories, including taste, value for money, packaging design and overall satisfaction. The only exception was variety, where it got four stars.
Lindt Excellence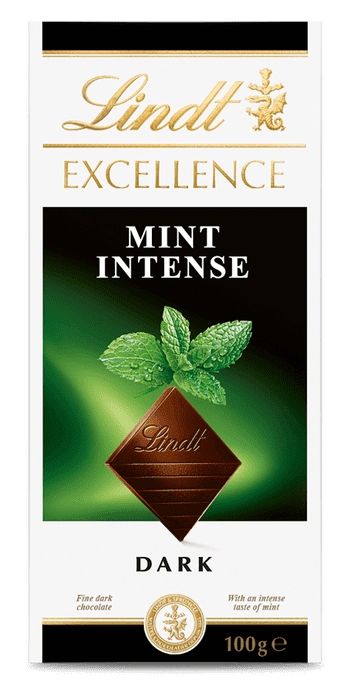 Aside from chocolate boxes, Lindt Excellence also dips into the chocolate blocks space with a variety of flavours such as Sea Salt Caramel, Cranberry Almond & Hazelnut, Dark Hazelnut and Chocolate Raspberry Intense. The range additionally covers milk chocolate and dark chocolate blocks with 60%, 70%, 85%, 90% or 95% cocoa. A block of Lindt Excellence can cost you $5 at checkout.
Lindt Excellence earned a sweet five-star review for taste, before landing on a smooth four stars for overall satisfaction and everywhere else.
Cadbury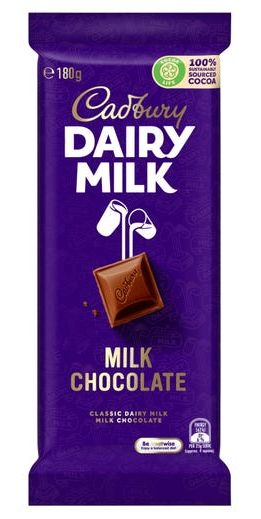 If there's a brand that's synonymous with treating yourself, it's Cadbury. You can find a large mixed bag of old-school favourites as well as new goodies like Caramilk, Dairy Milk Neapolitan, Dairy Milk Caramello, Dairy Milk Fruit and Nut, Marvellous Creations, Dream White and Old Gold Roast Almond. Prices for Cadbury chocolate blocks typically hover around $5 at most supermarkets.
Cadbury kept Aussies happy when it came to variety, scoring five stars. It received four stars for overall satisfaction and in the remaining research categories, such as taste, packaging design and overall satisfaction.
Darrell Lea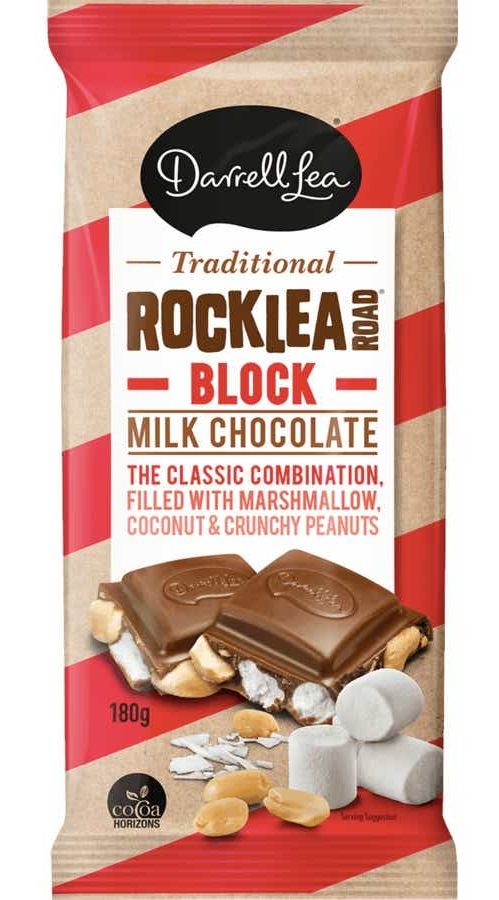 Darrell Lea offers an explosion of flavours with its chocolate block range, inspired by flavours like Rocky Road, Ice Cream Sundae, Fairy Bread and PB&J (peanut butter & jelly). Its famous Raspberry Liquorice and Dark Liquorice even got turned into slabs of cocoa goodness. Some options available include Caramel Craving, Halftime Orange, Fairy Block, Peppermint Party Time and Raspberry Liquorice. Darrell Lea chocolate blocks will usually cost $5 at the checkout.
Darrell Lea proved to be one of the tastiest options in the confectionary aisle, receiving a five-star review for taste. It got four stars for all other factors, including value for money, packaging design and overall satisfaction.
Nestlé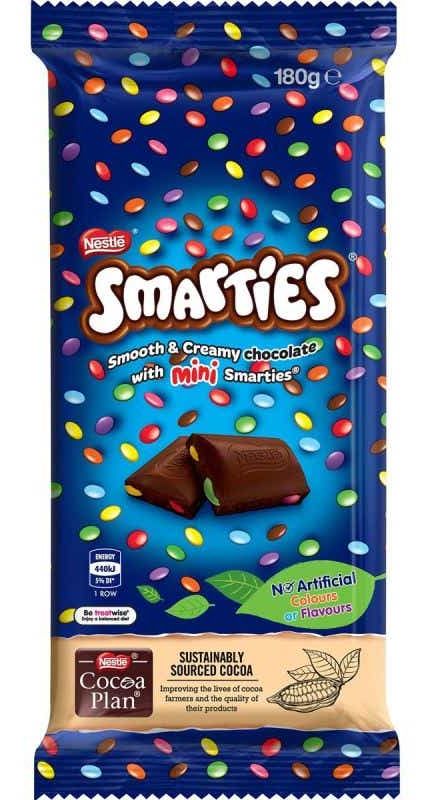 Nestlé's chocolate block range is a collection of the brand's own 'greatest hits', featuring fan favourites like Smarties, Milky Bar, Kit Kat, Aero, Rolo, Crunch and Golden Rough. These can set you back $5 in most supermarkets.
Nestlé rolled in with five-star reviews for packaging design and variety, plus four stars for taste and value for money. It ended on three stars for overall satisfaction.
Coles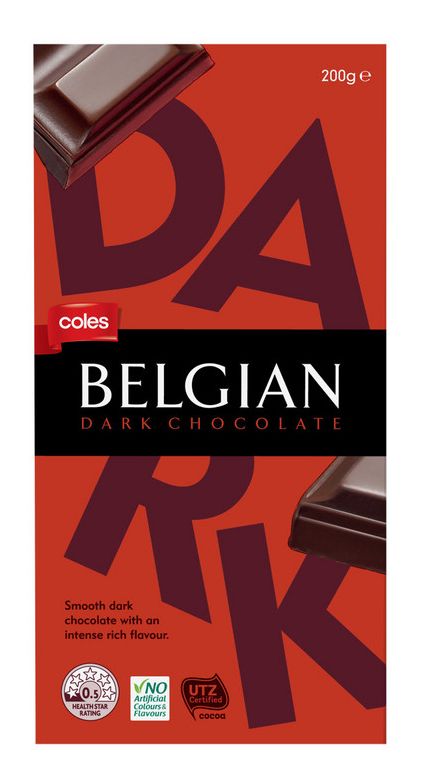 Major supermarket chain Coles offers several types of Belgian chocolate, including dark, milk and white chocolate. If you prefer a more intense taste, you can also find blocks with 70% or 85% cocoa. These usually cost just $2.30, or $2.50 for Coles' premium dark chocolate with either 70% or 85% cocoa.
Coles rounded up the scores with three stars across the board, including for taste, variety, packaging design, value for money and overall satisfaction.
Aussies' favourite chocolate type revealed
Our survey found that the majority of consumers (56%) prefer to keep it simple with a humble block of milk chocolate, while a third (34%) said dark chocolate was their jam. Meanwhile, just 9% of people ranked white chocolate as their favourite.
Our research also revealed that chocolate is a go-to snack for nearly a third of Aussies (28%), while 23% buy chocolate as a gift for friends and family, with a third (33%) picking up a block during their regular grocery shop. While majority of consumers have stuffed their trolleys with a variety of different brands (59%), there are a committed few who stick to the same brand (32%) or opt for whichever is the cheapest or on special (17%).
You may also be interested in:
About the author of this page
This report was written by Canstar Blue's home & lifestyle journalist, Tahnee-Jae Lopez-Vito. She's an expert on household appliances, grooming products and all things grocery and shopping. In addition to translating our expert research into consumer-friendly ratings reports, Tahnee spends her time helping consumers make better-informed purchase decisions on all manner of consumer goods and services, while highlighting the best deals and anything you need to be aware of.
Picture credit: Beats1/ Shutterstock.com.