Fact Checked
Bramwells rated the bees' knees for second time
Winnie the Pooh isn't the only one busy dipping his paws into the honeypot. Our latest survey results found that 74% of Aussies who buy honey add it to their breakfast, while one in three (33%) add a jar or bottle of the sweet stuff to their shopping trolley regularly. What's more, nearly one in ten respondents admitted to considering getting their own beehive (8%)! Un-bee-lievable!
But, don't worry if you're struggling to choose the best honey to drizzle over your pancakes, sweeten your tea, or use as part of your skincare routine. We know that honey is serious bizzz-ness, just ask the 50% of survey respondents who said they've tried multiple brands to find one they love!
In 2021, Canstar Blue surveyed 1,400 Australian consumers on the brands of honey they purchased and consumed from a supermarket or grocer in the last three months. Brands were rated on range variety, taste, consistency, packaging, value for money and overall satisfaction. Those that met the minimum sample size (30 responses) are featured in our report. So, which brand of honey is hitting the sweet spot among Aussies?
Aussies are still buzzing over ALDI's Bramwells which topped our ratings for the second year running, with five-star reviews across the board!
Best Honey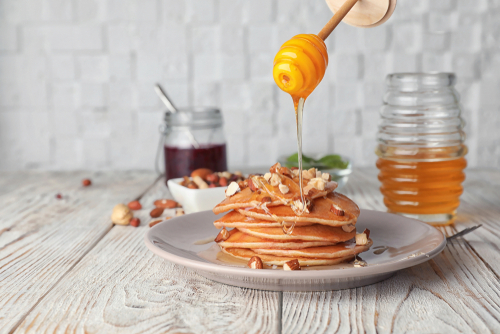 Here are the best brands for honey in Australia, as rated by consumers in Canstar Blue's latest review:
Bramwells (ALDI)
Beechworth
B honey
Capilano
Woolworths
Happy Valley
Coles
Macro Organic
ALDI's Bramwells is still flying high with Aussie consumers, scoring five stars for overall satisfaction and across the board. It was the only brand to achieve full marks in any category! Most other brands including Beechworth, B honey, Capilano, Happy Valley as well as Woolworths and Coles dished up four stars overall, while Macro Organic landed on three stars.
Honey Brands
Bramwells (ALDI)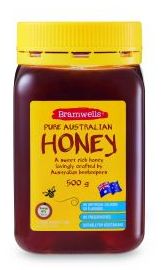 In addition to small kitchen appliances like toasters and kettles, ALDI also has its own range of honey to add to your list of breakfast essentials. Under the Bramwells brand, the German discount supermarket sells both Manuka honey and pure Australian honey. Its products are claimed to contain no artificial colours or flavours, or preservatives.
Bramwells (ALDI) was rated best across the board, achieving five-star reviews for range variety, taste, consistency, packaging, value for money and overall satisfaction.
Beechworth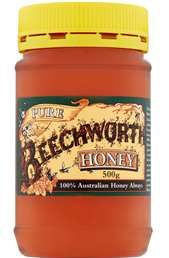 Beechworth claims to have a flavour to suit all taste buds and even describes its Classic Beechworth Honey range as a 'great all-rounder honey' for enjoying straight out of the jar or for cooking. Prices usually start from $8.20 for a 400g squeeze bottle and can reach up to $22 for a 1.5kg tub.
For something more unique, Beechworth's Australian Specialty Honey line offers honey as either bottled raw, mixed with 'feature ingredients', or whipped into a creamy consistency. Beechworth's Australian Varietal Honey line similarly provides limited-edition products depending on the seasonality of particular trees throughout the year. At the time of writing, some of the options include the Bee Warm Almond Honey and Bee Warm Avocado Honey. These come in 350g or 1.5kg jars, costing between $9-$27. The brand additionally created the Bee Cause Honey range which uses premium and pure Australian varietal honeys collected from beekeepers from specific regions.
Beechworth earned four stars in most areas, such as taste and overall satisfaction. The only exception was value for money, where it got three stars.
B honey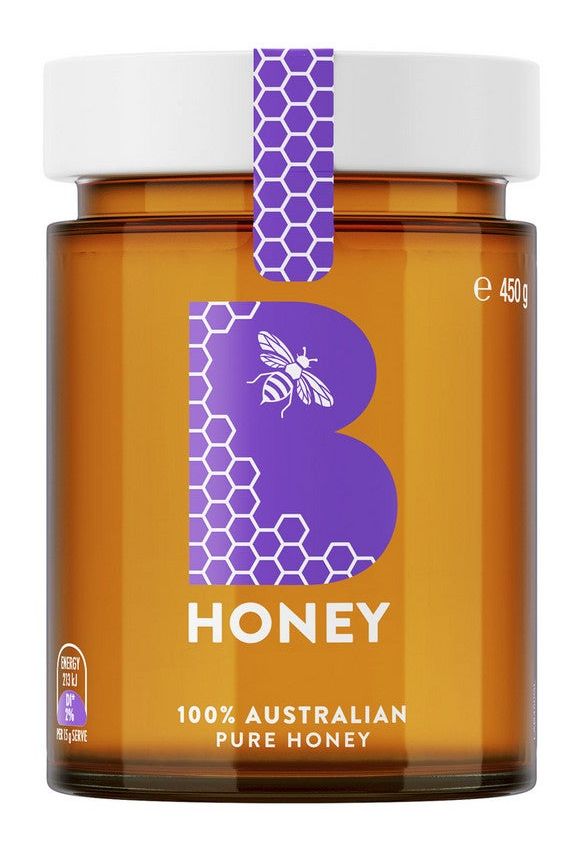 B honey is another brand that's working hard to create a tasty range of products whilst also supporting the honey bees with its Purple Hive Project. You can get any of its products from Coles supermarkets.
B honey's product range features a mix of flavours, colours and aromas stated to be uniquely Australian. This includes B honey Red Gum and B honey Yellow Gum, which are available in 325g bottles. You can also get regular B honey in a 300g or 450g squeeze tube, or 450g glass jar. B honey is said to create 100% pure Australian honey sourced from Aussie beehives, with no added ingredients in its products.
B honey earned four stars in all categories, including variety, taste, consistency, packaging, value for money and overall satisfaction.
Capilano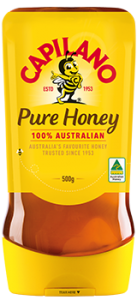 Capilano describes itself as an Aussie-owned and operated company that has produced pure 100% Australian honey for more than 65 years. It also launched the Capilano's Keeping Futures Program to support budding beekeepers, bee scientists as well as the education of school children.
Capilano's range of amber products includes classic honey, floral honey, Manuka honey, raw honey and organic honey. The various jar, squeeze and twist options usually cost between $4.70 and $30. But the Classic Honey range, which is said to use 100% Australian pure honey, is generally priced under $9, while the Manuka selection can set you back at least $10 for a 340g jar.
Capilano scored four-star reviews in most areas such as taste, consistency and overall satisfaction. It got three stars for value for money.
Woolworths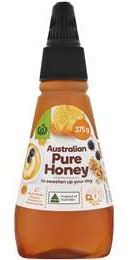 Of course, ALDI isn't the only supermarket giant to release its own range of honey. Prices from the 'Fresh Food People' start from $5.50 for the 375g Woolworths Honey (twist and squeeze), and can fetch up to $5.70 for a 400g bottle of pure honey. Other honey products sold by the supermarket have also included the Woolworths Pure Australian Honey Jar and the Woolworths Pure Blend Honey, with both items weighing 500g and available for less than $6.
Woolworths was rated a solid four stars across the board, including for range variety, taste, consistency, packaging, value for money and overall satisfaction.
Happy Valley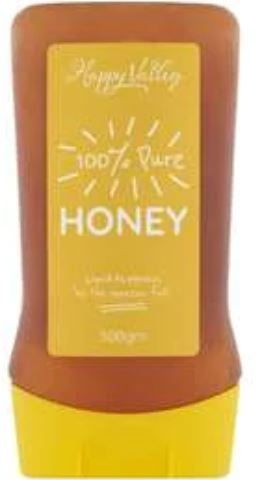 If you're a fan of Manuka honey, Happy Valley has got you covered with its own sweet range. Sourced from New Zealand, Happy Valley offers various grades of Manuka honey including UMF 5+, 10+, 15+, 18+ and 20+. According to the brand, each grade has different levels of antibacterial properties. Honey flavours are also said to improve the longer you keep the bottle.
In Australia, Happy Valley is only available from Woolworths. Described as 100% pure New Zealand honey, you can find a 500g squeeze bottle for around $8.
Happy Valley was rated four stars in most categories, such as taste, consistency and overall satisfaction. It got three stars for variety.
Coles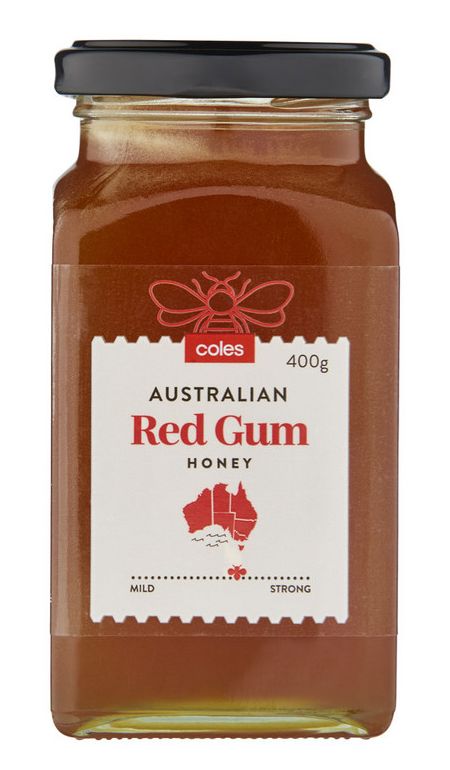 Coles' own supermarket brand of honey also includes several squeeze and jar varieties costing between $5.50-$15. The range includes the supermarket's own line of pure Australian honey in 375g, 500g and 1kg options, which come in either a jar, squeeze bottle or tub.
There's also the Coles Australian Red Gum Honey, Coles New South Wales Snow Gum Honey and the Coles Queensland Macadamia Honey, each coming in a 400g jar and selling for $7.50. Coles additionally has its own Manuka honey, with the Coles Manuka Mgo 50+ Multifloral Honey available for $15 for 500g.
Coles maintained four stars in all categories, including variety, taste, consistency, packaging, value for money and overall satisfaction.
Macro Organic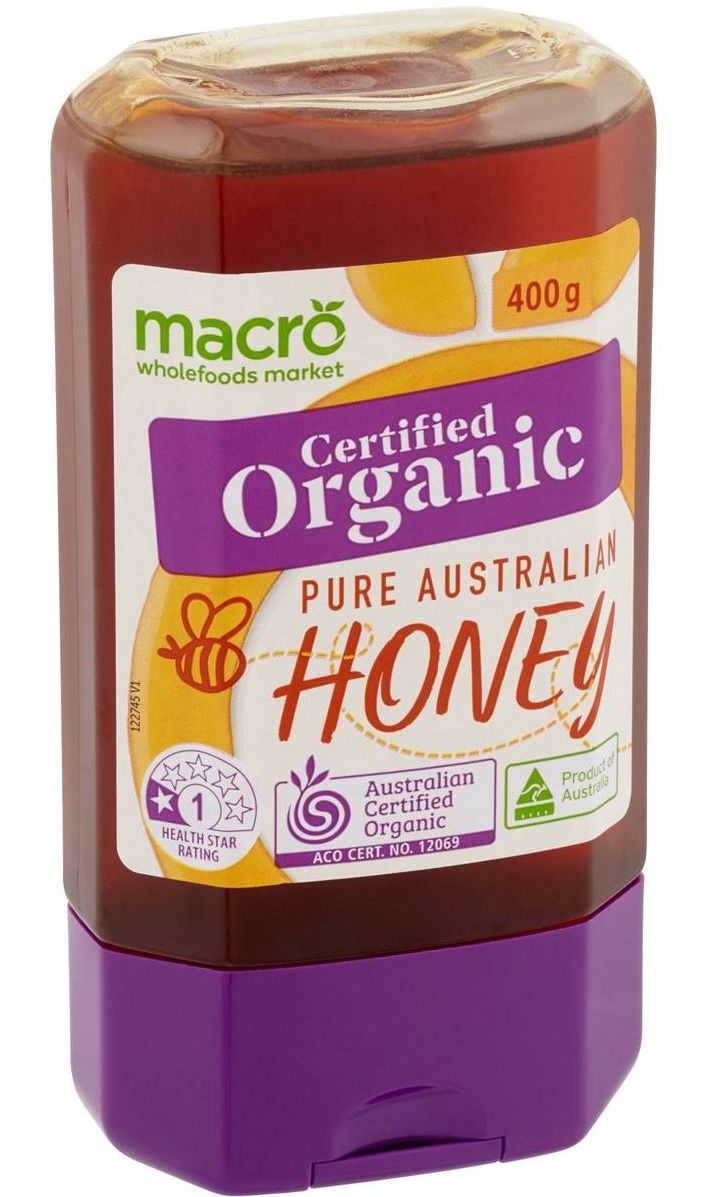 Woolworths' Macro Wholefoods Market keeps the choice simple with just one product. Available exclusively from Woolies, Macro Organic honey is described as pure organic honey with no added ingredients. It's sold in a 400g squeeze tube, which will usually check out for $8.
Macro Organic rounded up the scores with four stars for taste and variety, plus three stars for overall satisfaction and everywhere else.
Which honey should I buy?
What makes honey the bees' knees? According to our survey, taste continues to be the biggest driver of customer satisfaction, followed by consistency and value for money. And despite the deliciously sweet bite honey is known for, 14% of respondents said nothing tickles their taste buds better than a natural raw honey. A similar portion (15%) also said they read the nutritional information on the labels. Price is also still a pretty important factor for many consumers, with one in five (20%) Australians generally picking the cheapest brand or opting for one on special.
About the author of this page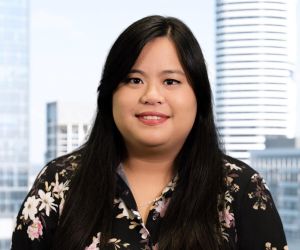 This report was written by Canstar Blue's home & lifestyle journalist, Tahnee-Jae Lopez-Vito. She's an expert on household appliances, grooming products and all things grocery and shopping. In addition to translating our expert research into consumer-friendly ratings reports, Tahnee spends her time helping consumers make better-informed purchase decisions on all manner of consumer goods and services, while highlighting the best deals and anything you need to be aware of.
Online Grocery Shopping Reviews
Picture credits: New Africa / Shutterstock.com, Mr Aesthetics / Shutterstocks, ADA_photo / Shutterstock.com.