Chips are made for sharing, but only if you like the same flavour. There's nothing worse than seeing the snack table laid out, only to find the chips are ones you don't like, or that all that's left are the crumbs.
It's a debate for the ages – which chips are the best? It's not even a simple case of which flavour tickles your fancy most, but which brand sneaks its way into your shopping trolley more often than not. And while you could argue that you've never met a bad chip in your life, when presented with the choice, we all have our favourites.
To settle the debate (and a few arguments in the office), Canstar Blue surveyed more than 3,100 Aussie shoppers on what their favourite chip brand and flavour is, if they ate chips at all. So when the chips are down, what is Australia's favourite brand and flavour?
Australia's favourite chip brand

So, where are shoppers turning for a savoury snack? Our survey found the following chip brands to be the favourite amongst Aussie shoppers:
Smiths: 20%
Red Rock Deli: 13%
Kettle: 10%
Doritos: 6%
Pringles: 6%
Thins: 5%
Twisties: 3%
Grain Waves: 3%
Cheezels: 3%
A bunch of others – including French Fries, Natural Chip Co Burger Rings and Tyrrells – each got about 2% of the vote.
Just 13% of survey respondents said they don't eat potato chips, instead turning to something else for when they're feeling snacky. Of those that do eat chips, 44% buy during their regular grocery shop, with almost a third (32%) stating that chips are their main go-to snack. However, 34% said they feel guilty for eating chips, which is understandable when you only go in for a handful – but end up eating the whole packet (we've all been there).

Australia's favourite chip flavour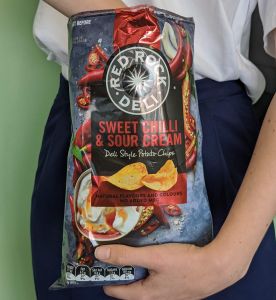 Do you side with the O.G. flavours, or do you try your hand at one of the latest releases to be your hunger-buster? Well the results are in, with the following flavours found to be Australia's favourite:
Original: 24%
Salt & Vinegar: 16%
Cheese: 9%
Sweet Chili: 8%
Chicken: 6%
BBQ: 6%
Sour Cream & Chive/Onion: 4%
Honey Soy Chicken: 4%
Sea Salt: 3%
Cheese & Onion: 3%
If you prefer the likes of Nacho Cheese, Light & Tangy and Lime & Black Pepper, you're in a minority of about 1-2%.
Just 2% of respondents said they don't have a favourite flavour, while 9% chose another option than those listed above, meaning there's plenty of other flavours out there that may be your new snack of choice, particularly if limited edition flavours are released.
Our research also found that older generations prefer original-flavour chips, with 37% of those aged between 60-69 years of age and 42% of those aged 70+ stating that original chips are their favourite flavor. However, only 14% of 18-29-year-olds said original chips are the pick of the bunch, with salt and vinegar the go-to for this age group (18%).
While Aussies can all agree that they're called chips (instead of crisps – looking at you England), it seems we can't all agree on what the best chip is. Still, bringing a few bags to your next dinner party will always make you a hero, even if you don't bring original flavour.