Helga's the best wholemeal brand since sliced bread
Whether you prefer multigrain, white or wholemeal, bread is a staple in most Australian households. With its perceived nutritional benefits, wholemeal bread is fast becoming a favourite among the health conscious and parents. If you're a bread buff, paying top dollar for the right blend of whole-wheat flour and grain may be worth it to make a top-notch gourmet sandwich. So, which brands do Aussies 'loaf' most? And who serves up the right balance between taste and price?
To find out, Canstar Blue surveyed more than 500 shoppers for their feedback on the wholemeal bread they most recently bought and ate. Brands were rated on important factors like taste, freshness, value for money, variety and texture. Those which met the minimum required sample size of 30 responses were then each given a score per category and rated for overall satisfaction.
In our wholemeal bread review of 2020, six brands featured but only one achieved a five-star rating for overall satisfaction – Helga's Continental Bakehouse. It earned the number one spot in every category except value for money where it got three stars.
Best Wholemeal Bread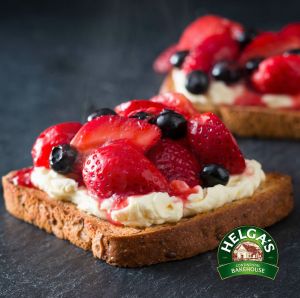 Here are the best brands for wholemeal bread in Australia, as rated by consumers in Canstar Blue's latest review:
Helga's Continental Bakehouse
Coles
Wonder White
Woolworths
Abbott's Village Bakery
Tip Top
Helga's Continental Bakehouse had an even spread of five stars across the board, except when it came to value for money where it got three stars. Coles, Wonder White, Woolworths and Abbott's Village Bakery trailed slightly behind on four stars overall, while Tip Top rounded out the results on three for overall satisfaction.
But that's not to say Helga's Continental Bakehouse was the only brand to butter up our Aussie survey respondents. Coles beat this year's winner for value for money, achieving the only five-star rating for the category this year. Wonder White, Abbott's Village Bakery and Tip Top similarly scored top marks when it ca     me      to texture. Abbott's Village Bakery also got five stars for taste.
Wholemeal Bread
Helga's Continental Bakehouse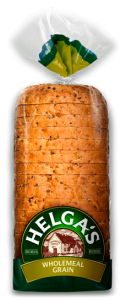 Helga's Continental Bakehouse serves up several bread options, rolling out from its classic, specialty, gluten-free, lower-carb, square loaf, wraps and Turkish bread ranges. But when it comes to wholemeal bread, the brand claims its traditional bread is a good source of fibre and protein and doesn't contain artificial preservatives and can help you reach your whole grain daily target intake. Other wholemeal varieties include the Helga's Gluten Free Wholemeal, Lower-Carb Wholemeal & Seed and the Helga's Square Loaf Wholemeal 10 Grains & Seeds.
Helga's bread products usually cost between $3.90 and $6 for 850g.
Helga's Continental Bakehouse toasted the competition in our 2020 wholemeal bread review, with the only five-star rating for overall satisfaction and most other categories. Its performance slightly dipped when it came to value for money, scoring three stars.
Coles

Coles offers several affordable options from its private label bread range which includes a variety of wholemeal breads, like the Soft Loaf Wholemeal Sandwich Bread Loaf, High Fibre Wholemeal Sandwich Bread and the Traditional High Top Wholemeal Bread. Prices start from $1.30 for a full loaf (750g) and can reach up to $4.50 for gluten-free alternatives.
Coles took a slice out of the winner's performance, earning the only five-star rating for value for money. It also received four stars for freshness, texture and overall satisfaction, and three stars for the remaining categories.
Wonder White

Whether it's iron or fibre, Wonder White aims to save the day with its selection of breads that contain a little extra goodness than your standard loaf. One of its products, Smooth Wholemeal + Iron, is labelled as packed with whole grains and high in fibre, claimed      to be suitable for active kids.
Other products from the Wonder White range include Vit&Min Toast, Vit&Min Sandwich, Wholegrain Sandwich, High Fibre Sandwich, and Active Low GI + Protein Sandwich. You can usually snag a Wonder White bread loaf for $3.40 (700g).
Wonder White earned a five-star rating for texture and received four stars for the remaining factors, such as value for money and freshness.
Woolworths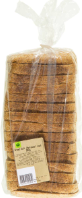 Another supermarket brand to rival affordable home brand options like those from Coles and ALDI, Woolies dishes up a wide variety of bread products such as bread rolls, gluten-free banana bread and freshly baked sourdough options in flavours like garlic & olive oil and regular sourdough. When it comes to wholemeal, the Woolworths Bread Wholemeal Soft Loaf can cost $3 (800g) which is the average price for the brand.
Woolworths achieved four stars in the categories of freshness, value for money and overall satisfaction, but scored three stars on taste, variety and texture.
Abbott's Village Bakery
When it comes to Abbott's Village Bakery, you'll find a couple of wholemeal breads, in addition to its gluten-free options, classic white and different grain & seed breads. It also offers a 'Sensations' range with flavours that make your mouth water, including olive oil, herb and garlic, and pumpkin, sunflower seeds and caramelised onion.
Wholemeal options include its Farmhouse Wholemeal and Grainy Wholemeal. Bread products from the range cost between $3.80 and $7 for 750g, with pricier items being the brand's gluten-free alternatives.
Abbott's Village Bakery stood out with a five-star rating for taste and texture, and four stars on freshness, variety and overall satisfaction. It got three stars for value for money.
Tip Top

Tip Top aims to keep things fresh with several bread varieties. Its range includes sandwich thins, The One, Sunblest, 9 Grain, fruit bread, cafe, English muffins, buns & rolls, Texas Toast and burger thins. The brand offers a few wholemeal versions, such as The One Wholemeal Sandwich, Wholemeal Raisin Toast and the English Muffins Wholemeal.
Prices typically vary between $2 and $3 for wholemeal bread products (600g).
Tip Top was really 'the one' when it came to texture, achieving five stars in that category, although it got three stars in the remaining categories, including overall satisfaction.
Which wholemeal bread should I buy?
Picking the right bread is serious business, which is something nearly half (44%) of the respondents who eat bread everyday can agree on. So, what makes a particular loaf of wholemeal bread rise to the top? Our survey shows taste is the biggest driver of customer satisfaction, followed by value for money and freshness.
Our survey also found that 34% of respondents prefer thick sliced bread over the thinner varieties, while 32% said they believe  options from premium brands taste better than cheaper alternatives. Whatever you choose, we hope you find our ratings review useful.
About the author of this page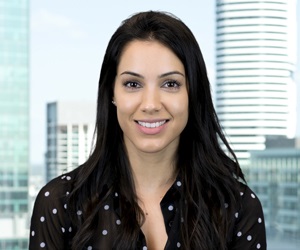 This report was written by Canstar Blue's Home & Lifestyle Content Lead, Megan Birot. She's an expert on household appliances, health & beauty products, as well as all things grocery and shopping. When she's not writing up our research-based ratings reports, Megan spends her time helping consumers make better purchase decisions, whether it's at the supermarket, other retailers, or online, highlighting the best deals and flagging anything you need to be aware of.