Which sunscreen brands do you trust?
Australians enjoy an outdoor lifestyle that is the envy of people around the world. But that fun in the sun wouldn't be possible without the protection provided by sunscreen. However, are all sunscreen brands the same? Sure, some smell nicer than others, while some are easier to apply than others. And some are without doubt cheaper than others. But when it comes to protecting our skin from harmful UV rays, aren't they all the same? It seems not.
To be sold in Australia, sunscreen products must meet certain standards set by the Therapeutic Goods Administration (TGA), so we can assume that all the brands we find on supermarket and pharmacy shelves provide adequate protection from the sun, even if there have been concerns raised in recent years about the accuracy of some Sun Protection Factor (SPF) ratings.
But away from laboratory tests and controlled environments, what do Aussie consumers really think about the sunscreen brands they buy and use? Which do they think are really living up to their claims? At Canstar Blue, we make consumers the experts, providing a platform for people across the country to report their experiences with the sunscreen brands you see in the ratings table above.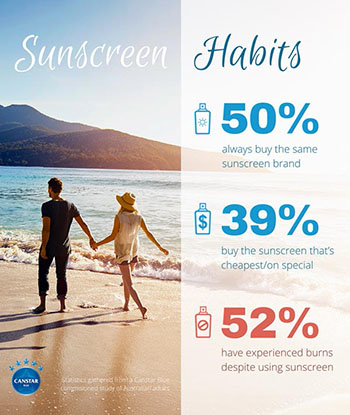 Concerns have been raised about the effectiveness of certain brands in recent times, with some consumers reporting severe burns despite using SPF 50+ products. Indeed, our latest customer survey also identified issues with sunscreens apparently 'not working properly' as 52% of respondents said they have experienced times when they have been burnt despite using sunscreen. It's not clear, however, whether the problem is the effectiveness of the sunscreen, or simply that not enough was applied.
To be clear, when we refer to the 'effectiveness' of the sunscreen brands featured in our review, this is the perceived effectiveness reported to us by the people who have bought and used their products.
So which sunscreen brands have been rated the best of the bunch? In the summer of 2016-17, 1,597 adults took part in our survey, rating the sunscreen they most recently bought and used based on its:
Texture & consistency
Ease of absorption
Smell/scent
Effectiveness
Value for money
Overall satisfaction
For the second year in a row – and third time in the seven years of these ratings – Hamilton was rated five stars for overall customer satisfaction. It was also the only recipient of five stars for effectiveness.
ALDI Ombra, Cancer Council, Le Tan, Neutrogena, Nivea and SunSense all received four stars for overall satisfaction, while it was three stars overall for Banana Boat, Coles and Woolworths. The ALDI brand sunscreen was the only one to earn five stars on value for money, while Neutrogena was rated highest in regards to texture & consistency, ease of absorption and scent. Le Tan also rated five stars for scent.
You may also be interested in:
Which sunscreen should you buy?
It's important to say that our ratings are not based on science, but rather customer experiences with the brands featured in this review. Think of it as like asking 1,597 of your friends what they think about the sunscreen they use. Ultimately, effectiveness is hugely important, but you may also want a sunscreen that is easy to apply, smells nice, and doesn't cost the earth.
Our survey found that 50% of consumers always buy the same brand of sunscreen, suggesting that once they find a product that works well for them – and that they trust – they are keen to stick with it. However, 39% of adults said they tend to buy whichever sunscreen happens to be cheapest/on special at the time. Overall, six out of ten survey respondents (61%) said they trust big name brand sunscreens more than cheaper products.
Sunscreen brands in Australia
The trust you have in a certain brand of sunscreen will clearly have an impact on your purchase decision, but you may also be influenced by the specific products on offer. You might prefer to use an aerosol or roll-on sunscreen rather than a lotion, for example. Some brands have a wide range of products, while others have just one or two different options to choose from. Here is an overview of the products offered by the brands in this year's ratings.
Hamilton
First produced by an Adelaide chemist in the 1920s, the Hamilton sunscreen formula was tested at the University of Adelaide before Hamilton Laboratories was established in 1932 to begin commercial production. Hamilton claims to be a family-focussed brand, with products for the whole family, babies and toddlers, as well as those with sensitive skin. The entire Hamilton product range is rated SPF 50+ and comes in a choice of lotions, roll-ons and sprays.
ALDI Ombra
Discount supermarket chain ALDI keeps it simple with a concise range of sunscreen products under the 'Ombra' branding. All are rated SPF 50+ and come in lotion or spray varieties. The children's sunscreen is also available in a roll-on dispenser. ALDI Ombra has previously topped Canstar Blue's customer ratings for sunscreen.
Cancer Council Australia
The Cancer Council produces a wide range of sunscreen products in tubes, sprays and aerosols. They include the Everyday SPF 30+ range, Classic SPF 50+, the Active SPF 50+ quick-dry and water resistant sunscreen for exercise and oily skin, Face Day Wear SPF 50+ sunscreen in either untinted, light tint or medium tint, the Water Sport SPF 50+ featuring everyone's favourite fishy friend, Dory, and the Kids SPF 50+ range. Peppa Pig also has her own line of Cancer Council sunscreens for kids.
Le Tan
Branching out from tanning products, Le Tan offers a number of lines of sunscreen products. Unlike most other sunscreen producers, Le Tan offers very low SPF rated lotions and sprays, in addition to the usual 30+ and 50+ products, so you can balance sun protection with your quest for the perfect tan. Sun safety certainly smells great with Le Tan – the coconut sunscreen range has a light coconut fragrance, while the kids sunscreens are ice cream scented.
Neutrogena
When you're desperately trying to fight back against oily skin and clogged up pores, you may find yourself faced with the choice of sunburn or pimples. Neutrogena's sunscreen range is apparently targeted towards keeping your face clear and dry, while protecting your skin from the sun. The range covers SPF 30+ to 50+ protection, with a light, oil free coverage that is said to absorb quickly. Products include those focussed specifically on sports and kids. There are also specialised sunscreens for breakout-prone skin and for wearing underneath makeup.
Nivea
As a skincare brand, a number of Nivea sunscreen products contain vitamin E to sooth and repair damaged or dry skin. For every day wear, the lightweight sunscreen products can be worn underneath makeup or on their own without that heavy, sticky feeling. Nivea spray-on sunscreen can be found in SPF 15, 30 and 50 ratings, while lotions come in either SPF 30+ or 50+. Children's, beach and sports sunscreens are water resistant for long-lasting protection.
SunSense
Australian owned and made, SunSense started as a family business in 1953. Now part of Ego pharmaceuticals, it produces a number of sunscreen products designed to care for your skin beyond just keeping UV rays away, including sunscreens that are claimed to fight the symptoms of ageing, moisturise dry skin, or produce a sheer tinted matte finish for oily and combination skin. SunSense also caters for a number of more traditional sunscreen needs, including sports (with sand and sweat resistance). It also has products for juniors (for delicate skin) and others for sensitive skin (including that of babies). SunSense is a previously winner of Canstar Blue's award for sunscreen brands.
Banana Boat
All Banana Boat sunscreens are rated at SPF 50+ (except for the Aloe Lip Balm at SPF 30+) and all of them are four hours water resistant. The range includes specially tailored products for sensitive skin, babies' skin, kids' skin, and faces, as well as for use during sports, beach trips, and heavy duty sun exposure. With products coming in tubes, aerosol sprays, pump bottles, spray bottles, roll-ons, and lip balms, there are plenty of options.
Coles
For more affordable sun protection, Coles covers all the basics. Its Everyday SPF 50+ sunscreen comes in 1L or 500mL pump packs so you can stock up nicely for the summer. The Coles range also includes a light feel SPF 30+ lotion, a moisturising SPF 50+ lotion for dry skin, a kid-friendly SPF 50+ trigger spray sunscreen, and a SPF 30+ facial sunscreen.
Woolworths
Woolworths has a wide range of sunscreens for different skin types and sun protection needs at affordable prices. Woolworths' general use SPF 50+ sunscreen comes in 1L and 500mL pump bottles, 100mL tubes and 175g sprays. The range also covers sports sunscreen, kids' sunscreen and babies' sunscreen in the form of various lotions, sprays and roll-ons. There's also clear zinc cream and coloured zinc sticks.
The aim of our customer reviews is to help consumers make more informed purchase decisions. When you next buy sunscreen, it's worth keeping these ratings in mind because they reflect the real life experiences of the people who took part in this survey. Used correctly, all of the brands featured in this review should keep you adequately safe in the sun. But some might be better at it than others.