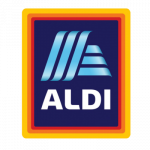 Review of ALDI sunscreen
ALDI is famous for its low grocery prices and intriguing weekly specials. But did you know it also has its own range of popular sunscreen products? In fact, ALDI has been one of the best performing brands in Canstar Blue's customer satisfaction ratings in recent years, taking on and often beating the big name brands at their own game.
What sunscreen does ALDI offer?
ALDI has two main skincare ranges, under the brand names of Lacura and Ombra. Ombra is a dedicated skincare brand, while Lacura is a range of skincare products designed for women over 50, some of which include sun protection ingredients.
Lacura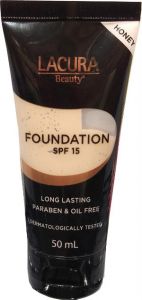 The Lacura day creams are a good option for getting your sunscreen and moisturiser in one hit. It is more a skin cream than an out-and-out sunscreen, but it still contains all the necessary vitamins and oils that are required to strengthen the skin barrier. So if you apply these face creams as you would a normal sunscreen, then you won't need to apply anything else while also moisturising your face. So Lacura is basically a 2 in 1 product. The options available include Lacura 50ml Foundation or Face Primer with SPF15 ($4.99) and Lacura Essentials 50ml BB Cream also with SPF15 ($6.99).
Ombra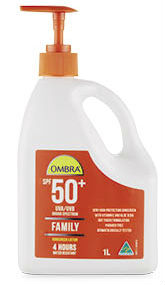 The Ombra range is ALDI's brand of sun care products, and covers all of your sun safety needs. Its 1 litre family pack ($7.99) is extremely popular, particularly for its water resistant SPF50+ options. The kids' version is coloured blue, so you can more easily see if you've missed a spot. This is useful because children's skin is incredibly sun sensitive, so it's important to make sure they're fully covered. Colourful sunscreen can also make staying sun safe a little more fun!
Aside from the family pack, Ombra's Everyday, Sensitive and Ultra Sport varieties are sold in 100ml ($2.49) and 500ml bottles ($5.99). There's also lip balm sunscreen available ($3.99) in a number of flavours including strawberry, vanilla and coconut. In addition, you'll find a 200ml coconut-scented sunscreen & oil spray ($5.99).
Ombra claims to be SPF50+, which is the strongest sun protection factor sunscreen can legally claim. Being SPF50+ means it deflects 98% of all UVB rays and has much improved protection from ultraviolet rays, according to the Cancer Council.
Other brands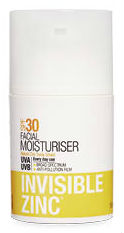 Another brand ALDI has stocked is Invisible Zinc, which is a brand that uses a new zinc oxide formula to produce chemical filter-free UV protection. Options include a SPF30 Tinted Daywear cream (50g) or a SPF30 Facial Moisturiser (50ml) both at $19.99 each. Le Tan SPF50+ zinc trio pack ($5.99) has also made an appearance during ALDI's Special Buys. It comes in assorted colours including blue, yellow and green.
Is ALDI sunscreen water resistant?
The Ombra product is claimed to be four hours water resistant. Note that this is definitely not the same thing as being waterproof. It's impossible for sunscreen to be waterproof – it naturally wears off, particularly when it's subject to water and sweat. This is why it's so important to regularly reapply sunscreen and use other forms of sun protection, including clothes and hats.
Are there any dangerous chemicals in ALDI sunscreen?
It's reasonable to be concerned about the safety of products you rub into your skin. However, the Therapeutic Goods Administration maintains high product safety standards for sunscreen and the claims sunscreen producers can make about their products' safety and efficacy.
The Australian regulatory guidelines for sunscreens include a discrete list of active ingredients permitted in sunscreens, along with dosage restrictions for each. Any new active ingredients must be tested thoroughly for safety, with test data to be submitted to the Therapeutic Goods Administration before the ingredient can be approved for use in sunscreen products.
Obviously errors and poor testing can happen, but the odds of this are very low. You don't need to worry about dangerous chemicals in ALDI sunscreen.
How much does ALDI sunscreen cost?
At time of writing, all of the Ombra 175g sprays are $6.99 each, while roll on sunscreen (currently only available in Kids' variety) is $2.99. Ombra's 1L family pack is $7.99 while the Lacura face creams with SPF 15 cost between $7.99 and $9.99 for a 50mL container.
How best to apply ALDI sunscreen
Optimal application depends on the type of sunscreen. Traditional lotion sunscreen should be applied by rubbing big dollops well into your skin. If there are still bits of lotion visible, you haven't rubbed it in enough. The more the better, as it's easy to miss a spot and leave yourself vulnerable to sunburn.
When using ALDI's spray sunscreen, be careful. Make sure to apply the sunscreen liberally, as it's more aerated than regular lotion, so it's easier to apply too little. The advantage of spray types is that it makes it easier to ensure more even coverage. Again, make sure you rub it in well so it stays put on your skin for longer.
Roll on sunscreen is most useful for little kids who can struggle with other types of sunscreen. The roll on container makes it easy to spread the sunscreen across your skin, but it still needs to be rubbed in by hand afterwards.
About the author of this page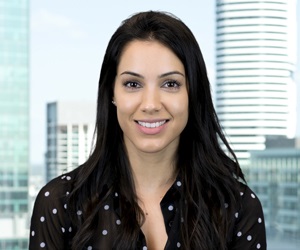 This report was written by Canstar Blue's Home & Lifestyle Content Lead, Megan Birot. She's an expert on household appliances, health & beauty products, as well as all things grocery and shopping. When she's not writing up our research-based ratings reports, Megan spends her time helping consumers make better purchase decisions, whether it's at the supermarket, other retailers, or online, highlighting the best deals and flagging anything you need to be aware of.