If you're strolling through the department store aisles looking for a new TV, you can be forgiven for getting confused at all the jargon and abbreviations plastered upon the TVs you have spied. Things like 'LCD, 3D, 4K HD TV with DVD' are all pretty frustrating but are relatively unambiguous terms that can be easily deciphered. By far and away one of the more perplexing terms to hit TVs in recent years has been 'Smart TVs'. Just what is a smart TV, what does it do, and do you need one? A smart TV is more than just a television that looks good in a suit. Find out what they are and just what's so good about them in this review from Canstar Blue.
What is a smart TV?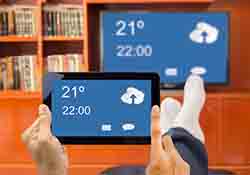 A smart TV is a television that has integrated internet and entertainment services. Many new smart TVs have an in-built operating system like Android, and users are able to access the internet and download apps like Netflix, YouTube and other streaming services. Think of smart TVs like a meeting between your computer or smartphone and your regular old TV. They are designed to theoretically remove the need for third-party devices like Google Chromecast and Apple TV used to stream and access various internet applications. Let's dive in to more detail, and find out if a smart TV is worth your pennies.
Internet Access
One of the foremost benefits of a smart TV is having access to the internet. If you simply can't be bothered doing a Google search on your computer, then you can use the telly you're probably sitting in front of to find some inspiration for dinner tonight, or what the name of that actor that was in Jaws 3 (it was Dennis Quaid). A smart TV connects to your Wi-Fi like any other sort of internet-ready device, which gives it the potential to be your one-stop home entertainment shop.
Operating Systems
Like your smartphone and computer, many smart TVs run on operating systems (OS). A popular OS to use is Android, which if you own basically any new smartphone except for iPhones, you will know that Android is one of the most widely used ones out there. It's constantly updating and improving, and is reliable. If your smart TV has a powerful OS behind it, you'll most likely be able to do more and get more out of it. Not only that, but if your smart TV runs on Android, you'll most likely be able to access the Google Play store, which opens up your world even more to various apps and other entertainment features.
Streaming Services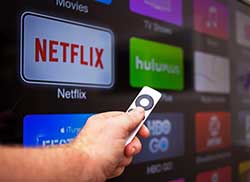 A streaming service app is one such way to unlock more potential in your smart TV. Many have integrated Netflix apps already, but it is also easily accessible through the Google Play store. You'll also most likely be able to download Stan or any other streaming service. You'll also likely get apps like MLB TV (the app for Major League Baseball) as well as other subscriptions TV services. If you don't want to pay, however, there are some free services that should also be compatible with your smart TV. Most free-to-air stations have their own streaming services:
ABC iView
SBS On Demand
9 Now
Plus7
TenPlay
All of these 'catch up' channels are also available in the Freeview TV app. This makes it very handy to catch-up on your favourite free-to-air shows all in one place with minimal fuss, and minimal ads.
Games
If your smart TV runs on the Android OS, then chances are you also have a huge range of games to choose from through Google Play. Can you imagine playing Candy Crush Saga on your 55 inch smart TV? Yeah, it sounds pretty tempting. Apart from that, if you're only a casual gamer you could also potentially eliminate the need for a gaming console and download some old favourites from the Google Play store, such as Clash of Clans, Fruit Ninja and Drift Legends. For a nominal fee, you could also download old PlayStation 2 classics such as Grand Theft Auto: San Andreas. It's crazy to think of how far technology has come and the potential for smart TVs to be an all-encompassing home entertainment hub.
The Internet of Things
You have probably heard this term thrown around a lot, and if you're technically-inclined you're likely tired of hearing it. However, smart TVs are undeniably one of the mainstays in the 'Internet of Things' – a term applied mainly to household appliances that can be connected via the internet. Some television manufacturers feature integrated IoT compatibility in their smart TVs. Through their TV, users are able to control a suite of smart devices and other appliances on the 'IoT'. There is even the potential for the lights to be controlled through your TV! Not only that, but you could turn the dishwasher on without even having to get up! A smart TV is a good first stop on the way to an 'IoT' connected household.
Where can I get a cheap smart TV?
There are several electronics retailers that offer some cheap smart TVs, most notably Kogan and JB Hi-Fi with the Soniq brand. Here is a selection of their smart TVs and prices:
Retailer
Screen Size
Price From (RRP)
Kogan
32"
$329
43"
$489
49"
$549
55"
$699
65"
$1199
JB Hi-Fi (Soniq)
50"
$599
55"
$699-$1300
58"
$996
65"
$1298
Source: Respective retailer websites December 2016
This is not an exhaustive list, and of course as certain events arise such as big sporting events you can expect prices to fluctuate up and down accordingly. However, no matter the case these are some great deals to be had. We suspect any TV for less than $1,500 is a pretty good deal, and with these cheap TVs you can get some behemoth sizes at a great price. Certainly, these two retailers have all corners of the market covered – from a small bedroom TV, to a massive home theatre centrepiece.
The cheapest smart TV from these two retailers can be had from Kogan for under $350. It comes in a 32 inch size and would make an ideal bedroom or second room companion. It also has a built-in personal video recorder (PVR) that allows you to record, pause and rewind live TV. As for the screen, it uses an LG panel so you know you're getting brand quality. It runs off the Android OS and easily connects to Wi-Fi.
If you desire something a little bigger, both Kogan and JB Hi-Fi have you covered with the gargantuan 65 inch variety. From about $900 to $1300, you'll be set with a home theatre-capable TV. Both models also boast Ultra HD, with the Kogan model specifying 4K definition. However, is the relatively significant jump in price for a TV screen 10" larger worth the money? Don't forget there are some great midsized models in the range. 50 inches seems to be the average size these days, with 42 inches being about the largest you could get less than 20 years ago. With that said, you are getting unprecedented amounts of value in a TV nowadays, and these cheap smart TVs demonstrate that.
Are smart TVs worth the money?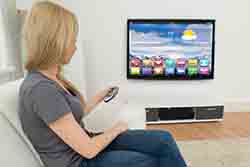 Often, smart TVs come at a premium to their 'dumb' cousins. Take Kogan's 55" TV for example:
The smart variety retails for nearly $700, while the dumb cousin retails for less than $600
You can buy a Google Chromecast dongle for about $60 and retain the functionality of a smart TV
Similarly, Apple TV, Telstra TV and Fetch TV all have similar functionalities to smart TVs, and you could potentially save a buck and get other features if purchasing one of these devices.
Buying a TV is no blasé decision for many of us. There are several factors you'll have to think about, with the screen size and budget being the most important. With the former in mind, it can help to determine how far away your couch is from the TV in your lounge room, and determine how big your screen needs to be from there. It helps to replicate that same distance when you go shopping.
This leads to the next point – Kogan is an online retailer, and this means you'll have to take a punt as to which screen size is right for you. It can be more convenient to try out screen sizes in-store, but from the table above you might have to shell out more money in many cases.
Another factor to consider is if smart TVs are even worth the extra outlay. We suspect if you currently have a 'dumb' TV, you'll have a third-party 'smart' device anyway, and from there it's simply a case of upgrading screen size.
In the case of upgrading, it may make more financial sense to stick with your third-party device
If for a second TV, a smart TV is a viable option, but third-party devices are still worth a look-in.
In any case, it can pay to look the advantages of a smart TV and whether it's worth the (sometimes) extra financial outlay.