With NBN plans now more competitive than ever, Vodafone is dangling some serious carrots in front of potential broadband sign-ups – offering a free Vodafone TV and Google Home Mini on selected plans.
From now through to 1 April, 2019, new NBN customers signing up to Vodafone's Premium NBN plans will receive both the Google Home Mini and Vodafone TV as a free-of-charge welcome gift. With a combined retail price of $151, both these devices are perfect for entertainment lovers: Vodafone TV is an easy plug-and-play streaming option, while the Google Home Mini is a great first smart speaker, featuring Google Assistant and easy home automation.
Premium NBN from Vodafone
The offer is available to all new customers opting for Vodafone's Premium NBN plan. Priced from $89 per month on a no lock-in contract, the plan features unlimited data at NBN 100 speeds – the fastest wholesale NBN speed available. With a typical evening speed of 83Mbps during peak hours, Vodafone's Premium plan is ideal for big households with heavy streaming or downloading needs, including streaming 4K video.
The Premium NBN plan is bundled with Vodafone's Wi-Fi Hub, a pre-configured modem priced at $180 in total. This fee is normally applied over 36 months for $5 per month, but Vodafone is currently waiving this charge for customers who stay connected for a full 36-month period. If you do cancel service early, you'll need to pay any remaining device balance on your final bill.
Vodafone NBN is currently available in every capital city, and is expanding in regional areas. The below table features a selection of published Vodafone NBN plans from Canstar Blue's database, listed in order of cost from lowest to highest. Use our comparison tool to see plans from a wider range of providers. These are products with links to a referral partner.
If you're unsure about NBN speeds, Vodafone also allows customers to move to a different plan speed each billing cycle – so if you do decide to downgrade later on, you can switch to a lower-priced, slower NBN plan from Vodafone without penalty.
Finally, if you're also a Vodafone mobile customer, you can save up to 20% each month on plan fees when you bundle your services. Bundling two eligible plans can save you 5%, three services unlocks a 10% discount, four plans gives you a 15% saving, and five plans offer the full 20% saving.
This means that Premium NBN customers could potentially save up to $17.80 each month on their broadband plan alone, when combined with other Vodafone services.
What is Vodafone TV?
If you're looking for an easy way to manage your entertainment, and stream movies and shows, Vodafone TV has got you covered. It features a custom-built device that allows you to stream content directly to your television, including Netflix, YouTube, ABC iView, and Google Play (although you'll need to subscribe to most services before you can stream).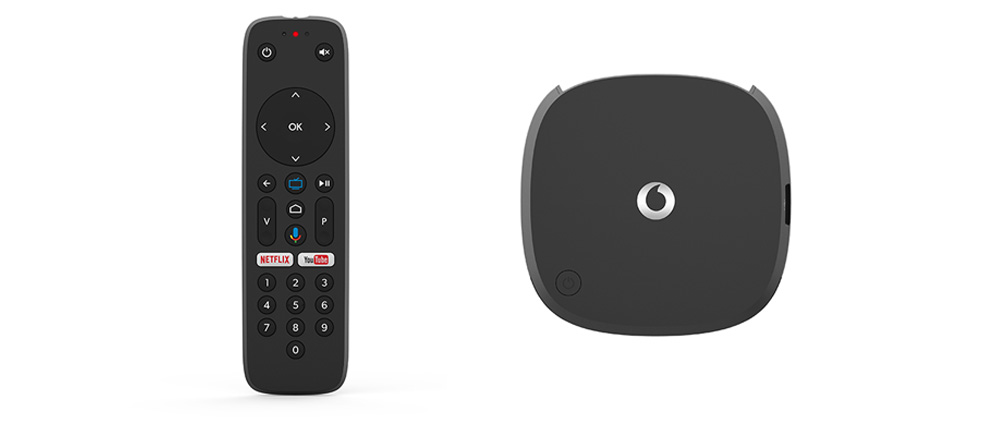 Running on the Android TV platform, Vodafone TV also features built-in Chromecast, as well as remote control Google Voice search. Connect Vodafone TV into a compatible television, and you'll be able to stream and download programs and movies, watch free-to-air channels, and enjoy content in 4K definition where compatible.
Vodafone TV is normally priced at $72 outright, and includes the device itself, a Vodafone remote control, and a 24-month repair warranty. Overall, it's similar to competing streaming devices, such as Telstra TV and the Foxtel Now box, although offers a slightly smaller selection of built-in apps: for example, Stan, Amazon Prime Video, and Foxtel Now aren't currently included. These services could pop up in the future, but other streaming TV devices – such as Apple TV – may currently offer a wider selection.