Energy storage company Ecoult offers a range of storage products, designed for residential and commercial applications, powered by its UltraBattery technology, which it describes as "a completely new class of advanced lead-acid battery technology".
Ecoult was formed in 2007 in Australia by CSIRO and subsequently acquired in 2010 by the US-based East Penn Manufacturing Company, which manufactures the UltraBattery at a facility at Lyon Station, Pennsylvania.
"Ecoult utilises its rights toward the UltraBattery technology and intelligent energy management systems developed by the CSIRO, and its own development intellectual property, to provide complete energy storage solutions and modules that are ready for custom integration," Ecoult states. "We design, engineer and integrate UltraBattery energy storage solutions that enable the continuous management of energy intermittencies and shifting of energy."
Ecoult states that the UltraBattery's key benefits are low-cost and long-life storage technology, while stating that its "solutions are practical, safe and environmentally sound".
"As an energy storage company of choice, we accompany our customers through the entire lifecycle of the energy storage solution: from design and implementation of the solution, to continuous monitoring of its performance and buy-back and recycling of the battery units at the end of a project," Ecoult states.
What technology does the UltraBattery use?
A hybrid device, the UltraBattery is a chemical combination of a lead-acid battery and an ultracapacitor, achieving higher-rate partial state-of-charge (PSoC) operation with extended longevity and high efficiency.
Ecoult states that, while most types of traditional lead-acid batteries are suited to either high-power or sustained energy discharge, the "UltraBattery performs both of these tasks better than traditional batteries", with it combining these capabilities with a specialised capability for operation in PSoC.
"It has many design improvements over standard lead-acid technology, but its key feature is the combination of the high-performance carbon ultracapacitor with the lead-negative electrode," Ecoult states. "The specialised carbon in the ultracapacitor layer creates not only a strong Hermholtz layer (the driving structure of electric double-layer capacitance), but also a highly conductive lattice of extremely large surface area, improving access to reaction sites in the battery's active material.
"The chemical reaction that pushes charge back and forth when you need it occurs at fast rates during both charge and discharge, delivering high-efficiency charge transfer."
Ecoult states that the UltraBattery provides the following performance features:
Charges and discharges at high rates, with it able to charge at greater than 1C (one-hour rate).
Unlike its lead-acid predecessors, it does not need to frequently recharge fully. It cycles continuously in PSoC, with no float periods and very infrequent refresh.
Its unique chemistry not only increases power handling but vastly reduces sulfation, allowing it to run continuously for months without going to full charge.
It is long-lasting, cycling at high rates year after year.
It is tough and tolerant, and Ecoult's monitoring system holds tight voltage balance between batteries in long strings.
It works at high efficiencies (rate dependent, but usually well above 90 per cent), generally superior to alternative battery chemistries.
What makes up Ecoult's UltraFlex system?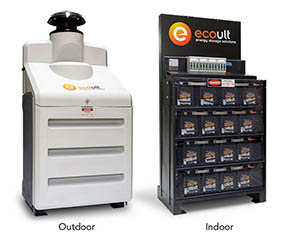 Ecoult's portfolio of products incorporating the UltraBattery includes its UltraFlex storage system, which can be used for both commercial and residential applications.
"Self-contained and robust, UltraFlex can also be moved from site to site – it's proven its worth by travelling from power-hungry building sites to music festivals that pump on, using the day's solar energy long after sunset," Ecoult states.
"UltraFlex is fully and remotely monitored, so if you want to see how the site is running, just open your browser. Alerts are sent to you – and to us if necessary – to be acted on before they become problems."
UltraFlex specifications:
Power and energy data (4 x 48 V)
Continuous power rating – one-hour rate, 20.0 kW
Capacity for regular cycling – 10-hour rate, 2.8 kW – nominal capacity (100 per cent), 28.2 kWh – usable capacity (60 per cent range of charge), 16.9 kWh
Capacity for emergency reserve events – usable capacity (90 per cent range of charge at 10‑hour rate), 25.4 kWh
Installation
When it comes to installation of the UltraFlex, Ecoult states that both indoor and outdoor versions are available, with it capable of being installed at both grid and off-grid sites, with it available pre-installed or pre-wired for on-site integration (depending on accessibility).
Each UltraFlex unit comprises 16 x UltraBattery 12 V monoblocs with integrated monitors, with its modular design providing for possible 1, 2, 3 and 4 x 48 V string configurations, with over-current protection on each string.
Ecoult states that over-current protection protects the system from excessive current and faults, maximising safety and longevity with application-specific rated breakers or switch fuses, while breakers can also be tripped by the battery control system, ensuring the batteries operate within performance limits.
The indoor UltraFlex measures in at 1 x 0.6 x 2 m, and has an assembly weight of 1,190 kg.
Compare Electricity Plans
How does Ecoult's battery management system operate?
Ecoult states that it pairs every UltraBattery with a monitor for life, measuring and storing its individual performance.
"This makes real-time individual battery and full system information always available to you, wherever you are," Ecoult states. "Reports, alerts and alarms can be sent via SMS or internet channels for instant access and fast response. Our monitoring hardware and software continuously measures key parameters so that you or we (or your integrator) can view and manage your battery system and the trends affecting it."
UltraBattery monitoring features:
Remote access – enables remote analysis of battery data, determining system performance and performing support and diagnosis without travelling to site.
Battery balancing – achieves precise equalisation between batteries, maximising longevity and performance of the entire battery system.
Runtime supervisor – provides feedback on operation of the battery system, ensuring the batteries are in an optimal state while avoiding detrimental zones of operation.
Instantaneous reserve – maintains a minimum amount of total energy and runtime availability for a reserve event.
Interested in applications of UltraBattery technology?
Consumers interested in the applications of UltraBattery technology or purchasing an UltraBattery product can find further information via the Ecoult website. Consumers can contact Ecoult via phone or email, or by submitting a contact form via Ecoult's website.