Panasonic has been an early mover in the growing Australian home battery energy storage market, offering up its residential storage battery system (LJ-SK84A), based on lithium-ion battery technology, decked out with a number of features providing for control over energy usage.
In June last year, Panasonic advised that it had partnered with energy companies ActewAGL, Red Energy and Ergon Energy, running pilot projects, which saw the installation of Panasonic's battery technology in homes utilising energy generated via solar panels.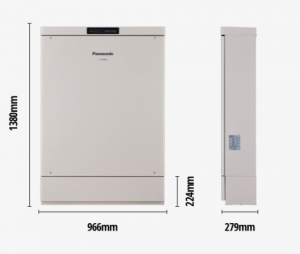 What does the Panasonic storage battery do?
Panasonic stated upon announcement of the projects that the installation of its battery technology would see the generation of "efficient, environmentally responsible electricity to 'shave' concentrated energy demand".
Storage batteries have the capability to allow more solar energy to be used, with Panasonic modelling for the Australian market showing that the system could increase the self-consumption rate of solar generation from 30 per cent up to as much as 60 per cent.
The residential battery technology stores excess electricity generated during the day by solar panels to provide a reliable, efficient base-load for solar-installed households during peak periods.
Panasonic Australia Managing Director Paul Reid noted benefits for both consumers and retailers, stating that, over the battery's life cycle, Panasonic "modelling is showing a significant reduction in the reliance of Australian households on the grid during peak periods".
"The pilot projects are a first for Panasonic in Australia, and Panasonic's battery demand response system will help distributors model peak shaving effects, realised through solar and battery storage systems, and provide a cost-effective alternative to grid infrastructure investments," Reid commented.
"For consumers, it means access to clean solar energy during the evening peak and potentially a lower energy bill. For the retailer, we can provide a levelling out of costs and potential competitive advantage with customers."
On the back of the trials and amid the evolving market, Panasonic is positioning its residential storage battery system as part of the next generation of energy solutions.
List of Solar Battery Retailers
How does the Panasonic storage battery work?
Panasonic's residential storage battery system employs lithium-ion battery technology, designed to work in conjunction with residential solar panel systems, delivering 8 kWh usable capacity and 2 kW output.
Panasonic is one of a number of companies offering lithium-ion home battery products, with the technology, which is also commonly found in consumer electronics products such as smartphones and tablets, at the forefront of the next generation of residential energy storage offerings.
Panasonic states that its system has been "designed and engineered specifically for Australia's unique conditions, capturing excess electricity produced by solar cells and storing it for later use".
"This reduces peak power consumption to help consumers reduce their energy costs," Panasonic states. "It is an efficient and clean energy source benefiting consumers and utilities alike.
"Over the 10-year-plus life cycle of the 8 kWh battery, the LJ-SK84A can support a maximum two kilowatt output for four hours each day."
How long does charging take and how long is the cycle life?
When it comes to charging the battery, Panasonic advises that it takes between four and eight hours, depending on the available solar panel-generated excess power, while noting that a steady/slow charge time keeps battery temperature in check, prolonging battery life.
In terms of cycle life, Panasonic advises that, based on the number of complete charge/discharge cycles the battery is able sustain before its capacity falls below 60 per cent state-of-health of its original usable capacity, when used at the factory default maximum self-consumption mode, its system will maintain at least 60 per cent state-of-heath over a 10-year period.
The expected battery life ranges from a minimum of 10 years up to a maximum of 14 years when used in the factory default mode.
As advised by Panasonic, consumers should be aware that a 3 kW solar panel system is considered a minimum, delivering power for household appliances along with enough excess power for charging the system.
Depth-of-discharge is another consideration for consumers in the market for a home battery, with the Panasonic battery system having a depth-of-discharge of 99 per cent, with a fully charged battery discharged to 1 per cent of its fully charged usable capacity.
What makes up the system?
The Panasonic residential storage battery system comprises three parts:
LJ-SK84A Li-ion Storage Battery System
LJ-NA02 Network Adapter
DR-EMS Platform Software
The network adapter provides for connection of the platform software with the battery system, allowing for monitoring and controlling commands.
The platform software delivers:
Demand response functions
Monitoring of battery status
Time-of-use and direct load control
Reporting functions
Data storage functions
Application program interface
"With the product's Demand Response Platform Software, retailers can dispatch its charge/discharge programs to help address pressures and network inefficiencies across Australia's distributed energy network," Panasonic states of its functions.
When it comes to system operation, Panasonic states that operational noise level is less than 40 dB, about the same level as noises generated by a PC. The system is additionally decked out with sensors designed to detect over/under voltage and current and over/under temperature, with a heavy duty metal cabinet housing the battery.
Different modes for different usage
Panasonic's residential storage battery system features different modes, regulating the manner in which it is charged and discharged.
The modes consist of:
Maximise self-consumption mode – sees the storage of excess electricity during the day, enabling energy usage around the clock.
Programmed charge/discharge time mode – allows users to set the charge/discharge time on the system directly, with the battery charged or discharged only during the designated time.
Back-up mode – in the event of a black-out provides electricity to some particular house loads through a specified plug, with the minimum remaining battery capacity capable of being set.
Compare Electricity Plans
How is the Panasonic battery system installed?
When it comes to installation of the residential storage battery system, Panasonic states that it connects to most existing grid-based solar panel/inverter installations, employing AC-coupled connection technology.
Connecting directly to a household's 240 V AC power circuit in the meter box, Panasonic states the AC-coupled connection simplifies installation, with it not interfering with the solar panel/inverter installation in any way.
A matchbox-size current transformer is attached in the meter box onto the existing incoming 240 V AC grid cable to monitor current flow direction, detecting flow to, and draw from, the grid. Panasonic describes the system as sporting a slim, standalone design, stating that it is robust, dust and water-proof for outdoor installation, with it being IP54-rated.
The system measures in at 966 × 1380 × 279 mm, and weighs in at 159 kg (with the battery included).
Interested in buying the Panasonic storage battery system?
Panasonic has partnered with ActewAGL and Red Energy in offering the residential storage battery system, with further information available via each respective website. Both ActewAGL and Red Energy offer a number of solar options, with interested consumers able to get in touch with either company online or via phone to request further information.