Fact Checked
BlackVue eyes off top spot in Canstar Blue dash cam ratings
Getting behind the wheel – particularly if it's a new car – can be a lot of fun. Whether you enjoy driving, enjoy the company of your passengers, or you're just excited about your destination, there's plenty of opportunities to get excited when you get out on the open road. However, while you may be obeying the road rules, chances are not everyone is doing the same, with accidents unfortunately a very real likelihood, and can sometimes have serious and lasting effects. Even leaving your car parked on a suburban street doesn't always mean it'll be safe from harm, but what can you do to help keep your car protected?
The humble dash cam has become a mainstay in vehicle tech, offering additional peace of mind for motorists, as well as no shortage of YouTube compilations of close-calls and dodgy drivers. But when it comes to picking up a dash cam for your ride, where do you even begin? To help motorists keep an eye on the road, our annual ratings provide a guide as to which dash cam brand may prove the best fit for your needs, and your peace of mind. This year, Canstar Blue surveyed over 440 Australian adults that have recently purchased a new dash cam, so we could turn their feedback into the ratings table you see above, with brands compared on important factors like picture quality, memory capacity, design, value for money and so on. Those which received the minimum survey sample size of 30 responses are featured in our results.
BlackVue was picture perfect, taking out top spot in our inaugural Dash Cam ratings, claiming five stars across all categories, including value for money, picture quality, ease of accessing footage and overall satisfaction.
Best Dash Cams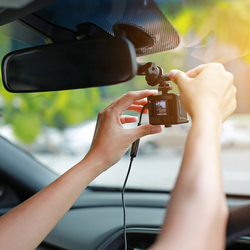 Here are the best dash cam brands in Australia, as rated by consumers in Canstar Blue's inaugural review:
BlackVue
Navman
Uniden
Garmin
BlackVue was streets ahead of the competition, scoring five stars in every ratings category, including overall satisfaction, with Navman the only other brand to achieve a five star rating, sharing the top spot for value for money. Navman was also rated four stars for overall satisfaction, with both Uniden and Garmin finishing on three stars overall.
To find out what each brand has to offer, what type of dash cams are available and what to consider before buying, read on below.
Top Dash Cam Brands
BlackVue Dash Cams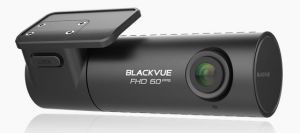 BlackVue – operating under the Pittasoft Co umbrella – was founded in 2010, and specialises in dash cameras, offering a number of models for everyday motorists, as well as a professional range. BlackVue products are available to purchase at auto retailers and camera stores, with a store locator available via the BlackVue website.
BlackVue's range begins with the DR590 model, which includes 1080p and 60FPS recording capabilities, compatibility with up to 256GB storage cards, Wi-Fi, backup battery, built-in motion and impact detection to switch between recording modes, and an optional GPS capability. If you're after something from the Professional range, the DR900S may be the model for you, ideal for taxi or ride-share drivers. Featuring 4K resolution, infrared camera, built in GPS, dual-band Wi-Fi capabilities, 2.1MP internal camera and Parking Mode Recording to help keep an eye on your parked vehicle.
BlackVue was rated five stars in all ratings categories, including picture quality, ease of use, ease of accessing footage, memory/storage capacity, sound quality, value for money, design and overall satisfaction.
Navman Dash Cams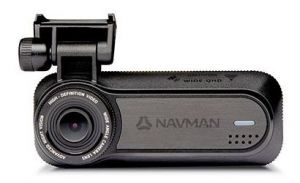 Known predominantly for its GPS Navigators, Navman have also diversified into the dash cam market, offering a number of models for motorists to choose from. The MiVue makes up the bulk of the range, with the MiVue 755 dash cam including features such as 1080p HD recording, GPS tagged videos, wide-angle lens capable of a 130-degree view, a 2.7inch LCD screen, Event Recording Mode which detects sudden changes in motion or in the event of an impact, and automatically saves the footage in the event of an accident.
Other Navman models focus on specific features, with the MiVue SpeedoCam including a large speedometer on the display, while the Auto200GPS includes GPS tracking for record keeping. If you really want to keep your eyes on the road, the Focus450 Dual dash cam may be worth looking at, featuring front and rear cameras, a 2inch display unit, 1080p recording, Wide Dynamic Range for automatic optical adjustment, Low Light specifications for when the sun is just on the horizon, and is compatible with a memory card of up to 128GB.
Navman was rated joint top spot for value for money, but was also rated three stars for picture quality. It was also rated four stars in all remaining categories, including ease of use, memory/storage capacity, sound quality and overall satisfaction.
Uniden Dash Cams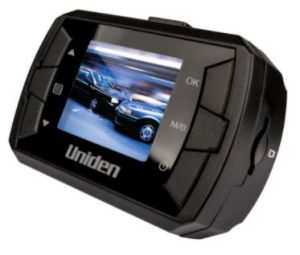 Offering a wide variety of products, from baby monitors through to security systems and radio scanners, dash cams seem a solid middle ground for the Japanese brand. Uniden's range is primarily made up of the iGO range, along with a few Dash View models for those looking for something a bit more hi-tech.
The iGO range begins with the iGO CAM 30, which features a 2inch LCD display screen, 1080p recording quality, parking mode, a wide angle 120-degree field of view, and comes with a USB charging cable, and is compatible with up to a 64GB microSD card. The top-of-the-line iGO model – the 85R – includes 4K quality footage on the front camera, and 1080p quality on the rear camera, in addition to Wi-Fi connectivity to transfer the footage to the Uniden smartphone app. It also includes 160-degree field of view, impact and motion detection, GPS tagging, parking mode and a supercapacitor for longer battery life.
Uniden was rated four stars for ease of use, ease of accessing footage, memory/storage capacity, value for money and design, with three stars for sound quality, picture quality and overall satisfaction.
Garmin Dash Cams
Another brand that's ventured into the GPS scene as well as dash cams, Garmin may not have the range as its competitors, but still offers a number of models that may fit the bill for your needs. Garmin products are available to purchase directly through the Garmin website, or through third-party electronics retailers.
For those who are after a small, discrete model may be interested in the Garmin Mini 2, which features 1080p footage quality, 140-degree field of view, incident detection, voice control, and is compatible with up to a 512GB memory card. The Garmin 57 is the middle ground in the line-up, featuring 1440p and 60FPS recording quality, 2inch display, rechargeable lithium-ion battery, GPS, Parking Guard and camera-assisted warning features such as lane departure and forward collision warning for additional safety. The top-of-the line Garmin Tandem features a dual-lens camera with two 180-degree lenses for complete coverage, as well as NightGlo for night time recording, voice command compatibility, interior recording as well as GPS for additional information and security.
Despite three stars for ease of use, value for money, design and overall satisfaction, Garmin was also rated four stars for picture quality, ease of accessing footage, memory/storage capacity and sound quality.
Types of dash cams
While a dash cam may be a worthwhile investment, deciding on which one to install can prove a tough decision. Below are a few of the more common types of dash cams available in Australia:
Single Channel – otherwise known as 'front recording' models, these generally face and record one direction, and are traditionally used to face out the front windshield.
Dual Channel – faces and records out both the front and rear of the car.
In-car – these offer an internal view of your car, facing the rear of the car so you get a view of the driver and passengers.
The more coverage the camera offers, the more expensive it may become, but will also provide you with more footage should you get into an accident, which could save you time and effort down the line if you make a claim.
What to consider when buying a dash cam
While they all might appear to do the same thing, there's a lot of variety available when it comes time to buying one. Here are some of the factors to consider before you head to the checkout.
Video quality – While dash cams with lower video quality will generally be cheaper, having a better quality video can be the difference between capturing a clear image of the accident, and watching a lot of blurry figures. 1080p is the benchmark for the market, although quality can go up to 4K, giving you crystal clear video.
Lens – Along with video quality, the lens that your dash cams uses will impact on the recording. Some lenses offer a wider field of view, while others also offer better low-light imaging or even night-vision.
Size – Considering you're placing the camera on your windshield, you don't want a bulky unit distracting you while out on the road. While most dash cams are quite small, finding one that will fit behind your rear-view mirror will ensure you can keep your eyes on the road.
Memory & Storage – While most dash cams store videos straight to an SD card, some models operate through Wi-Fi and cloud storage, meaning you don't have to worry about your memory card getting full. Some units are also programmed to override old footage, so that you don't run out of memory space.
Price – As with any purchase, your budget plays a big part in which brand or model you walk out the store with. Some dash cams are available for around $100, while others cost more than $500. You typically get what you pay for when it comes to dash cams, so forking out a bit of extra cash for a better quality image may be well worth it down the line.
App connectivity – Some models and brands offer compatibility to your smartphone through an app, which can allow you to download footage, run diagnostics and view settings, which may be a bit easier than fiddling with the dash cam unit itself.
Heating protection – A hot car is almost a given in Australia, with the inside of a parked vehicle often hot enough to be mistaken as a sauna. As a result, finding a dash cam that can survive the harsh Aussie summer will save you heartbreak down the line, so be sure to look at any heat-resistant tech that brands may offer.
How to install a dash cam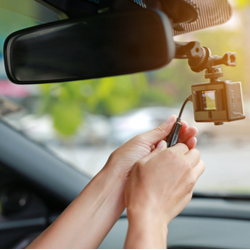 You can install a dash cam by either connecting it to a 12V power supply (such as the cigarette lighter in older cars), or by hardwiring the unit into the car itself. While you'll be able to attach most models with a bit of DIY (with instructions often coming in the box), you can also ask for your camera to be installed if you purchase from car shop retailers such as Supercheap Auto.
If you do decide to play handyman, to avoid being left with a lot of cord hanging from the camera, look to line the cord along the roof lining and behind the trim panels for a neat installation. Additional cord can usually be purchased if you need it for a neat interior.
Choosing where to install your dash cam is something you need to consider, with behind the rear-view mirror generally the standard recommendation. You'll also want to choose a spot that the windscreen wipers can reach, or you may not be able to properly view any incidents during wet weather.
Dash cam battery
You may also need to buy a dash cam battery, particularly if the dash cam you're looking at records while your car is parked. As most dash cams are connected to the car battery, it may drain the battery, potentially leaving you stranded. As a result, a dash cam battery may be a worthwhile investment, with most brands offering charging stations or additional batteries to combat this.
Are dash cams legal?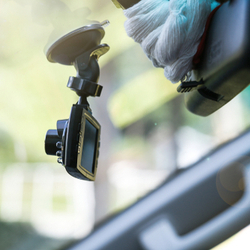 While a lot of the legislation regarding dash cams is playing catch up to the industry, dash cams are a legal car accessory in Australia, although common sense will dictate where and how you place you dash cam. However, it's best practice to install your dash cam in an area that won't impair, or obscure, your vision of the road, and to make sure the cords aren't hanging down from the unit.
If you drive for a ride-sharing app such as Uber or Ola however, you'll have to comply with a few additional rules. Regulatory bodies and state governments require drivers of ride-booking vehicles to purchase a pre-approved camera system to allow for safety of both the driver and passengers. A list of pre-approved cameras and models are generally outlined on government websites, and may vary from state to state.
Dash cam footage will also be admissible as evidence in a court of law, as long as the dash cam is not used to record a private activity, such as a conversation you and your passengers are having inside the vehicle.
Do I get a discount on my insurance premiums if I have a dash cam?
Currently, no insurance companies offer motorists with dash cams a discount on their premiums, but it will likely speed up your claim's process should you meet with an accident, meaning it may save you on other areas than your premium. Check out Canstar's guide on dash cams and insurance premiums for more info on if there are other ways you can potentially save.
How much do dash cams cost?
Dash cams can cost between $100 and $600 depending on the brand, model, and which retailer you purchase through. According to Canstar Blue's latest research, survey respondents spent, on average, $189 on their dash cam, with 13% of respondents also stating that they purchased the cheapest dash cam they could find, while 30% also stated that they purchased their dash cam on sale, meaning while some aren't after all the bells and whistles, some are just thrifty shoppers.
Which dash cam brand should I use?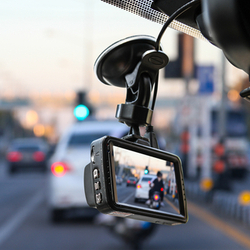 With so many brands and models available, as well as no shortage of specs and features in each dash cam, getting out of first gear can be tough if it's your first time venturing into the market. With 59% of survey respondents stating that they purchase their dash cam for safety, it's important to buy one that gives you additional peace of mind, even when you've parked it. One third (33%) of respondents said that they researched and compared various brands and models before, with 18% of all respondents wishing they had bought a better dash cam. While you can put certainly put a price tag on dash cams, it's hard to put a price tag on peace of mind and feeling safe behind the wheel, so looking into all of your options, and choosing a model that can help should you get into an accident, is a sure-fire way you won't be left spinning your wheels.
Photo Credit: Teerawut Bunsom/shutterstock.com, GOLFX/Shutterstock.com, Titikul_B/shutterstock.com
About the author of this page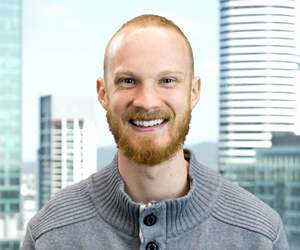 This report was written by Canstar Blue's Content Projects Lead, Dean Heckscher. He's our resident expert on all things automotive, health & fitness, streaming and more. Dean is also one of Canstar Blue's customer research report producers, helping to turn complicated subjects into easily-digestible information for our readers. He's passionate about helping consumers make better-informed purchase decisions on all manner of consumer goods and services.