Dash cam buying guide
---
The humble dash cam has become a mainstay in vehicle tech, offering additional peace of mind for motorists, as well as no shortage of YouTube compilations of close calls and dodgy drivers. But when it comes to picking up a dash cam for your ride, where do you even begin? A buying guide is a good start.
Our buying guide zooms in on everything you need to know about purchasing a dash cam, from the different types, to installation, to insurance claims to brands. We've kept an eye on all the important stuff, so you can keep an eye on the road.
Types of dash cams
While a dash cam may be a worthwhile investment, deciding on which one to install can prove a tough decision. Below are a few of the more common types of dash cams available in Australia:
Single Channel– otherwise known as 'front recording' models, these generally face and record one direction, and are traditionally used to face out the front windshield.
Dual Channel– faces and records out both the front and rear of the car.
In-car– these offer an internal view of your car, facing the rear of the car so you get a view of the driver and passengers.
The more coverage the camera offers, the more expensive it may become, but will also provide you with more footage should you get into an accident, which could save you time and effort down the line if you make an insurance claim.
What to consider when buying a dash cam
While they all might appear to do the same thing, there's a lot of variety available when it comes time to buy one. Here are some of the factors to consider before you head to the checkout.
Video quality– While dash cams with lower video quality will generally be cheaper, having a better quality video can be the difference between capturing a clear image of the accident, and watching a lot of blurry figures. 1080p (otherwise known as full HD) is the benchmark for the market, although quality can go up to 4K, giving you crystal clear video.
Lens– Along with video quality, the lens that your dash cams uses will impact the Some lenses offer a wider field of view, while others also offer better low-light imaging or even night vision.
Size– Considering you're placing the camera on your windshield; you don't want a bulky unit distracting you while out on the road. While most dash cams are quite small, finding one that will fit behind your rear-view mirror will ensure you can keep your eyes on the road.
Memory & Storage – While most dash cams store videos straight to an SD card, some models operate through Wi-Fi and cloud storage, meaning you don't have to worry about your memory card getting full. Some units are also programmed to override old footage, so that you don't run out of memory space.
Price– As with any purchase, your budget plays a big part in which brand or model you walk out of the store with. Some dash cams are available for around $100, while others cost more than $500. You typically get what you pay for when it comes to dash cams, so forking out a bit of extra cash for a better-quality image may be well worth it down the line.
App connectivity– Some models and brands offer compatibility to your smartphone through an app, which can allow you to download footage, run diagnostics and view settings, which may be a bit easier than fiddling with the dash cam unit itself.
Heating protection – A hot car is almost a given in Australia, with the inside of a parked vehicle often hot enough to be mistaken as a sauna. As a result, finding a dash cam that can survive the harsh Aussie summer will save you heartbreak down the line, so be sure to look at any heat-resistant tech that brands may offer.
How to install a dash cam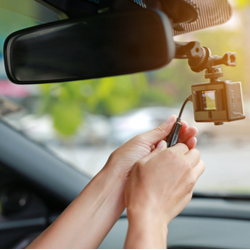 You can install a dash cam by either connecting it to a 12V power supply (such as the cigarette lighter in older cars), or by hardwiring the unit into the car itself. While you'll be able to attach most models with a bit of DIY (with instructions often coming in the box), you can also ask for your camera to be installed if you purchase from car shop retailers such as Supercheap Auto.
If you do decide to play handyman, to avoid being left with a lot of cord hanging from the camera, look to line the cord along the roof lining and behind the trim panels for a neat installation. Additional cords can usually be purchased if you need it for a neat interior.
Choosing where to install your dash cam is something you need to consider, with behind the rear-view mirror generally the standard recommendation. You'll also want to choose a spot that the windscreen wipers can reach, or you may not be able to properly view any incidents during wet weather.
Dash cam battery
You may also need to buy a dash cam battery, particularly if the dash cam you're looking at records while your car is parked. As most dash cams are connected to the car battery, it may drain the battery, potentially leaving you stranded. As a result, a dash cam battery may be a worthwhile investment, with most brands offering charging stations or additional batteries to combat this.
Are dash cams legal?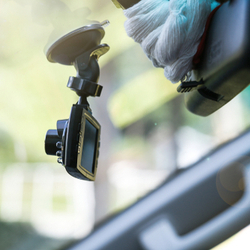 While a lot of the legislation regarding dash cams is playing catch up to the industry, dash cams are a legal car accessory in Australia, although common sense will dictate where and how you place your dash cam. However, it's best practice to install your dash cam in an area that won't impair, or obscure, your vision of the road, and to make sure the cords aren't hanging down from the unit.
If you drive for a ride-sharing app such as Uber or Ola however, you'll have to comply with a few additional rules. Regulatory bodies and state governments require drivers of ride-booking vehicles to purchase a pre-approved camera system to allow for safety of both the driver and passengers. A list of pre-approved cameras and models are generally outlined on government websites, and may vary from state to state.
Smart tip: Dash cam footage will also be admissible as evidence in a court of law, as long as the dash cam is not used to record a private activity, such as a conversation you and your passengers are having inside the vehicle.
Do you get a discount on your insurance premiums if you have a dash cam?
Currently, no insurance companies offer motorists with dash cams a discount on their premiums, but it will likely speed up your claim's process should you meet with an accident, meaning it may save you in other areas than your premium. Check out Canstar's guide on dash cams and insurance premiums for more info on if there are other ways you can potentially save.
How much do dash cams cost?
Dash cams can cost between $100 and $650 depending on the brand, model, and retailer you purchase through. According to Canstar Blue's latest research, survey respondents spent, on average, $193 on their dash cam, with 16% of respondents also stating that they purchased the cheapest dash cam they could find, while 40% also stated that they purchased their dash cam on sale, meaning while some aren't after all the bells and whistles, some are just thrifty shoppers.
Which dash cam brand should you use?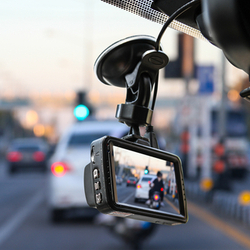 With so many brands and models available, as well as no shortage of specs and features in each dash cam, getting out of first gear can be tough if it's your first time venturing into the market. With a whopping 70% of survey respondents stating they purchase their dash cam for safety, it's important to buy one that gives you additional peace of mind, even when you've parked it. Two-fifths (40%) of respondents said that they researched and compared various brands and models before, with 19% of all respondents wishing they had bought a better dash cam. While you can put certainly put a price tag on dash cams, it's hard to put a price tag on peace of mind and feeling safe behind the wheel, so looking into all of your options, and choosing a model that can help should you get into an accident, is a sure-fire way you won't be left spinning your wheels.
Meet our consumer experts
---
Megan Birot: Home & Lifestyle Editor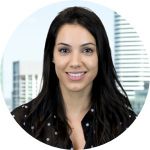 Megan is Canstar Blue's Home & Lifestyle Editor, leading the team that focuses on consumer products and services, ranging from supermarkets and groceries to home and personal appliances and retail stores. She interprets Canstar Blue's bespoke research on the thousands of brands that we compare, rate and review, to help shoppers make better purchasing decisions.
Samantha Howse: Consumer Research Specialist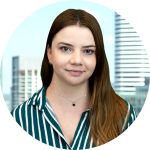 Samantha Howse is Canstar Blue's Consumer Research Specialist, coordinating the consumer research program behind our customer satisfaction awards across Canstar and Canstar Blue in Australia and New Zealand. Sam has earned a Bachelor of Business (Marketing) from Griffith University and, with seven years in market research and 2 years in marketing, she is experienced in survey design, implementation and analysis, coupled with an understanding of marketing principles and best practice.