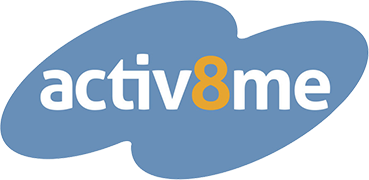 Review of Activ8me broadband plans
Activ8me is an Australian internet provider that specialises in cheap NBN plans, across all deliveries like satellite and fixed wireless, as well as the traditional fibre connection. It also provides a range of ADSL2+ plans for those whose homes have not been connected to the NBN yet.
Activ8me has been providing internet connections to Australians across the country since 2008. With both standalone and bundled plans on offer, we've reviewed Activ8me's broadband plan offerings so you can see if one of them suits your needs.
Activ8me internet plans
| Connection Type | Data From | Price From Per Month |
| --- | --- | --- |
| NBN Fibre | 100GB to Unlimited | $39.95 |
| NBN Skymuster | 5GB to 50GB | $34.95 |
| NBN Fixed Wireless | 50GB to Unlimited | $39.95 |
| ADSL2+ | 100GB to Unlimited | $39.95 |
| ADSL2+ with home phone | 100GB to Unlimited | $59.95 |
Source: Activ8me website
Activ8me has about four base plans for each NBN connection type, and four for each type of ADSL2+ connection. Prices for both connections tend to start at around $40 a month, and prices increase when you increase data, add on home phone packages, and upgrade your speed tier (for NBN connections). There's also the opportunity for rural residents to get connected with Activ8me's network-extended plans – these are dearer, however. Opting for a 12 month contract across all plans generally gets you a better deal on set-up fees as well.
Activ8me NBN plans
Activ8me's big selling point is its NBN services. The company provides some competitively-priced NBN plans across all deliveries – fibre, SkyMuster satellite and fixed wireless.
Fibre NBN Plans
The NBN we all know and love – but perhaps have not experienced yet. As mentioned, prices start at around $40, but can also quickly soar:
100GB is $39.95, 250 is $49.95, 500GB is $54.95 and Unlimited is $59.95
This is for Tier 1 12/1 NBN speeds. Each extra speed jump costs you an extra $10 per month. For example, 25/5 speeds with 100GB costs $49.95 and so on
The dearest plan you can expect would be unlimited on 100/40 speeds, which costs $89.95 a month
Then you choose your contract length: 12 months costs you $49.95 to set-up, with a $44.95 router. Going no-contract incurs a $99 set-up fee, with another $99 for the router. Is the flexibility of no contract worth an extra $100-odd in your pocket?
Alternatively, if you have your own router equipped for the NBN, you can waive the router fee
$15 also applies to ship the router
With these plans, you can also choose various VoIP calling packs starting from an extra $5 a month.
$5 gets you PAYG call rates, with local calls at 11c a minute, national calls at 17c/minute and mobiles at 25c/minute
A $10 call pack means you only have to pay for mobile calls
A $20 call pack means you don't pay extra for any type of call
SkyMuster NBN Plans
SkyMuster was released in early 2017, and aims to service those in rural and remote locations better. Prices are generally much higher on average than other NBN connections, but often having any reliable internet in these remote locations is a blessing. While you likely won't be able to watch a ton of Netflix or download shows with Activ8me's rather low data allowances, you will be afforded a handy 'lifeline', which will help with email, social media, doctors' appointments and the like.
While peak data allowance is somewhat limited, where SkyMuster really makes a name for itself is the off-peak data between 1am and 7am. Here is how it's broken down:
Peak/Off Peak Data – 5/50GB for $34.95 a month
15/50 for $39.95
35/60 for $49.95
40/60 for $64.95
45/70 for $89.95
50/80 for $114.95
These prices are for standard speeds – 12/1Mbps – only. An extra speed boost to 25/5 speeds can be had for an extra $5 per month. No contract plans are also not penalised in regards to expensive set-up fees or the like. You'll only have to pay the $99 router fee – versus $44.95 for the 12-month contract – plus $15 shipping. Of course you can also bring your own router.
Fixed Wireless NBN Plans
Activ8me's fixed wireless plans enjoy much the same value as its fibre NBN plans. Prices are the same, except you only get a choice of two speed tiers – 12/1 and 25/5. 25/5 or 'Sonic' speeds are available for an extra $10 per month on top of your plan. The same set-up fees also apply – you can generally save around $100 by opting for the 12 month plan. The same optional call packs also apply from an extra $5 per month.
Activ8me ADSL2+ Plans
Activ8Me's ADSL2+ deals are available in three types of packs – 'Value Plus', 'Family Pack' and Unlimited.
Value Plus: 100GB for $39.95
Family Pack: 250GB for $44.95
Unlimited: Unlimited data for $59.95
Activ8me also has these plans for the regional network, reaching far greater places. Expect to pay an extra $40 on the regional network, so $39.95 becomes $79.95 and so on. As for set-up fees, opting for a 12 month contract again works in your favour – $99 versus $159 for the no contract option. Generally speaking, these plans are much easier to follow than Activ8me's NBN plans, and speeds vary anywhere from about 8Mbps to 20Mbps downloading. This of course varies depending on a range of reasons.
How does Activ8me compare to other internet providers?
Activ8me offers some of the cheapest basic NBN plans in Australia, and remains pretty competitive across the board. However, as per usual, expect prices to jolt should you wish for the fastest speed tiers with unlimited data.
Activ8me Fibre NBN Plans Compared
If you're in an area that has fibre NBN rolled out, Activ8me seems to represent a good option.
Tier 1 – 12/1 Speeds
At this basic speed, Activ8me stacks up pretty well against the competition, being priced pretty much perfectly at the $59 mark. Many providers are at this price point too. However, SpinTel, Exetel and AusBBS all offer the same for slightly cheaper. Keep in mind contract lengths and set-up fees that may diminish value of a particular plan somewhat.
Tier 2 – 25/5 Speeds
Activ8me again stacks up pretty well, with only a handful of providers offering cheaper deals, however they only differ by about $1 or so. AusBBS stands out again, and Tangerine and Inspired Broadband also make an appearance with negligible savings. Again, set-up fees could potentially make or break a plan here.
Tier 3 – 50/20 Speeds
Activ8me stands out as one of the cheapest providers to offer unlimited data at these speeds. These speeds are more than enough for streaming and most other applications. AusBBS again shows its face, while Teleron and Tangerine round out the list.
Tier 4 – 100/40 Speeds
At top-tier speeds, you can generally expect to pay top-tier prices, however bargains can still be found. Generally, anything under $90-$100 can be considered pretty competitive, and Activ8me stands out as one of the top-value Tier 5 providers. MyRepublic, however, offers a very enticing option at less than $60! Familiar faces AusBBS and Motion also make an appearance, though it's hard to stop looking at MyRepublic here.
Activ8me SkyMuster Plans Compared
SkyMuster is doomed from the get-go when compared against NBN fibre connections in terms of value for money. However, Activ8me does stack up pretty well, being one of the cheaper providers out there with generous off-peak data to boot. iiNet offers 60GB for around $40, but it's hard to go past Activ8me with its peak/off-peak combo. Harbour ISP also comes into the fray with a tidy 100GB.
Activ8me Fixed Wireless NBN Plans Compared
Activ8me's fixed wireless plans boast much the same value as its regular NBN plans. $59 a month seems to be about the yardstick for value for money in the 12/1 speed tier with unlimited data. Activ8me faces a pretty stacked competition, competing against Exetel, Barefoot and Mate primarily. Exetel stands out for being $4-odd cheaper, but all four present great value.
On 25/5 speeds, Activ8me is up there with the best of them, with Barefoot and Mate again dominating. TPG also comes to play with a pretty competitive plan. $69 seems to be about the gold standard here, and Activ8me fits in perfectly.
Activ8me ADSL Plans Compared
Unlimited data for $59.95 a month, or with an unlimited home phone bundle for $99.95
For those still on ADSL connections, Activ8me tends to stack up well. However, that doesn't deny the fact you can pay a pretty penny for home phone + unlimited data. As far as internet only is concerned – because home phone rates vary so much – Activ8me compares pretty well. However there are a handful of providers that offer unlimited data for cheaper, and some include line rental and come with no set-up fees or contracts. Keep an eye out for familiar faces Inspired and AusBBS, as well as Barefoot and Dodo.
Is an Activ8me internet deal enough to activate your excitement?
Activ8me seems to represent a good option across all NBN speed tiers and deliveries. Frequently it is among the cheapest out there in what it offers. Across all NBN deliveries it remains very competitive, and across ADSL it isn't too shabby either. However, what lets Activ8me down – and many other service providers, mind you – is that it charges a big chunk of change for set-up fees and routers. For a provider to really stand out, it needs to be willing to forego or minimise these fees. Activ8me's plans are right on the money, but be prepared to pay over $100 just to establish your service.