Electrolux Washing Machines Review
If you've ever wanted a slice of Sweden, but can't afford a European holiday, then have you considered buying an Electrolux washing machine? Electrolux is a Swedish company that makes all manner of home appliances, including refrigerators and vacuum cleaners. But when it comes to washing machines, it only deals in front loaders. Relegating top loaders to yesteryear, Electrolux's front loaders are tech-forward and eco-conscious. So, what's in the range and are Electrolux washing machines good value for money?
Electrolux Front Load Washing Machines
Electrolux currently offers six front loader washing machines. Models range from 7.5kg in size to 10kg, with prices ranging from about $830 to over $1,400. While manufacturing has ceased in Australia and has moved to Thailand, we imagine that Electrolux still imposes its quality control on its Thai factory, so quality should still be what you should expect with the brand.
Here's the line-up of front load washing machines from Electrolux:
7.5kg UltimateCare 300 Front Load Washer with HygienicCare (EWF7524D3WB) – $949 RRP*
8kg UltimateCare 500 Front Load Washer with Ultramix (EWF8024Q5WB) – $1,149 RRP*
9kg UltimateCare 500 Front Load Washer with Ultramix (EWF9024Q5WB) – $1,249 RRP*
9kg UltimateCare 700 Front Load Washer with SensorWash (EWF9042R7WB) –  $1,499 RRP*
10kg UltimateCare 700 Front Load Washer with SensorWash (EWF1042R7WB) – $1,649 RRP*
10kg UltimateCare 900 Front Load Washer with AutoDose (EWF1041R9WB) – $1,999 RRP*
Electrolux Washing Machine Models & Specs
Electrolux (EWF7524D3WB) Front Load Washer − Quick 15 Option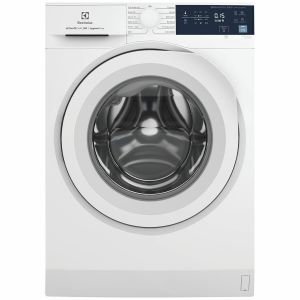 Among the six models, you will find the 7.5kg 'Quick 15 Option' front loader with a maximum spin speed of 1200RPM. Its key features include Quick 15 minute, Daily 39 minute and Full Wash 60 minute programs, an extra-large 3XL drum opening, and intuitive full-touch controls from left to right.
The Daily 39 fast wash is boasted for washing larger loads (up to 5.5kg) 'faster', in under an hour, while the Quick 15 program can wash a daily 1.5kg load in just 15 minutes, which is ideal for households short on time. Beyond these features, this model is also equipped with:
High spin, less dry time: The higher spin speed extracts more moisture from your clothes, therefore cutting on drying times. You can also adjust the spin speed to your preference.
Delay/end option: This function allows you to plan ahead and get your wash cycle to finish whenever it's convenient for you. Goodbye wet and wrinkled washing sitting in your machine! You can also use it to time your washing during off-peak electricity times for example.
Vapourcare: hygienically cleans clothes by removing up to 99.2% of dust mites and allergens and 99% of certain bacteria during a 40°C wash.
There are 12 different wash programs in total. A major bonus of Electrolux front loaders – including this one – is that you can add extra clothes mid-cycle. This is a common gripe among front loader owners, so having this on-deck is a really handy feature. However, it can only be used when the water level is below the door and on programs where the water temperature is lower than 60°C. Nevertheless, it's still an option to have for that one sock that always gets left behind.
The (EWF7524D3WB) model is said to reduce energy needs by up to 50% with a powerful EcoInverter motor, that's backed by a 10-year warranty.
Electrolux (EWF1041R9WB) 10kg Front Load Washer − AutoDose & Wi-Fi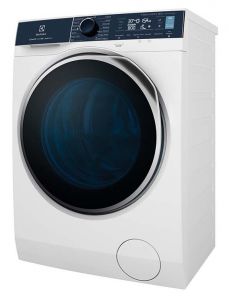 The AutoDose system, Wi-Fi enabled 10kg washing machine features the latest AutoDose technology, with automatic detergent and fabric softener dispensing, an UltraMix system for a gentler clean at lower temperatures and Vapour Refresh options. It comes with a maximum spin speed of 1400RPM.
The (EWF1041R9WB) washer is also said to reduce energy needs by up to 50% with a powerful EcoInverter motor, that's backed by a 10-year warranty. It's boasted of innovative features such as the Load Sensor, which maximises every load to reduce water and also save time. The Electrolux 10kg washer is also made with convenience in mind and equipped with 15 wash programs (plus extras with the Electrolux Life app), including the Woolmark approved program, plus the Vapour Refresh function, so you won't be frantically reaching out for an iron after every wash. The model also boasts a low noise level of 49dB.
It shares some common features with the 7.5kg model above, such as the Time Manager, Jetsystem, EcoInverter and Add Clothes button. A couple of additional features include:
Load sensor: LCD display shows actual load weight and gives a recommended detergent dosage.
LED drum light: This helps ensure you don't miss getting that red sock out before you chuck in a load of whites.
'MyFavourite' program: Allows you to save your most commonly used program and 'speed dial' it with one button.
UltraMix: Pre-mixes water and detergent to 'maximise cleaning power' at a lower temperature.
Beyond these features, Electrolux washing machines – including this 10kg model – are generally flat-out efficient. With regards to water and energy ratings, expect to see its machines score four stars or more. This large capacity machine scored 4.5-stars for water efficiency (WELS rating), plus five stars for energy efficiency and consumes 86L of water per cycle. Top loaders of a similar capacity can use up to double this amount!
Electrolux Washer Dryers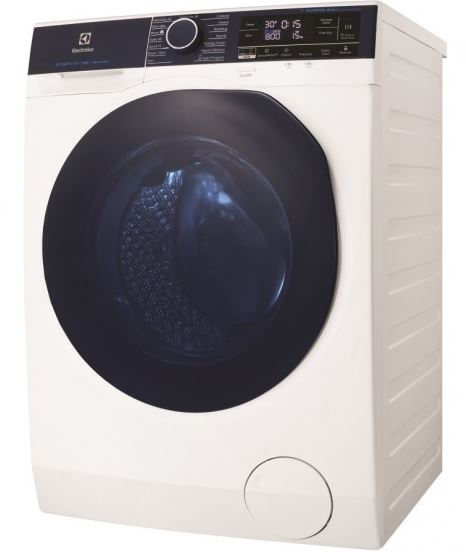 Electrolux also has you covered if space and/or convenience are a concern, with its two washer dryers. They come in capacities of (washer/dryer):
8kg/4.5kg to UltimateCare 500 Washer Dryer with UltraMix (EWW8024Q5WB) – $1,449 RRP*
10kg/6kg UltimateCare 700 Washer Dryer Combo with SensorWash (EWW1042R7WB) – $1,899 RRP*
While these prices seem high, keep in mind that you're getting two appliances in one. While the drying capacities are relatively small, you can't deny the convenience of having it all in one package. You won't compromise on features, either, as the list includes Jetsystem, multiple programs, water sensors and the same water ratings. Keep in mind though, that washer dryer combos are best-suited to small households where laundry piles are fairly modest. If you're a household of four or five people, you could end up in a situation where you never turn it off!
Energy ratings are a little higher, with the 8kg/4.5kg model consuming 311kW per year – which is 97kW up from the larger 10/6kg model from 2020. Water ratings are still stellar – the 8kg/4.5kg model uses 79L per cycle, earning a 4 star WELS water rating, while the 10kg/6kg model uses 83L per cycle, earning a 4.5 WELS water rating. Another major bonus is that you can also add in clothes mid-cycle. When it's all said and done though, perhaps what matters most is your hip pocket. Are Electrolux washing machines worth the money? We would say so.
---
---
Is an Electrolux washing machine a smart move?
Electrolux's washing machines are a very viable option for a lot of Australians. While not as cheap as, say a Simpson washing machine, many of the Swedish brand's models rival German giants Bosch and Miele in terms of their features and efficiency. Electrolux's models also tend to cost about half the price.
Besides moving manufacturing offshore, it's hard to say a bad word about Electrolux. Its front loaders frequently achieve four or five-star ratings for water and energy efficiency, while packing in a lot of features that make washing your clothes feel less painful. Its models also have a raft of features that won't wreck your fabrics and some intelligent cycle options for time-poor households. Electrolux also won't completely break the bank – with many models priced between $1,000 and $2,000. Overall, Electrolux ticks a lot of boxes, but keep an open mind and see what else you could get for your money before diving in.
Compare Front Load Washing Machines
*Prices taken from Appliances Online and respective retailers, correct as of November 2022.
Meet our consumer experts
---
Megan Birot: Home & Lifestyle Editor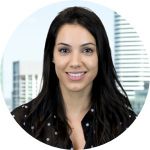 Megan is Canstar Blue's Home & Lifestyle Editor, leading the team that focuses on consumer products and services, ranging from supermarkets and groceries to home and personal appliances and retail stores. She interprets Canstar Blue's bespoke research on the thousands of brands that we compare, rate and review, to help shoppers make better purchasing decisions.
Samantha Howse: Consumer Research Specialist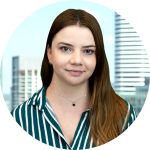 Samantha Howse is Canstar Blue's Consumer Research Specialist, coordinating the consumer research program behind our customer satisfaction awards across Canstar and Canstar Blue in Australia and New Zealand. Sam has earned a Bachelor of Business (Marketing) from Griffith University and, with seven years in market research and 2 years in marketing, she is experienced in survey design, implementation and analysis, coupled with an understanding of marketing principles and best practice.
What do customers think about Electrolux Washing Machines?
In 2022, Australian customers gave Electrolux 3 out of 5 stars for overall customer satisfaction for front loader washing machines. It got 4 stars for design and ease of use.
Electrolux Front Loader Washing Machines
Canstar Blue
Award:
Overall Satisfaction