As sleek and modern as your benchtops and cabinetry might be, a loud and ugly cooktop can ruin your kitchen's overall look. Integrated kitchen appliances are designed to smoothly blend in with their surroundings, and one brand leading the way in combining clean and modern aesthetics with high-end functionality is Miele with its 'ArtLine' appliance portfolio.
Miele ArtLine appliances look simple. Deceptively so. Behind their smooth, minimalistic exterior, each appliance contains extensive functionality and customisability, packaged to be made as easy to use as possible. Let's explore what the ArtLine range does differently.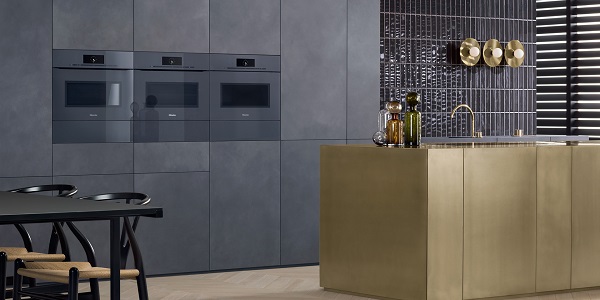 What is the Miele ArtLine range?
ArtLine is a range of high-end fully integrated kitchen appliances by Miele, including ovens, induction cooktops, refrigerators and coffee machines. ArtLine appliances are highly automated. Handles on ovens are replaced with the Touch2Open system, where a light touch on the integrated sensor button prompts the appliance to open automatically. The SoftOpen design guides the door to open gently until it has reached its final position. There are no more manual dials and buttons – everything is controlled by touch buttons and screens.
The streamlined functions are complemented with a choice of two modern exterior finishes – graphite grey and obsidian black. ArtLine is a designer range for kitchens that go beyond the function and are all about aesthetics and experience.
Miele ArtLine ovens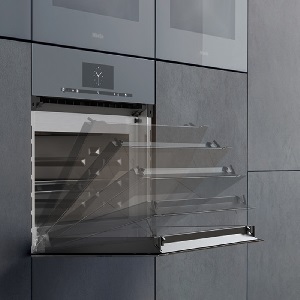 Covering three different kinds of ovens, Miele ArtLine ovens all share the following features in common:
Electronic sensors to monitor and control temperature
Save frequently used settings for one-touch cooking of particular dishes
Automatic programs for different cooking applications
Timer with programmable start and end times
Surfaces remain cool, so there's no need to worry about burns
Safety lock, plus automatic switch off if the maximum operating time exceeded
Standard ovens
Two different models of standard ovens are offered in the ArtLine range. Both the H6461BPX and H6860BPX include pyrolytic cleaning, residual heat utilisation (for improved energy efficiency), and the Moisture Plus Function, which adds extra bursts of steam during cooking to ensure meat is tender and bread tastes bakery-fresh.
The higher-tier H6860BPX adds in a few more features:
Wireless food probe to monitor core temperature
AirClean catalyser, which removes odours and grease from cooking vapours before they're released into your kitchen
Crisp function
Fully extendable runners
Microwave combination ovens
These combine microwave and oven functions into one appliance – saving you space and even time, such as when you want to quickly heat up then crisp food. You could get the very best of both types of cooking without the hassle of shuffling dishes in between two different appliances. Miele produces two microwave combination ovens in the ArtLine range. Both have a stainless steel inner cabinet with the Miele non-stick PerfectClean finish for scratch resistance and easier cleaning. There's also a popcorn button – because it's an absolute necessity for a movie night at home. The higher tier model adds in a food probe to monitor your cooking process without supervision.
Steam combination ovens
The Miele ArtLine steam combination oven adds in steam functions to your oven – injecting bursts of steam in a controlled environment designed to produce your dishes exactly the way you want them. It includes a number of convenient features such as a keep warm function, so it can stay ready to serve for longer, and a number of automatic programs for different types of dishes. The motorised fascia panel lifts up to reveal the water container, condensate container and wireless food probe for easy refilling and removal. You can also cook more at once with up to three levels.

Miele ArtLine induction cooktops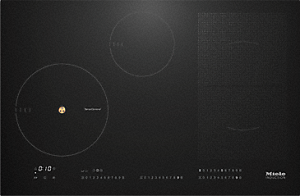 While induction cooktops are already growing in popularity thanks to their relative safety, efficiency, ease of cleaning and modern look, the Miele ArtLine range takes the look a step further. The ArtLine induction cooktop models are designed to fit completely flush with the benchtop for a seamless kitchen surface. Each of the three different models has a different coloured finish; white, black, and graphite black. Apart from the expected features of a good induction cooktop – automatic switch-off when no cookware is in place, central 'stop' button, and ceramic glass surface – there are a few particularly notable features found in Miele ArtLine induction cooktops:
Safety lock, so you (or exploring children) can't accidentally switch it on
Overheating and spill protection, which automatically switches off the heating element if extreme use leads to excessive heat or if a spill occurs
Miele 'Con@ctivity 2.0' wireless communication between the rangehood and the hob, to automatically adjust extraction power settings of the rangehood and switches it on and off based on hob activity
'PowerFlex' cooking zones which can accommodate large and unusually sized cookware
Residual heat indicator, so you know if a surface is safe to touch or place items on
Keep Warm, Stop, and auto heat-up functions
Touch controls, with individual power and timer controls for each cooking zone
Miele ArtLine refrigerators
There are two fridge-freezer configurations available in the Miele ArtLine range – single fridge or freezer units (which can be pigeon-paired together) and bottom-mounted fridge-freezer units (i.e. the freezer is on the bottom). All refrigerators include individually adjustable glass shelf lighting, dynamic cooling with ventilator to distribute cool air, and door shelves which can be cleaned in the dishwasher.
As with the entire ArtLine range, the doors are 'SoftClose', meaning they gently self-close so there's no accidental slamming of doors. Freezers are frost-free with removable clear drawers. Some models also include a fully automatic ice maker which works with a mains water connection or from the built-in water tank. Miele ArtLine refrigerators are all networked with the Miele@home smartphone app. This app can be used to diagnose issues and control functions.

Miele ArtLine coffee machines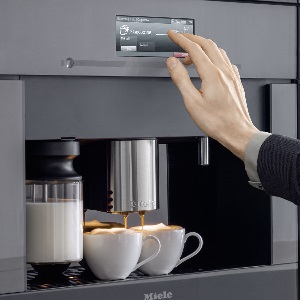 Nothing is more luxurious than having your coffee machine built into your cabinetry. Plus, it looks much neater than having a big appliance taking up counter space. There are two models of built-in coffee machines in the Miele ArtLine range – the CVA 6401 and CVA 6805. The CVA 6401 comes in a graphite grey finish, while the CVA 6805 comes in a choice of graphite grey or obsidian black finish. Both models include the following features:
Fully digital programming (including espresso, coffee, long coffee, cappuccino, cafe latte and latte macchiato)
Coffee pot function for brewing up to eight cups of coffee
Double nozzle, with every program available as a single or double serve
Up to 10 different user profiles
Simple click-in milk system
Ground coffee chute in addition to the bean container, so a different type of coffee can be used without emptying out the bean container
Bean container, water container, waste container and drip tray all hidden from view behind the easy access door
Automatic machine rinse after making coffee with milk, to prevent build-up and keep pipes clear and fresh
Cleaning programmes, for minimal hands-on cleaning
Timer functions mean you can have your coffee freshly brewed right as you wake up. Timer also automatically switches off the machine in the evening and after it hasn't been used in a long time
The higher tier model, the CVA 6805, includes the following upgrades:
Automatic cup height sensor, with a central spout which adjusts height accordingly
Built-in cup warmer drawer, which starts half an hour before the scheduled switch on time
System lock, to prevent unintentional use such as by curious children
How much do Miele ArtLine products cost?
If you're looking to buy one ArtLine product, you may be looking to buy one of everything – since the idea is to create a seamless designer kitchen. The below table lists the recommended retail price range for each product type:
| Product | RRP Range |
| --- | --- |
| Refrigerator (fridge + freezer) | $3,999 – $6,998 |
| Oven | $4,599 – $7,599 |
| Induction cooktop | $3,599 – $4,499 |
| Coffee machine | $4,999 – $6,499 |
Source: Miele
This means that kitting out your kitchen with one of each of the full set of Miele ArtLine appliances could cost you anywhere between $17,196 and $25,595. That's without considering other necessities, such as a separate microwave and a dishwasher.
Should I buy Miele ArtLine appliances?
The ArtLine appliances are designed for creating a seamlessly smooth look with high end appliances. As these are high quality, high price installations, you will likely be combining these with quite a significant kitchen renovation. These are not the kinds of products you buy on a whim.
If you're looking to upgrade to a top-notch kitchen with fully integrated appliances, it may be worth looking into the Miele ArtLine range. However, for many of us these kinds of products are priced out of our reach. You may be better off finding a lower-priced compromise between your dream kitchen and reality.