For the price of a few takeaway coffees per week, renting instead of buying an appliance may seem like a sweet deal. Plus, you won't need to hire a moving truck to lug around your washing machine from one place to the next, or call a service to uninstall then re-install that bulky beast. With many rental agencies offering the latest and greatest models on the market, you probably won't get stuck with a secondhand microwave that's one ready-made meal away from being fried. But, is it better than buying appliances upfront?
We take a look at how rent-to-own services work, and whether leasing appliances is really the way to go if you want to save money.
What is a rent-to-own service?
Rent-to-own services allow you to rent big-ticket items like household appliances or furniture, for a monthly fee over a designated time or contract period. There's no obligation to pay off your rental if you decide you no longer want or need it, though you obviously need to return it in good nick to fulfill your legal requirements. If you decide to complete payment in full over the term of the rental, you then own your appliance outright.
At first glance, this option may seem more affordable than paying for a washing machine or fridge upfront, but it's not always the case. For example, if the rental period is longer than 24 months, the total cost to rent your appliance may be more than what you'd pay full price.
How long can I rent an appliance for?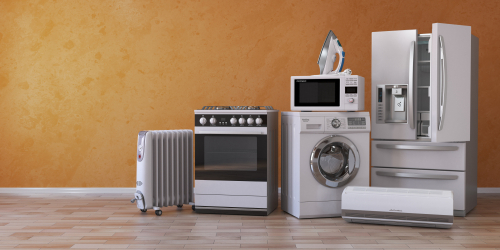 Different rental agencies have their own set of rental periods and allow you to find a payment plan that best suits your circumstances. Here are three types of rental contracts available:
Fixed-term rent: fixed-term options set by the rental company, such as 12, 24, or 48 months.
Fixed short-term rent: you can set a specific short rental period, such as two months.
Indefinite: the lease is open-ended, allowing you to extend the contract period.
There are a few factors to think about before you fill in an application to rent an appliance:
Personal/financial information
You will need to provide financial information including your income, expenses, and some bank statements. Rental agencies also require your driver's licence and another form of identification (i.e. Medicare card).
Deposit or bond
You might need to pay a deposit on the rental item, which you may get back at the end of the contract period and once the rented item(s) have been returned in full spec. Though many rental agencies require no upfront payments.
Rental history or credit check
Rental agencies typically perform credit checks on applicants before approving a rental request. Some services review a person's eligibility on a case-by-case basis. This means being rejected by another rental company, or issues concerning past credit or rental history won't automatically prevent you from renting an appliance.
Delivery
Rental agencies generally deliver to most places across Australia and offer next business day delivery. But make sure delivery is available in your location before continuing with anything else, especially if you're in a remote area.
Where can I rent appliances?
Here are some popular rent-to-own companies and services available in Australia:
Direct Appliance Rentals
Essential Appliance Rentals
1st Choice Rentals
Mr Rental
Radio Rentals
Rent4Keeps
Rent the Roo
Pros & cons of renting appliances
Here are the main advantages and disadvantages of renting appliances:
| Pros of renting appliances | Cons of renting appliances |
| --- | --- |
| No upfront cost | Long-term rentals can end up costing you more than buying an appliance upfront |
| Reduces the cost of moving homes | Additional fees, if applicable (i.e. repair, cleaning fees, early termination, etc.) |
| Free delivery and next-day delivery available in most cases | Delivery may be unavailable in some areas |
| Flexible rental contracts available | Can't compare rent vs recommended retail price (RRP) when models aren't listed on site |
Rental agencies work similarly to 'buy now, pay later' services such as Afterpay and allow you to purchase something you need, like a washing machine, without breaking the bank. This can be especially useful for households that need a temporary replacement while they wait for their existing model to get fixed, for example.
You can even skip the rental process and buy a new or secondhand 'rent-to-own' appliance and pay for it in installments. Plus, if you're unsure whether it's worth keeping your washing machine when you move out, researching rental models might be worth looking into. It can also be handy for people moving out or those on a short-term lease who don't want to commit to buying a new set of home appliances. But while these services are intended to help you avoid breaking the bank, renting in the long-term may cause you to pay significantly more than the retail price.
What is a good month to buy appliances?
Who doesn't love a good deal? June is one of the best months to buy appliances, as many brands and retailers offer big discounts to clear old stock and models before the end of the financial year (EOFY). December 26 aka Boxing Day is also a good day to shop for bargains on appliances. Last year, Appliances Online even saw the Devanti 8kg Front Load Washing Machine on sale for $589, down from $1,600!
What appliances do rent-to-own services offer?
You can rent-to-own a variety of appliances and tech for pretty much every room in the house, plus furniture and even smartphones. Here's a list of some of the items you can rent:
Air conditioners
Clothes dryers
Freezers
Gaming consoles (i.e. Xbox and PS4)
Laptops
Microwaves
Refrigerators
Smartphones
Tablets
Televisions
Vacuum cleaners
Washing machines
How much is it to rent a fridge?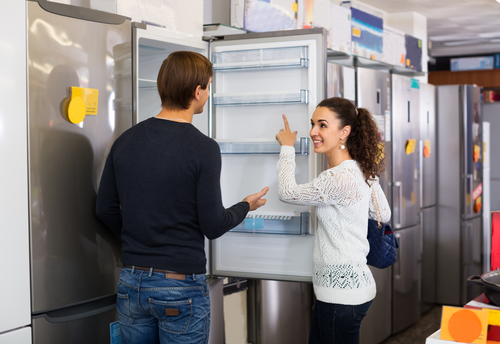 Renting a refrigerator can start from just under $10 and reach up to $30 per week, depending on which rental agency, payment plan and appliance model you choose. In comparison, buying a refrigerator upfront will typically set you back anywhere between $400 – $5,000. Rental services such as Radio Rentals allow you to sort by price and filter through different brands like Fisher & Paykel, Haier, Westinghouse and Hisense. Renting a fridge from Radio Rentals can cost at least $7.50 per week for 36 months and go up to a weekly fee of $69.11 for a shorter 12-month plan.
One of the models currently available on the Radio Rentals website is the Haier 450L Top Mount Fridge (HRF454TW3). You can find it for $799 from retailers including Bing Lee, but here's how much you could expect to pay to rent it (by contract term):
$12.99 (weekly) for 36 months: $2,026.44 total
$15.99 (weekly) for 24 months: $1,662.96 total
$24.99 (weekly) for 12 months: $1,299.48 total
Some rental agencies like Mr Rental, for example, present a more generic list of options on their websites, such as 'large fridge', rather than listing specific models. The features of the fridge and an estimated quote are also displayed. In this case, you can chat with a consultant from Mr Rental about the different products available. Renting a large fridge (460L) from this agency is said to cost at least $18 per week, for 36 months, totaling $2,808 over the contract period. To compare, refrigerators with a capacity between 450L and 500L usually retail for $1,000 to $4,000.
Is it better to rent or buy a fridge?
In terms of price, our research has found Australian households spend an average of $1,528 on a new fridge. Renting one can be an affordable alternative if you're planning to use it for a few months rather than a couple of years. But based on the numbers above, it's not always cheaper to rent. Also, keep in mind that the cost to rent doesn't take into account the fridge's running costs.
How much is it to rent a washer and dryer?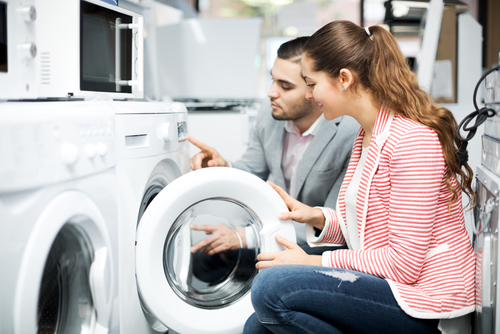 When there isn't a laundromat nearby or the local one just doesn't cut it, sometimes it may be easier to rent a washing machine. Cheap washing machines can still burn a sizeable hole in your wallet, with washers usually selling for $500 to $4,000. Our latest research has shown Australians spend an average of $771 on a new front loader, $680 for a top loader and $615 on a clothes dryer.
Some rental agencies like 1st Choice Rentals offer package deals, which can be useful if you're starting from scratch. 1st Choice Rentals offers a kitchen and laundry pack, for example, which comes with a fridge, washing machine and dryer. But unlike many other rent-to-own products, this option is only available for $31.25 per week for three years. That's equivalent to $4,875 in total. Alternatively, you can opt for individual items for much cheaper. Clothes dryers from Rent4Keeps start from $10.97 a week, including the Haier 4kg Vented Dryer (HDV40A1), which retails for $469. This is part of a 36-month term, equating to $1,771.32.
Are rent-to-own appliances a good idea?
The cost of moving out can be hard to swallow, especially when basic items like refrigerators and washing machines add a few more zeros to the equation. Renting appliances can soften the costly blow, making the initial stages of the transition more manageable in terms of dollars. Plus, the ability to choose a payment schedule (i.e. weekly, fortnightly or monthly) adds even greater financial flexibility. Renting-to-own can also be a useful solution for people with short-term living arrangements and those seeking to lease for one month rather than one year. Depending on the length of time you keep the appliance, the rental fee might eventually surpass the retail price of the product ─ which means you're now paying for the fridge or washer to sit in the house, in addition to the usual maintenance and running costs. At some point, the arrangement is no longer cost-effective and simply becomes costly.
Compare Front Load Washing Machines
*Prices are taken from respective retailers, correct as of March 2021.
Picture credits: Maxx-Studio / Shutterstock.com, Iako Filimonov / Shutterstock.com, Hedgehog94 / Shutterstock.com.
Original Author: Tahnee-Jae Lopez-Vito