With the explosion of apps in the modern era, the way we interact with businesses has changed dramatically. Take your energy retailer, for example. Not that long ago, customers had limited options when it came to communicating with their electricity provider. The days of sluggishly logging into your account via a PC or Mac are almost a thing of the past, as is waiting on hold for what seemed like an eternity to make a simple query over the phone.
Thankfully, EnergyAustralia customers have the luxury of downloading its energy app to access a variety of tools and online features. But is the EnergyAustralia app as useful as it claims? In this article, we take a closer look at the app's functions to find out if EnergyAustralia delivers on this important customer touchpoint and whether or not it's worth looking into.
What is the EnergyAustralia app?
The EnergyAustralia app is a program that can be downloaded on your mobile phone or tablet, giving you 24/7 access to your account details, energy usage and bills. The EnergyAustralia app gives residential customers the convenience of staying on top of energy accounts remotely, and claims to provide online tools that can help manage electricity consumption.
Before we dive in any further, it's worth noting that some of the app's functions are only available for electricity customers with a smart meter, such as regular updates on household energy usage. For customers without a smart meter, you will still have access to basic account information, usage history data and more.
What does the EnergyAustralia app do?
Customers with the EnergyAustralia app will be able to:
Edit and update account details, such as billing preferences and contact information
Track electricity usage if you have a smart meter
View energy consumption history
Download and securely pay energy bills
To access the EnergyAustralia app, you will need to use the same log-in details as your My Account portal on the EA website. The app is available to all residential and small business customers, which is handy if you're looking to monitor your electricity usage on the go.
EnergyAustralia app for iPhone
You can download the EnergyAustralia app for free via the App Store. The app is compatible with iOS 9.0 or later and will work on iPhone, iPad and iPod touch operating systems. The size of the download is currently 84.9MB. Take a look below of a screenshot of the EnergyAustralia app on an iPhone: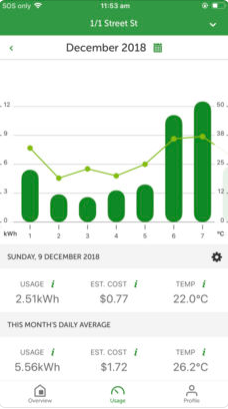 EnergyAustralia app for Android
Customers with Android smartphones can download the EnergyAustralia app free of charge on Google Play. You will need to be on Android 4.2 or a later version, and the size of the installation is 24MB. The screenshot below is how the usage functionality will look like on Android: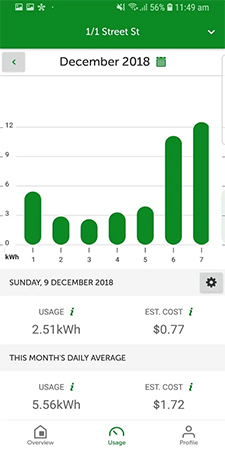 Can I measure my electricity usage with the EnergyAustralia app?
Yes, you can monitor electricity usage in the app if you have a smart meter installed at your property. Depending on the operating system of your device (iOS or Android), the EnergyAustralia app should have a usage tab at the bottom where you can view your usage data within a billing period, outlining your estimated costs and your average energy consumption per kilowatt hour (kWh).
If you do not have a smart meter, you will only be able to view historical electricity usage data.
Can I pay my energy bill on the EnergyAustralia app?
Yes, the EnergyAustralia app lets customers pay their bills via a credit card, as well as displaying the important billing information, such as discounts and the due date. The app even allows you to request a payment extension if you're a little strapped for cash, which can save a lot of time.
Does the EnergyAustralia app monitor electricity usage if I have solar?
According to EnergyAustralia, the app is currently for viewing electricity usage only, not solar or gas. That said, EnergyAustralia might update the app in the future, so it could be worth keeping an eye out if you're specifically looking to track your solar system's output.
Do you need a smart meter to use the EnergyAustralia app?
Your property does not need a smart meter in order to use the EnergyAustralia app, however some of the live tracking functions will be limited. If you're looking to track your electricity usage and view personalised usage graphs, you will need a smart meter.
Many households are replacing traditional meters with smart meters throughout Australia, allowing a much more seamless way of keeping on top of your electricity bills and usage. Not entirely sure how to get a smart meter? View our guide here.
Is it worth downloading the EnergyAustralia app?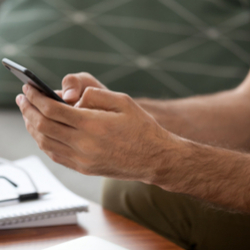 At the time of this article's publication, the EnergyAustralia app still has a bit of work to do. The app only managed a rating of two out of five on the App Store, while it scored 2.7 out of five on Google Play. In terms of its usability, you may find the app worthwhile if you have a smart meter installed, as you can tap into some real-time insights of your electricity consumption.
If you're not really bothered about tracking your energy usage, or don't have a smart meter, then you can probably sit this one out. EnergyAustralia customers will still have access to their account details via the My Account portal on the website, which shares some tools and insights from the app.
Are EnergyAustralia plans right for me?
EnergyAustralia is one of the country's largest electricity retailers, but despite its size, still manages to punch well above its weight in terms of choice and value. Depending on which state you live in, EnergyAustralia offers many flexible products, including solar, GreenPower options, and plans with fixed rates over 12-month periods. It's also one of the leading retailers when it comes to competitive no discount deals.
Nonetheless, if you're looking to expand your options and compare a variety of power plans from different energy providers, then you've come to the right place. By jumping on our free comparison tool, you can review a range of electricity or gas plans from a stack of leading retailers. How does having so much choice help you find a cheaper energy plan? Easy, it puts you in control as you can filter your search to your needs.

Image credits: fizkes/Shutterstock.com