Top Chewing Gum Brand – Juicy Fruit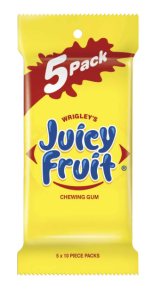 Part of the Wrigley's brand – which has been operating for over 100 years – Juicy Fruit has stuck to its guns, with the brand offering its Original flavour as its only entrant to the chewing gum market. Available as multipacks – which contain five packs of 10 pieces of gum – Juicy Fruit is readily available to purchase at major supermarkets and stores, allowing you to get fresh breath on the go.
Juicy Fruit was rated five stars for value for money, taste & flavour, texture & consistency and overall satisfaction, with four stars for packaging convenience and effectiveness, along with three stars for variety & range.
Is it good to chew gum every day?
It all depends on which gum you chew! If you're looking to keep your mouth fresh and your teeth white, then you need to avoid two things: gum with sugar and gum with acids. Chewing gum that contains sugar puts you at risk of tooth decay and chewing gum that contains acids (which are usually used for flavouring) can cause erosion of the soft enamel on your teeth.
If you're going to chew gum every day, opt for sugar-free gum. It encourages saliva production in your mouth, which helps to neutralise acids in plaque, and prevents bacteria growth and tooth decay.
Is it bad to swallow chewing gum?
Chewing gum is designed to be chewed not swallowed. However, contrary to what our parents had us believe, swallowed gum doesn't sit in your stomach for 'seven years' before it gets digested. The human body can safely pass gum within a few days, so don't stress if you accidentally swallow some gum. While our bodies are unable to break down or extract nutrients from gum (because it's not food), it still travels through our digestive tract just like any other edible substance, such as fibre.