Fact Checked
Eclipse chomps on competition as best-rated chewing gum
It's the snacker's best friend, delivering fresh breath within seconds of cracking the wrapper or popping the lid, so it comes as no surprise that 65% of people we surveyed need to have their handy chewing gum close by their side. More than that, over a third (36%) like to chew it every day, and about the same number (38%) partake weekly. Whichever camp you're in, having the right type of chewing gum is essential for your dental health and fresh breath.
---
How we rate chewing gum
---
Chewy is more than an after-meal breath freshener. It seems folks have all sorts of ways they like to use their chewing gum. While only 8% of people chew gum after a meal, an alarming 13% don't mind swallowing it down the hatch (not recommended!). Meanwhile, 11% of people we surveyed are happy to skip the toothbrush and go straight for the gum. Nearly half of the respondents in our survey (44%) get crafty and chew gum to avoid popping ears on the plane, while a third (32%) rely on it to suppress their appetite.
Find more detailed information on our ratings methodology.
---
Top Chewing Gum Brand – Eclipse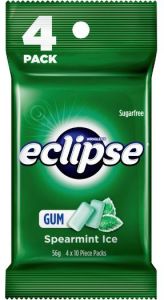 Eclipse promises to deliver to chewers 'powerful fresh breath' with its range of gums and breath mints. Standing out from the crowd in its iconic tin, Eclipse has made a name for itself in the fresh breath market. The brand's chewing gum comes in classic flavours like spearmint and peppermint, with sugar-free options also available. A four-pack of Eclipse chewing gum costs about $4.
Eclipse scored five stars for effectiveness, range variety, packaging design and overall satisfaction. It landed on four stars for taste and flavour, consistency, and value for money.
Is it good to chew gum every day?
It all depends on which gum you chew! If you're looking to keep your mouth fresh and your teeth white, then you need to avoid two things: gum with sugar and gum with acids. Chewing gum that contains sugar puts you at risk of tooth decay and chewing gum that contains acids (which are usually used for flavouring) can cause erosion of the soft enamel on your teeth.
If you're going to chew gum every day, opt for sugar-free gum. It encourages saliva production in your mouth, which helps to neutralise acids in plaque, and prevents bacteria growth and tooth decay.
Is it bad to swallow chewing gum?
Chewing gum is designed to be chewed not swallowed. However, contrary to what our parents had us believe, swallowed gum doesn't sit in your stomach for 'seven years' before it gets digested. The human body can safely pass gum within a few days, so don't stress if you accidentally swallow some gum. While our bodies are unable to break down or extract nutrients from gum (because it's not food), it still travels through our digestive tract just like any other edible substance, such as fibre.
About the author of this page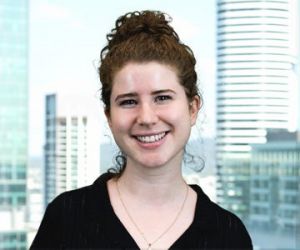 This report was written by Canstar Blue's Content Producer Luciana Lawe Davies. She writes about streaming, appliances, and consumer products and services. Luciana enjoys bringing readers the best in what's on TV and at the shops, including the best deals and latest reviews.