These days, you're probably more likely to see George Clooney brew a cup of coffee using his favourite Nespresso capsule than come across millennials armed with Macbooks and leather-bound journals at Starbucks. But with billions of aluminium and plastic coffee pods reportedly ending up in landfill every year, the taste might not be so sweet. These hard-to-dispose products have even been claimed to take up to 500 years to break down. Fortunately, many brands are making sure that one person's recycled trash is someone else's repurposed treasure.
Don't want to feel guilty about drinking capsule coffee to help you grind through the day? You're not the only one. According to Canstar Blue research, 28% of Australians prefer to use coffee pods that minimise their environmental footprint. Read our guide below to see how you can enjoy your fav coffee without destroying the earth.
How are coffee capsules bad for the environment?
Single-serve coffee capsules are convenient and fairly affordable. Just put a pod in the machine, press a button, and voila! You've made a cup of Joe quicker than a barista can shout your name. No complicated tools and measurements, no waiting in line, and you can probably save a few bucks each month. But these small single-serve coffee pods are brewing a Venti-sized environmental problem.
Many brands use aluminium and mixed plastics to create the packaging for the portioned coffee. Each pod includes other materials – such as a silicon ring and lacquer – although most of the outside build is recyclable aluminium. While these pods are technically recyclable, the non-biodegradable properties of these materials means the products are harmful to the environment when not disposed properly. Plus, it's not just about the material that's used to make coffee capsules. Our research shows 40% of survey respondents make coffee at home to avoid buying outside, with 25% of people generally buying the largest pack of capsules. That's a lot of coffee pods.
Are aluminium coffee capsules recyclable?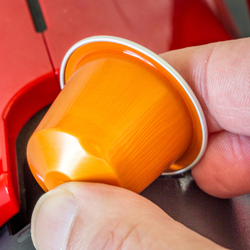 Aluminium is a material typically used to create single-serve coffee capsules. It can be recycled to create a variety of things like window frames, cars and computers. Nespresso claims it's "infinitely recyclable" and "the best material to protect the freshness, taste and quality" of the coffee grounds. The company also states the aluminium it uses does not require any unnecessary extra packaging to preserve the " freshness and taste".
However, the aluminium used to create each capsule is said to be too small for collection facilities to properly process because the recycling system is usually designed to handle larger items like bottles and cans. So, pods just end up filtering through and polluting the system. Aluminium also requires plenty of energy to make, making it even more important to reuse the material.
Are plastic coffee pods recyclable?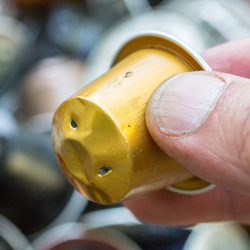 Plastic doesn't exactly have a good reputation when it comes to the environment. Nespresso and Keurig, two of the world's leading single-serve coffee manufacturers, have previously been roasted for using Plastic #7. This is a type of plastic material that's hard to break down and could contain toxins. Although the two brands have now tried to change their environmentally non-friendly ways, by partnering with TerraCycle and providing a sustainable recycling program for customers.
For better recyclability, some companies use a plastic material known as polyethylene (PETE or PET). It's commonly repurposed into things like storage containers, clothes and sleeping bags. This means you can safely dispose of any leftover coffee grounds into the recycling bin, or alternatively add it to your compost heap, before throwing the emptied plastic coffee pods into the plastic recycling bin at home.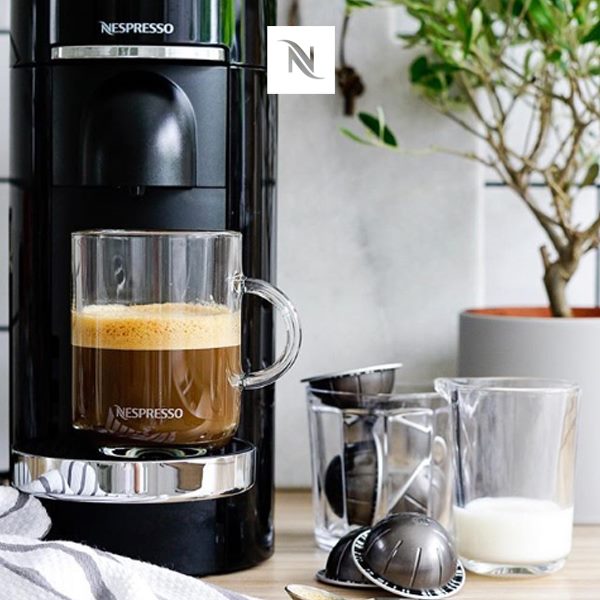 What are brands doing to become eco-friendly?
How are brands trying to prevent a dark and bitter end? Many brands in Australia such as Nespresso, L'OR, Moccona and Nescafe have teamed up with recycling and upcycling company TerraCycle to give these hard-to-dispose products a second life. Other brands like ALDI rely on its own sustainable recycling program.
However, these initiatives rely on customers to return their capsules. Some brands like Nescafe reward customers for their good habits by giving points, or providing a small cash value to certain charities and non-profit organisations for each pod.
See our customer ratings:
How can you recycle coffee capsules and coffee pods?
The heat is not just on brands to ensure coffee pods don't end up in landfill. Here's how you can pour in the effort and reduce your carbon footprint one recycled capsule at a time. It's always better latte than never, right? See below to see a list of brands creating recyclable coffee capsules and ways you can safely throw away used pods.
ALDI
Nespresso
L'OR
Moccona
Nescafe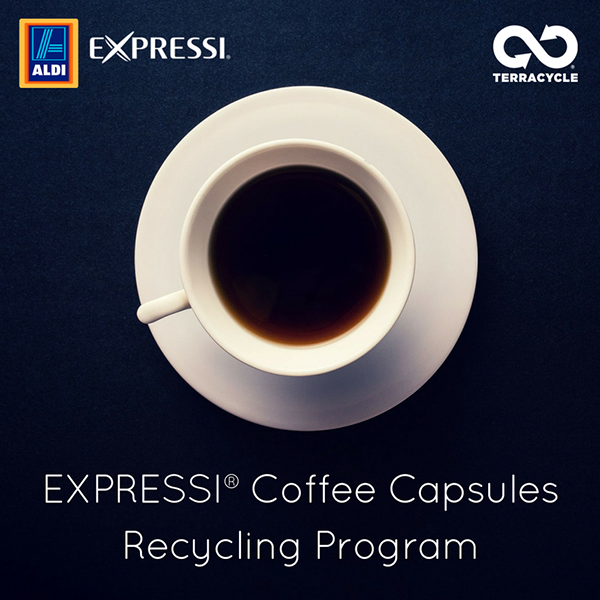 Are ALDI Expressi capsules recyclable?
ALDI previously ran the Expressi Coffee Capsules Recycling Program in partnership with TerraCycle, transforming used Expressi capsules into recycled products. But after reaching maximum capacity sooner than expected, the initiative is no longer offered. Although the "socially responsible supermarket" is exploring options to expand its recycling program, ALDI has said it will update customers once the program has been finalised.
ALDI recommends you check with your local recycling authorities that your used capsules are recyclable. Keep in mind that you must remove all the residue left in the pod before disposing it.
Can Nespresso coffee pods be recycled?
Nespresso apparently prides itself on its "seed to sip" approach towards minimising the company's environmental impact at each stage of the product life-cycle. The brand even claims that producing portioned coffee has helped the company reduce the carbon footprint of every cup of Nespresso coffee by 20%.
There are a few ways Nespresso encourages its customers to recycle your used aluminium coffee capsules:
Take the coffee capsules to your nearest Nespresso Boutique.
Drop off the pods at one of the 19,000 participating collection points across Australia.
Post the capsules back to Nespresso using the prepaid Australia Post Recycling Satchel. The package is available to buy for $3, including the postage cost, and can fit up to 130 capsules.
Dispose the capsules in the Nespresso Recycling box, which can be found in any workplace or community participating in Nespresso's Nespresso bulk recycling program.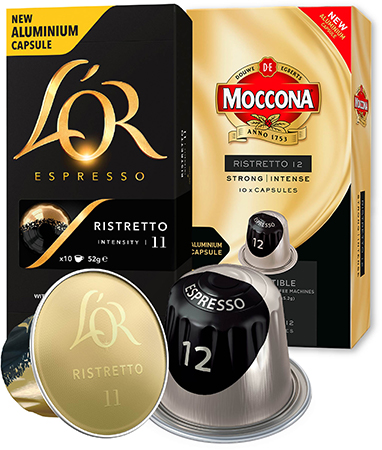 How do you recycle L'OR and Moccona coffee capsules?
L'OR and Moccona have partnered with TerraCycle to recycle its aluminium coffee capsules. The used products are stored until there are enough pods to process the aluminium. The coffee pods are then cleaned and made into smaller pieces, melted down and recycled into new products.
You can send your used L'OR or Moccona coffee capsules to TerraCycle, preferably in the cardboard box that you received the products in. Although, you can use any box you have available, as long as it fits at least 200 capsules (about 2kg worth). But each collection box must not include more than 70kg worth of capsules.
Gather your empty L'OR or Moccona capsules in a plastic bag to avoid any leakage, before placing them into the collection box. Make sure to seal the box and tape the shipping label, which you can find online. Then, arrange a pick up by calling the phone number contained in the email you received your label.
Unlike the ALDI Expressi capsules, these pods do not need to be thoroughly cleaned before being sent to recycling. The company states the coffee grounds will be separated and composted during the recycling process.
Can you recycle NESCAFÉ Dolce Gusto capsules?
Nescafe has also partnered with TerraCycle to help customers give a second life to its NESCAFÉ Dolce Gusto capsules. To recycle your used pods, sign up to the NESCAFÉ Dolce Gusto recycling program online. Collect your used capsules, place them in a plastic bag and put it in a collection box. Then print the prepaid shipping label available online and tape it to the box, before dropping it to your local post office. For each coffee pod you send to TerraCycle, $0.02 will be donated to your chosen charity.