Are you stirring around looking for a budget-friendly coffee machine that will help you make barista-quality cuppas at home? If so, we've whipped up a 'fa-brew-lous' list of cheap coffee machines worth checking out if paying for takeaway coffee isn't your cup of tea.
Best cheap coffee machines in 2021
Good coffee machines don't come cheap, and cheap coffee machines aren't good – right? Wrong! Check out these affordable options for less than $200, listed in no particular order:
Nescafe Dolce Gusto Infinissima Capsule Machine: $55 RRP*
Expressi Multi Beverage Capsule Machine: $79.95 RRP*
Kmart Espresso Coffee Machine: $89 RRP*
Starbucks by Nescafe Dolce Gusto GenioS Coffee Machine: $99 RRP*
Lavazza Jolie Plus Espresso Capsule Coffee Machine: $119 RRP*
Sunbeam Cafe Espresso II Coffee Machine: $159 RRP*
Nespresso De'Longhi Citiz Solo Capsule Machine: $199 RRP*
1. Nescafe Dolce Gusto Infinissima Capsule Machine − $55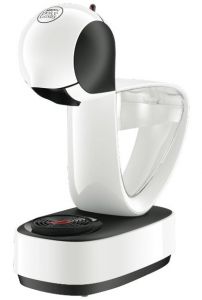 This Nescafe capsule coffee machine (NCU250WHT2JAN1) is the ideal option if you're living in an apartment or are short on bench space at home. It features a single-serve capsule design and 15-bar high-pressure system to brew both hot and cold smooth-textured drinks, including 16 coffee variations. It has a 30-second heat-up time, plus a generous 1.2L capacity and descaling alert for convenience. This Nescafe Dolce Gusto Infinissima model is available to purchase in white or black.
2. Expressi Multi Beverage Capsule Machine − $79.95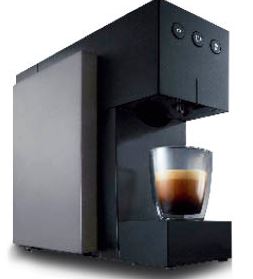 ALDI spins its own range of espresso coffee machines and coffee products, under the brand name Expressi. The range includes this Expressi multi beverage capsule machine for $79.95, only available in the budget supermarket's seasonal Special Buys. This Swiss-engineered model features a 19-bar pressure pump, a rapid 20-second heat-up time, an automatic capsule ejection and cleaning function, plus a 0.8L water tank and energy-efficient automatic shut-off. Not too shabby, ALDI!
3. Kmart Espresso Coffee Machine − $89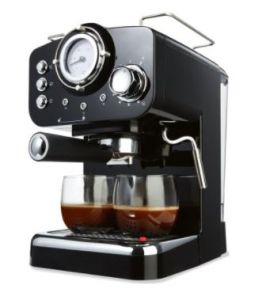 This $89 Kmart expresso coffee machine is a cult favourite among the department store's fans and for good reason. It features a 15-bar pressure pump (essential for creating creamy foam), a single or double espresso shot option, a high-pressure milk steamer, a 1.2L detachable water tank with handle, plus accessories like a tamper, coffee grind scoop, brewing filter and holder. This Kmart Anko coffee maker comes in a retro design with a black finish, perfect for modern kitchens and man caves!
4. Starbucks by Nescafe Dolce Gusto GenioS Coffee Machine − $99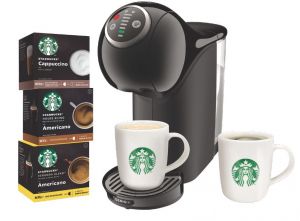 Want to enjoy Starbucks-quality coffee on a Maccas budget? Then look no further than this Starbucks-edition coffee machine in the Nescafe Dolce Gusto range (NSB765BLK4JAN1). You'll be able to brew up professional coffees using its 15-bar high-pressure system and hermetically-sealed capsules to create that sweet crema and preserve coffee freshness. There are also more than 16 coffee selections to choose from including espresso, cappuccino, latte macchiato, and even hot choc! Plus, you can make tea and cold drinks. Brew-ti-ful!
5. Lavazza Jolie Plus Espresso Capsule Coffee Machine − $119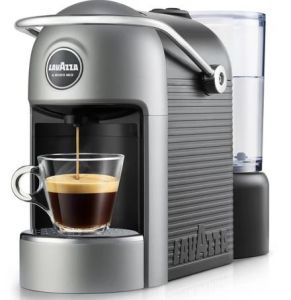 This Lavazza espresso capsule coffee machine (18000130) has all the basic functions and features you need to kickstart your busy mornings. It features a 10-bar pressure pump for a smooth coffee extraction, two coffee selections, so you can choose between a normal or long espresso; an auto shut-off function, a usable capsule tray indicator, 600ml water tank capacity, and a small and large cup drip tray.
6. Sunbeam Cafe Espresso II Coffee Machine − $159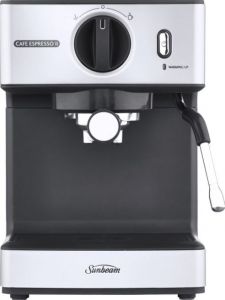 This Sunbeam espresso machine (EM3820) is a good option for those just starting on their aromatic odyssey of coffee. Its 15-bar pump combined with the design of the portafilter and Thermoblock heating technology, should make it easier to extract maximum 'vitality' from each shot, using only the amount of water required for your shot. It also comes with a steam wand for when you're ready to try your hand at some latte art designs.
7. Nespresso De'Longhi Citiz Solo Capsule Machine − $199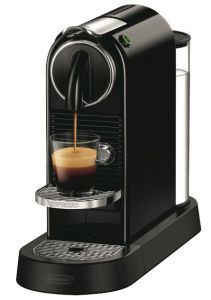 For a delicious morning brew without the wait, this Nespresso De'Longhi capsule machine (EN167B) could well be a good option, with a 19-bar pressure pump and Thermoblock system for a fast heat-up time and coffee extraction. It also comes with an Espresso (cup size) or Lungo (tall glass) pre-set button so that you can brew your perfect coffee size each time. This unit also has an auto-off function which will switch off the machine after nine minutes of inactivity to save energy. Fast and energy-efficient – we're sold!
Are ALDI coffee machines any good?
ALDI Expressi coffee machines typically sell out within days each time they pop up in Special Buys, so it's safe to assume Aussies love them. Online reviews also suggest Expressi machines are easy to use, clean and come with various functions to make different coffee blends and strengths. The Expressi brand first appeared in Australia back in 2011, in partnership with German coffee giant Kruger.
What's the best coffee machine for home use?
There are three main types of coffee machines available:
Capsule coffee machines
Automatic coffee machines
Manual espresso machines
If you're looking to make café-quality cuppas with your eyes closed, then an automatic coffee maker is your best option. It makes 'real' coffee but without the fuss of grinding your own beans and having to manually control the pressure, water temperature and all that jazz. Plus, there's virtually no chance of burning your coffee!
Capsule coffee machines are the easiest option to use by far though, and ideal for households on the go. Once you insert a pod into the machine, it will pump out a pre-measured coffee shot (of your choice) into your cup and voila. However, it's worth noting you'd be trading off that authentic coffee taste for convenience, as capsule coffee machines don't give you much control over the flavour and consistency of your coffee.
If you fancy yourself as a bit of an at-home barista, or simply want to up your coffee game, then you can't beat a manual espresso machine. It's what most cafes and restaurants use, and they're also cheaper to buy.
Compare Espresso Coffee Machines
*Prices taken from respective retailers, correct as of February 2021.
Picture credits: Monika Wisniewska/Shutterstock.com.