Good coffee machines don't come cheap, and cheap coffee machines aren't good – right? Wrong! Our Canstar Blue Home & Lifestyle team have done the research and created a list of affordable options for less than $200.
Are you stirring around looking for a budget-friendly coffee machine that will help you make barista-quality cuppas at home? If so, we've whipped up a 'fa-brew-lous' list of cheap coffee machines worth checking out if paying for takeaway coffee isn't your cup of tea.
Best cheap coffee machines in 2022
*Prices taken from respective retailers, correct as of August 2022.
1. Nescafe Dolce Gusto Piccolo XS Coffee Machine − $79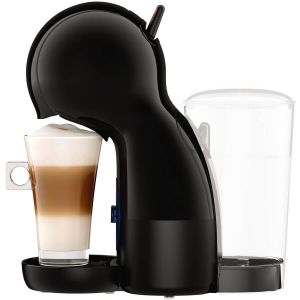 Editor's Notes
This Nescafe pod coffee machine has a tiny footprint, designed to fit in even the smallest of kitchens. Available in both black and white to suit different aesthetics, it has options for hot or cold beverages and over 15 coffee creations to choose from. It can create a thick and velvety crema with a high-pressure system of 15 bars. The eco-mode feature turns off the unit after one minute of inactivity, which means that you don't have to worry about whether you left it on. Plus, isn't that just the cutest coffee machine you've ever seen?!
Purchase online
2. ALDI's Expressi Multi Beverage Capsule Machine − $79.99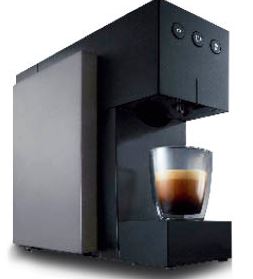 Editor's Notes
ALDI spins its own range of espresso coffee machines and coffee products, under the brand name Expressi. The range includes this Expressi multi beverage capsule machine for $79.95, only available in the budget supermarket's seasonal Special Buys. This Swiss-engineered model features a 19-bar pressure pump, a rapid 20-second heat-up time, an automatic capsule ejection and cleaning function, plus a 0.8L water tank and energy-efficient automatic shut-off. Not too shabby, ALDI!
Purchase online
3. Nescafe Dolce Gusto Infinissima Capsule Machine − $89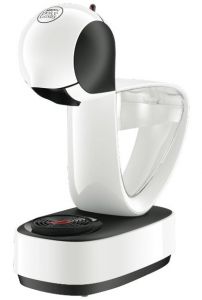 Editor's Notes
This Nescafe capsule coffee machine (NCU250WHT2JAN1) is the ideal option if you're living in an apartment or are short on bench space at home. It features a single-serve capsule design and 15-bar high-pressure system to brew both hot and cold smooth-textured drinks, including 16 coffee variations. It has a 30-second heat-up time, plus a generous 1.2L capacity and descaling alert for convenience. This Nescafe Dolce Gusto Infinissima model is available to purchase in white or black.
Purchase online
4. Kmart Espresso Machine − $95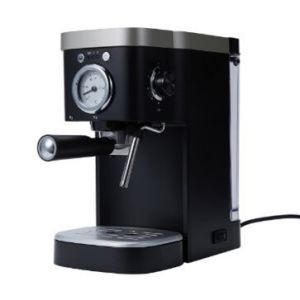 Editor's Notes
An improved version of its predecessor, this $95 Kmart Espresso Machine features a 15-bar pressure pump (ideal for achieving a great espresso shot), a warming plate for coffee cup pre-heating (hello luxury), options for both single and double espresso shots, and a detachable water tank, frothing nozzle, and drip tray for easy cleaning (and filling). Online reviews are mostly positive; however, some shoppers weren't impressed with the time it takes for the temperature to change from making the espresso shot to frothing the milk – not ideal if you're making more than one coffee.
Purchase online
5. Lavazza Jolie Plus Espresso Capsule Coffee Machine − $149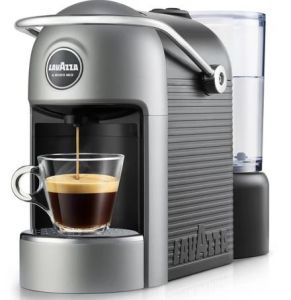 Editor's Notes
This Lavazza espresso capsule coffee machine (18000130) has all the basic functions and features you need to kickstart your busy mornings. It features a 10-bar pressure pump for a smooth coffee extraction, two coffee selections, so you can choose between a normal or long espresso; an auto shut-off function, a usable capsule tray indicator, 600ml water tank capacity, and a small and large cup drip tray.
Purchase online
6. Breville Essenza Mini Solo Coffee Machine − $159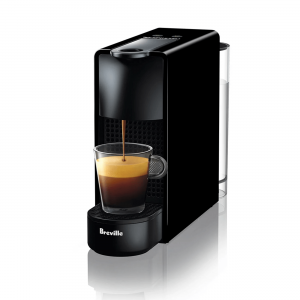 Editor's Notes
With a 19-bar pressure pump, and auto piercing and brewing of capsules, this minimalist Breville coffee machine extracts as much flavour from the capsules. It features a 25-second heat-up time, two programmable cup sizes for espresso and lungo coffees, an energy-saving feature that turns the machine off after nine minutes, and comes with your standard drip tray and Thermoblock. Online reviews are mostly positive, with people raving about how quiet it is in comparison to other coffee machines.
Purchase online
More lists of the best cheap products in Australia
What's the best coffee machine for use at home?
There are three main types of coffee machines available:
Capsule coffee machines
Automatic coffee machines
Manual espresso machines
If you're looking to make café-quality cuppas with your eyes closed, then an automatic coffee maker is your best option. It makes 'real' coffee but without the fuss of grinding your own beans and having to manually control the pressure, water temperature and all that jazz. Plus, there's virtually no chance of burning your coffee!
Capsule coffee machines are the easiest option to use by far though, and ideal for households on the go. Once you insert a coffee pod into the machine, it will pump out a pre-measured coffee shot (of your choice) into your cup and voila. However, it's worth noting you'd be trading off that authentic coffee taste for convenience, as capsule coffee machines don't give you much control over the flavour and consistency of your coffee.
If you fancy yourself as a bit of an at-home barista, or simply want to up your coffee game, then you can't beat a manual espresso machine. While it does require grinding your own coffee beans and take more time to master the art of pulling shots and texturing milk, the satisfaction of creating that perfect coffee is unmatched!
Are ALDI coffee machines any good?
ALDI Expressi coffee machines typically sell out within days each time they pop up in Special Buys, so it's safe to assume Aussies love them. Online reviews also suggest Expressi machines are easy to use, clean and come with various functions to make different coffee blends and strengths. The Expressi brand first appeared in Australia back in 2011, in partnership with German coffee giant Kruger.
Compare Espresso Coffee Machines