When it comes to tackling the lawn, a lawn mower sometimes just isn't enough to get that manicured look, particularly if you have tight spaces or plenty of edges to mow around. But instead of getting on your hands and knees with a pair of scissors or secateurs, households have another way to tidy up close to footpaths and trees – the whipper snipper.
Known also as a line trimmer, weed-whacker or weed-whip, the whipper snipper is a handy addition to the shed, allowing you to tackle areas where you can't use a lawn mower, or even tackle the whole yard if you only have a small patch to take care of. Available in both electric and petrol models, you have plenty of options to choose from for the next time the grass gets away from you. But which model should you spend your hard-earned money on?
Types of whipper snippers
Petrol-fueled whipper snippers are the most common varieties available, with both 2-stroke and 4-stroke models ready to be used. Most models will have a 25cc engine, although some boast a 50cc engine, helping to make short work of any untidy part of the lawn.
Electric models vary between 18V up to 82V, with both corded and cordless varieties available to suit households with and without external power points. Most cordless models will include a rechargeable battery and charging station, although some sell them separately, so be sure to check before you hit the checkout!
Pricewise, there isn't much difference between petrol and electric whipper snippers, with both varieties able to be picked up for less than $100, although some can set you back as much as $500, with mowing brands Victa, Ryobi, Honda, Makita and Yardking all offering options for you to choose from.
It's all in the shaft
Apart from how they're powered, the biggest difference among whipper snipper brands and models is the type of shaft. Whipper snippers are available with either a curved or straight shaft, but what's the difference?
Curved shafts are traditionally shorter and more lightweight than straight shaft models, usually making them easier to control. The trade off is the reach, as some places may be harder to get to, and you may get an uneven cut if you're not careful.
Straight shafts are the more common variety, with a longer reach and a more stable grip, making them handy for those with a big job ahead of them. However, they are heavier, and generally cost more than the curved models.
Brush cutters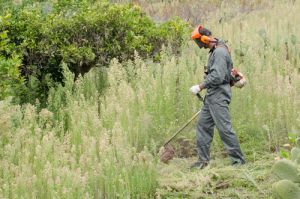 If you're after something a bit heftier, a brush cutter may be more your speed. Essentially a bulkier whipper snipper, brush cutters are generally better suited for clearing larger areas that aren't suitable for lawn mowers, such as those filled with trees, or have plenty of rocks hiding under the grass.
The main difference between brush cutters and whipper snippers is a bigger engine and wider cutting area, with brush cutters similarly available in both 2-stroke and 4-stroke petrol models, together with electrical models. If you've got a large area to tackle, shoulder harnesses and straps are also available, making it easier to carry around.
Most brands offer a 'split-shaft' model, which allows you to replace the cutting head with other power tools, including hedge trimmers and pole pruners
Edge trimmers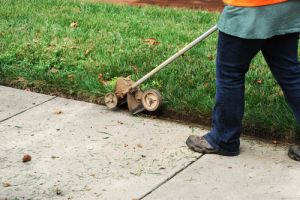 If you've got footpaths or pavers in your yard, an edge trimmer may be a handy option to have, allowing you to cut clean edges around the border of your lawn, giving you the 'edge' over your neighbour's front lawn!
Edge trimmers work similarly to whipper snippers, although feature guiding wheels to ensure that you don't accidently stray off course. Most edge trimmers models also include variable height settings and cutting depths to suit your needs and garden. But before you simply turn your whipper snipper on its side, edge trimmers include specialised grips and guards for increased safety, meaning it may be worth investigating if you're looking to get the most out of your lawn.
Trimmer Cord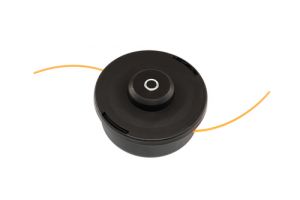 While some trimmers use steel blades to get through tough grass and weeds, most whipper snippers use a trimmer cord, otherwise known as a trimmer line. Found at your local hardware store, a trimmer cord is traditionally made from nylon or plastic, and is available in both pre-cut or full spools.
Generally, a thinner cord will wear quicker, but gives a straighter cut than a thicker cord, making it more ideal for those looking to edge or trim, while thicker line will be more suitable for those looking to go to town with the brush cutter.
Feeding the cord itself can be almost as tough as tackling the lawn, particularly if you find yourself doing it often. Older models required you to hand feed the spool through, while modern ones have something more convenient, including the automatic feed and the bump feed.
The automatic feed works by automatically sending out more cord when you need it, which can take the guesswork out of how much cord you need. While handy for those unsure about cord length, it does add another mechanical part that could potentially break, meaning an automatic feed may cost you additional maintenance costs.
The bump feed works when you 'bump' or press the head of the trimmer against a flat surface, which squeezes a spring and releases cord from the spool. The bump feed uses centrifugal force to pull the string from the spool, which also allows you to control how much cord comes out. However, you'll have to be careful with how hard, and how often, you're bumping the feed, as one bump too many could spell the end of your whipper snipper.
Is a whipper snipper worth it?
To get the lawn of your dreams, you'll have to put the work in, which can be made easier with the right tools. While a whipper snipper may not be a worthwhile purchase for every lawn, it will come in handy for those with footpaths, trees or other obstacles. To ensure you're not left in a spin, be sure to check out all your options before dipping your green thumb into your wallet.