Ever wished there was a Netflix, but for sports? If you're tired of forking out for Foxtel, or unsatisfied with the sports action available from free-to-air networks, new streaming service Kayo could be the game-changer that you've been waiting for.
Kayo brings over 50 sports and codes directly to your TV, mobile, tablet or laptop, offering a huge selection of both live coverage and on-demand gameplay. You'll enjoy matches from major Australian competitions such as the AFL, NRL and Big Bash League, as well as the very best in international sports (including the NBA, NFL and MLB).
If you're wondering why you haven't yet heard of Kayo, the service is only now being officially launched in Australia. A beta version of the product has been available to try out for several weeks, with the company using this initial 'soft' release to work out any kinks and assess customer feedback. Luckily, if you've been champing at the bit for on-demand, on-the-go sports content, you can sign up for Kayo's full, finalised version right now.
What can I watch on Kayo?
Below is some of the content available to stream on Kayo. Over 50 sports – including Aussie and international cricket, and all of Australia's football codes – will be available to stream both live and on-demand, along with exclusive and interactive programming from broadcasters including Fox Sports and ESPN.
Aussie Rules (AFL)
Basketball (NBA, NBL)
Baseball (MLB)
Cricket (BBL, Test matches)
Cycling
Darts
Equestrian
Field Hockey
Golf
Gymnastics
Mixed Martial Arts (UFC)
Motorsport (Formula One, Supercars, NASCAR)
Rowing
Rugby League (NRL)
Rugby Union (Super Rugby, World Rugby Sevens)
Sailing
Soccer (Hyundai A-League)
Tennis
Triathlon
US Football (NFL)
Volleyball
Sports-mad streamers will have access to over 2,000 hours of sports each month, and more than 30,000 hours annually – so no matter what's in season, you'll find something to watch with Kayo.
In addition to on-demand games and live streams, Kayo also features several dedicated sports channels, including Fox Sports, ESPN and BeIN SPORTS.
How much does Kayo cost?
Kayo offers two subscription options to Aussie sports fans: the $25-per-month Basic package, and the $35 Premium plan.
| | Basic Plan | Premium Plan |
| --- | --- | --- |
| Cost per month | $25 | $35 |
| Number of screens you can watch at once | 2 | 3 |
| Live and on-demand sports | | |
| High Definition streaming | | |
| 'Key Moments' match highlights | | |
| Split screen view | | |
| No spoilers | | |
| Watch across all compatible devices | | |
The only real difference between each plan is the number of screens that can be watched at one time. Basic plans will allow you to watch across two screens or devices at once, while the Premium subscription allows customers to stream across three devices simultaneously.
Whichever plan you pick, you're not locked in to a contract, and are free to change or cancel your subscription at any time. Both plans include HD viewing, both live and on-demand games, and extras such as match highlights and split-screen mode (which allows up to four separate games to be streamed on a single screen).
Both subscription options are also available to all customers on a 14-day free trial. Kayo's two-week trial includes up to three simultaneous streams, plus access to all available Kayo content and features. After the initial 14 days, customers can continue to watch (and be billed monthly for their subscription) or cancel their account.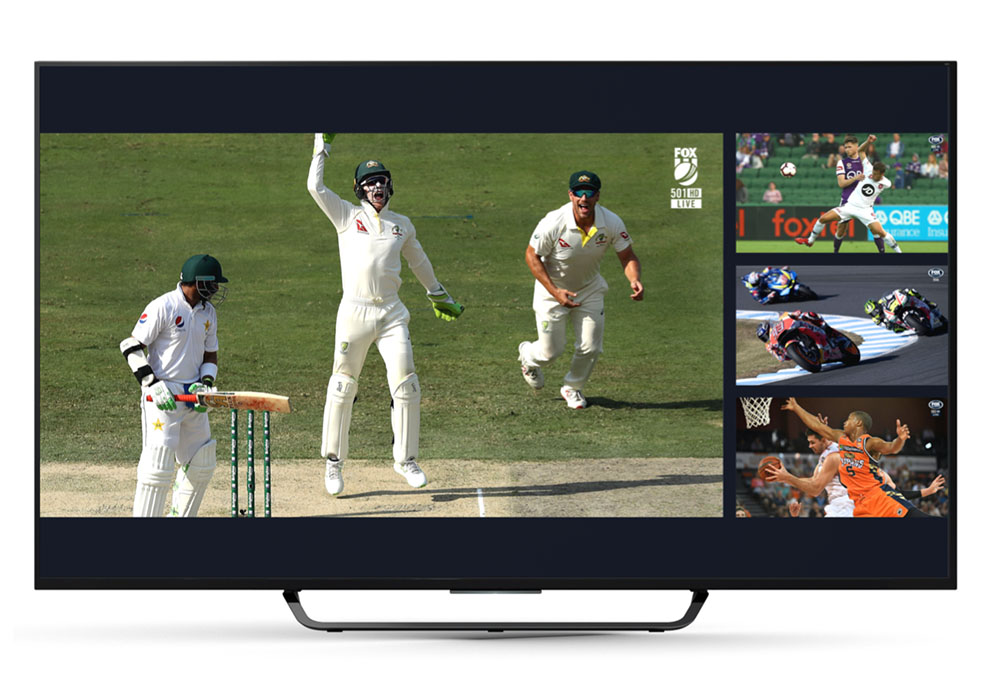 Where can I watch Kayo?
Currently, Kayo is available to watch on PC and Mac computers, as well as via Telstra TV and Apple TV, and through Kayo's Android and iOS apps. If you're watching through your desktop or laptop, Kayo is optimised for Chrome, Safari and Firefox browsers.
The Kayo app will also soon be available through Android TV, on Marshmallow through to Oreo operating systems.
Kayo for Telstra TV
Telstra has announced it has locked down an exclusive telco partnership with Kayo, and will offer the streaming service's official app to customers through Telstra TV. According to Telstra, sports-loving broadband and postpaid mobile customers will be able to add Kayo to their monthly phone or NBN account – eliminating the need to pay two separate monthly bills, or to subscribe to Kayo separately.
You can add Kayo to your Telstra plan via Telstra TV, or through the Telstra customer online portal. But customers should be aware that the SplitView feature is not available on Telstra TV (although you'll be able to access it through other compatible devices).
Should I cancel my Foxtel account?
If you're one of the many current Foxtel customers who subscribes primarily for Fox Sports, Kayo makes for a cost-effective alternative; depending on your pay TV plan, a switch to Kayo could save you hundreds each year. It's also a convenient choice for busy fans who'd like the option of streaming directly to their phone or tablet when out-and-about.
Kayo also provides a more well-rounded alternative to Telstra and Optus' code-specific sports streaming options. Optus Sport, which covers UEFA and Premier League soccer, is included free in selected Optus mobile plans, or available as a $14.99 per-month add-on. Similarly, Telstra customers can access free streaming of NRL, AFL, AFLW, Netball and Hyundai A-League games on selected mobile plans.
So far, Kayo is optimised for mobile device use, but will likely make inroads in the smart TV arena in the near future. Overall, if you're curious about Kayo, sign up for your free 14-day trial; if it's not for you, you're free to cancel at any time.