Expert Guide: iiNet Mobile Phone Plans Review
Best known as a home internet provider, iiNet is a real homegrown success story, having become one of the biggest and arguably most popular telcos in Australia since it was founded in 1993. Since being acquired by
TPG
, iiNet has become part of the second-largest telco family in Australia, challenging the big guys
Telstra
and
Optus
.
While iiNet's roots remain in fixed line broadband, the telco also offers a simple suite of SIM-only prepaid mobile phone plans. The mobile virtual network operator (MVNO) uses the Vodafone 3G & 4G network to provide its services, ensuring reliable and fast connections for customers with access to the Vodafone network. So just how does iiNet compare in the highly-competitive mobile phone plan stakes?
On this page:
An Expert's Guide to iiNet
iiNet doesn't include the flashy extras that you might find through some other providers, but the telco does provide simple and good value plans. And although the data inclusions aren't as large as you might receive through other providers, some of iiNet's plans do include international call value that isn't limited to certain countries. You do get charged for excess data, but this comes from your 'Prepaid Balance' rather than requiring you to recharge your plan.
Pros:
International calls/texts available
No early-termination fee
Excess data charges come out of 'prepaid balance'
Cons:
No entertainment bonuses
5G access not yet available (excluding any 5G trial offers)
Prepaid balance requires you to top up by paying extra
Services offered
iiNet's mobile plans are offered on a SIM-only, prepaid, month-to-month basis. However, these plans are a little different to the typical prepaid phone plan. Plans are charged month-to-month and you prepay for your month's usage in advance. You also have the ability to add additional funds into an optional 'Prepaid Balance', so if you go over your inclusions one month, any excess charges are taken from your Prepaid Balance. You can top this balance off at any time, however if you cancel your plan, you will not receive what is left in your prepaid balance.
The telco offers four different plans, starting at $19.99 per month and going up to $39.99 monthly. All four plans include unlimited standard national calls and SMS, while the $39.99 plan includes 100 international minutes. Data inclusions start at 8GB and go up to 55GB.
Network and Coverage
iiNet operates on the Vodafone network, including its 4G network. So, if you're part of the more than 22 million Australians with access to Vodafone coverage, you'll be able to shop around for phone plans with iiNet (and other MVNOs operating on the Vodafone network).
You might also find Vodafone coverage improving in regional areas (or that you can finally gain access to the network), as the telco continues to build and improve services throughout the country. Although this network is still trailing behind both Telstra and Optus which reach a slightly wider portion of the country. Vodafone is also a bit behind on the race for 5G although its site is in the process of rolling out. iiNet has allowed customers to access 5G on its plans as a trial, however this may be a limited offer and not available to everyone.
Special features and bonuses
Prepaid plans from iiNet come with different inclusions depending on the level of plan you choose. This value might also have an effect on other features, but iiNet does include a few bonuses that could make this telco the right choice for you.
International calls: iiNet does include international calls options on one of its plans — you'll get 100 international minutes to most countries on the $39.99 plan, however some countries are excluded.
No early-termination fees: As the plans operate as month-to-month prepaid plans (with a minimum term of one month), there are no charges if you decide to cancel your plan.
How do consumers rate iiNet phone plans?
In 2019, Australians gave iiNet 4 out of 5 stars for Overall Customer Satisfaction in postpaid mobile plans. (Note: iiNet no longer offers postpaid phone plans.)
iiNet Postpaid Mobile Plans
Canstar Blue
Rating: ★★★★ 
Award: Overall Satisfaction
Click here for ratings and methodology
For more information about prepaid plans, check out our most recent prepaid mobile plan ratings.
iiNet Phone Plans
All plans require you to pre-pay your monthly fee (rather than receiving a bill at the end of the month like a postpaid plan), but unlike other prepaid plans, the expiry period isn't a set number of days, it's a month-to-month plan. Another difference between iiNet's prepaid plans and other prepaid plans is that if you use up your plan's inclusions, you won't need to recharge your plan. Instead, iiNet has a 'Prepaid Balance' which starts at $0 on sign up, but you can add to your balance at any time to cover any excess charges (this is optional). However, be wary of this as any remaining prepaid balance is forfeited if you decide to cancel your plan.
The following table shows a selection of iiNet prepaid plans on Canstar Blue's database, listed in order of lowest standard monthly cost to highest. Use our comparison tool to see all plans available on Canstar Blue. This table includes products with links to referral partners.
Other comparable phone brands worth considering:
iiNet Company Information
Contact Details
Need some help with your iiNet mobile plan or service? The telco offers several contact and support options, including:
General customer support: 13 22 58
Email: support@iinet.net.au
The iiNet Facebook page
Twitter: @iiNet
Outages
If you are currently experiencing issues with your iiNet plan, there may be a network outage. Usually, your telco will inform you of any planned maintenance if it is expected to interfere with your service. If you haven't received a notice of this but are experiencing network outages where normally you would have service, you should get in touch with iiNet for assistance.
About the author of this page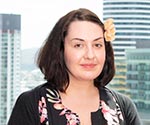 This page was written and is regularly updated by Canstar Blue's Telco Editor, Tara Donnelly. Having spent over seven years writing for and editing telco comparison websites, she's an expert in all things phone & internet, including NBN plans, wireless technology, the latest mobile devices and how to find the best deal for your family. She loves to highlight the next best deals, while also flagging the things you need to be aware of.
FAQs about iiNet phone plans
As of 2020, iiNet is a part of TPG Telecom, which also owns telcos including Vodafone, TPG, Internode, Lebara, and Felix
From the iiNet online toolbox, you can set up a direct debit, pay outstanding invoices or prepay by adding a credit to your account. Alternatively, you can make a secure payment over the phone using a credit card.
Is iiNet a good deal?
If you're after a prepaid SIM-only plan, you can find some good value with what iiNet has to offer. There are other service providers offering more data for less money, and even unlimited calls and SMS on the lower plans, however the data inclusions for the price point are fairly reasonable when compared to other providers.
The way you pre-pay for your plan might also be a draw card if you don't typically like the way prepaid plans are offered, or expiry periods that require you to recharge 13 or more times per year. While this different type of prepaid plan might help iiNet stand out, make sure you're aware of how these plans are billed and any catches like the 'prepaid balance', that might end up costing you more.
Although other plans may offer more value for money, it's worth keeping iiNet in mind, especially as the telco has built a reputation for good customer service over the years. iiNet had previously ranked higher than the other big three telcos when comparing providers of SIM-only mobile phone plans, when iiNet was still offering postpaid plans, so it's definitely worth looking into the popular telco when researching mobile deals.
iiNet Postpaid Mobile Plans
Canstar Blue
Award:
Overall Satisfaction