TPG Mobile Phone Plans Review
Founded by enigmatic billionaire David Teoh back in 1986, TPG is one of Australia's biggest Mobile Virtual Network Operators (MVNOs). TPG utilises the Vodafone 4G network and offers several cheap, good-value phone plans in keeping with its overall budget-friendly image. While TPG had started work on building its own network to challenge the big three — Telstra, Optus, and current TPG network provider, Vodafone — those plans have fallen through. Instead, TPG has now merged with Vodafone to form TPG Telecom, with TPG's technical assets being utilised to improve performance of Vodafone's mobile network.
While there is a lot of competition out there when it comes to value packed and cheap phone plan providers, TPG is one of the bigger players, especially after its takeover of iiNet. TPG has built a reputation for offering some competitive SIM-only prepaid mobile plans: but just how does it stack up, and is TPG the right telco for you? Read on to find out.
TPG plans at a glance
TPG keeps its mobile phone plans simple, with four month-to-month prepaid plans available starting at $20 per month with 12GB of data and go up to $40 with 60GB of data. All of these plans include unlimited standard talk and text, however international calls will require a $5 call pack add on.
What does TPG offer?
TPG might not have the entertainment extras you'll find from bigger telcos — or even some smaller ones — but you can expect good value for your money. Each of the prepaid plans offer a reasonable amount of data at good prices, as the top-level plan doesn't go over $40. If you're not a heavy data user, you can comfortably choose the Small plan, as it still includes unlimited standard national calls and SMS.
|  Feature | TPG plans |
| --- | --- |
| Entertainment bonuses | |
| Data-free video streaming | |
| Data-free music streaming | |
| International calls/texts | |
| International roaming | |
| Set-up fees | |
| Data overage fees | |
TPG network and coverage
TPG is currently powered by the Vodafone 4G network, which covers over 22 million Australians. As the third largest mobile network in Australia, most areas can expect decent mobile coverage, and the good news is that Vodafone is also committed to building more towers to expand coverage to more areas of Australia.
You can check the TPG site to see coverage and availability in your area. In the past, TPG had planned to build its own mobile network, however those plans were cancelled and instead, TPG and Vodafone merged into TPG Telecom after a long battle in the Federal Court. With the merge of Vodafone and TPG, it looks like there will be more investment in improving the existing Vodafone mobile network, including the rollout of its 5G network.
Features and bonuses
While TPG like to keep plans fairly simple, this doesn't mean that there isn't incentive to switch to the provider. There are reasonably generous data offerings and bonuses that could make switching worthwhile.
Unlimited talk and text: All of TPG's prepaid mobile plans, even at the lowest price point, include unlimited standard national talk and text. If you don't need much data on your plan, the Small plan is a very attractive offer.
International calls: Have friends and family overseas? The good news is that you can add a $5 call pack onto your plan to access unlimited standard international calls to 37 countries including Brazil, Chile, China, Germany, Hong Kong, India, Ireland, Italy, New Zealand, Norway, Singapore, Sweden, Taiwan, Thailand, the UK and USA.
International roaming: If you'd rather keep your TPG prepaid SIM card activated when travelling, you can enable international roaming before you head overseas. Using roaming is dependant on which country you travel too and you'll be charged higher roaming fees for usage. While roaming is available, TPG recommends you disable mobile data before travelling to avoid high data usage fees.
TPG phone plans
TPG Small plan
On the lowest level of the SIM-only prepaid plans, you'll receive unlimited standard national calls and text, plus 12GB of data for $20 per month. If you go over your data allowance, you'll be charged $10 for each 2GB block you go over.

TPG Medium plan
As with the Small plan, the Medium plan includes unlimited standard national calls and text, but with 25GB of included data for $25.

TPG Large plan
The Large plan has the same unlimited standard national talk and text, plus 45GB of data to use all for $30 per month.

TPG Extra Large plan
The top-level plan offers the unlimited standard national calls and text included and 60GB of data for $40 per month.

TPG contact details/customer support
Need some help with your TPG plan or service? The telco offers several contact and support options, including:
General customer support: 13 14 23
Mobile-specific support: Account support 1300 993 019, technical support 1300 997 273
Live chat on the TPG website
The TPG community forum
Contact form on the TPG website
The TPG Facebook page
Twitter:  @TPG_Telecom
How does TPG compare?
TPG isn't the only telco offering Vodafone network coverage at lower prices. The following providers also use parts of the Vodafone network.
Is TPG a good deal?
TPG is definitely one of the largest mobile carriers outside of the big three. If you're interested in Vodafone network coverage, TPG does offer you a little more data for your money than what you'll (generally) find on a Vodafone prepaid plan. But while the unlimited standard national calls and SMS are a big plus, the international call inclusions aren't as generous as you might find with plans from other providers, especially considering this will cost an extra $5 per month. However, the included unlimited international calls does have a large pool of countries you can make calls to.
If you're considering making the switch over to TPG, you might find your mobile coverage improves from the merger with Vodafone, especially with the rollout of TPG's existing technology to improve service. Currently as it stands, there's some good value for money available, so it's worth keeping TPG in your considerations as you compare phone plans.
About the author of this page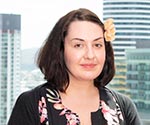 This page was written and is regularly updated by Canstar Blue's Telco Editor, Tara Donnelly. Having spent over seven years writing for and editing telco comparison websites, she's an expert in all things phone & internet, including NBN plans, wireless technology, the latest mobile devices and how to find the best deal for your family. She loves to highlight the next best deals, while also flagging the things you need to be aware of.
TPG Prepaid Mobile Plans
Canstar Blue
Award:
Overall Satisfaction