If you've ever had to port out your mobile number or change providers, the relatively simple act of inserting a SIM card and getting your new plan to work can be easily messed up. Similarly, if you need two numbers, for business purposes or just for convenience, there have previously not been many dual SIM phones out there.
If you're a smart watch enthusiast, linking it up with your phone could also be problematic. In comes the 'eSIM' feature, and it's the latest in technology made most popular in part by the newest iPhones.
What is an eSIM?
eSIM stands for 'embedded SIM' and simply removes the need for a physical SIM to be inserted into your phone. This is especially handy for those who like to change providers, or for those who simply can't be bothered with the physical SIM card process.
eSIMs also allow two numbers to be stored on the same phone.
Unlike some dual SIM phones, both profiles can have numbers that are active at the same time, meaning you don't need to switch between the two.
eSIM also allows the connection between wearables (e.g. the Apple Watch) with the user's smartphone. Previously, Bluetooth had to be used.
eSIMs mean you don't even need to change SIM cards when you're overseas – simply find a compatible eSIM provider and off you go.
eSIMs have been in existence in Australia since about 2015, with the Samsung Galaxy 2 smart watch being one of the first devices to have the feature. As with many other technological advents, Apple made the eSIM term a headline in in 2017 with its Apple Watch 3, and in 2018 with the release of its latest iPhones, which have the feature. eSIMs may also eliminate the need for SIM card slots, which can aid with water resistance and stop dirt from getting in the precious internals of your new $1,000+ device.
So, how do you get your hands on this latest step towards the mobile tech future? You first need a compatible phone or watch, and then find a compatible provider that enables the feature. Below we've narrowed down some of the providers and phones to make the hunt a bit easier.
Phone Plan Providers with the eSIM Feature
Currently there are only a select few providers that offer the eSIM feature. The 'Big 3' in Telstra, Vodafone and Optus primarily use the service to promote synchronisation between wearables and smartphones, rather than dual SIM capabilities and other purported features. All three providers offer eSIM use with compatible phones.
Telstra eSIM
Telstra's eSIM is called 'One Number' and is currently only available syncing with an Apple Watch and iPhone (running iOS 11 or higher), as well as Samsung Galaxy watches and phones. At present, only postpaid plans are available with the technology.
Telstra charges an extra $5 a month for the privilege of using One Number, which is in addition to your phone plan.
Telstra MVNOs, such as ALDI Mobile and Boost Mobile, do not currently have access to eSIM features.
Telstra now offers eSIM functions on select devices, including the iPhone 12 series. So, what plans can you currently get with Telstra? The following table shows a selection of published Telstra postpaid plans from Canstar Blue's database, listed in order of cost, from the lowest to highest and then by data allowance, smallest to largest. Use our comparison tool to see plans from a range of other providers. This is a selection of products with links to a referral partner.
Optus eSIM
Optus calls its eSIM service 'Number Share' and it's much the same as Number Sync and One Number. Compatible devices include the Apple Watch GPS+ Cellular and Samsung Galaxy Watch (Cellular), and iPhones running iOS 11 or higher.
This service is a month-to-month add-on, and priced at $5 per month. However, selected Optus customers can access Number Share free when purchased with an eligible Apple Watch.
There's good news if you happen to have, or have been considering an iPhone 12, 12 mini, 12 Pro, 12 Pro Max, SE 2020, the 11 series, XS, XS Max or XR from Optus — the eSIM function on these devices is supported by Optus through its postpaid plans. If you're looking to buy one of these devices on a 12, 24, or 36-month plan from Optus and would prefer for your Optus SIM to be an eSIM, you'll need to sign up in store as you can currently only access the eSIM QR codes in Optus stores.
The following table shows a selection of published Optus postpaid plans from Canstar Blue's database, listed in order of cost, from the lowest to highest and then by data allowance, smallest to largest. Use our comparison tool to see plans from a range of other providers.
Vodafone eSIM
Vodafone's eSIM is called 'Number Sync' and is available on a range of Apple and Samsung watches and phones. Most Vodafone postpaid plans are compatible with eSIM, excluding prepaid and Cap plans.
The first three months are free in the form of a 'subscription credit', and after that period you'll be charged $5 per month for your eSIM in addition to your phone plan.
Currently Vodafone MVNOs such as Kogan Mobile and Think Mobile do not have the eSIM feature.
The following table shows a selection of published Vodafone postpaid plans from Canstar Blue's database, listed in order of cost, from the lowest to highest and then by data allowance, smallest to largest. Use our comparison tool to see plans from a range of other providers. This is a selection of products with links to a referral partner.
Uses for eSIM – Travelling, Work, Pleasure & More
So, you have a bit of a grasp of the technology, but is there any use for it in your life? You may be surprised. Here are some uses for eSIM below:
Travel overseas: There's no need to hunt around for a SIM card if you're travelling overseas; simply contact a provider over there, or download the telco's app, and get setup with your eSIM. Keep your Australian plan as well; there's no need to remove your SIM card.
Link your smart watch: Previously you had to link your smart watch to your phone via Bluetooth. Now you can accept calls on your watch when you're out jogging or when out and about – leave the phone at home.
Keep business separate: The dual SIM feature means you can keep two numbers on the same SIM and potentially turn off one number outside business hours, or choose to ignore that call.
Get more bang for buck: eSIM allows you to potentially get a cheap data-only plan and pair it with a cheap unlimited plan. This could work out to be better value than if you just got calls, texts and data in one plan.
These four reasons suit a variety of different users. From jetsetters to corporate types and penny pinchers, eSIM can be useful for various walks of life; it all comes down to how you can find a use for it.
Devices with eSIM Functionality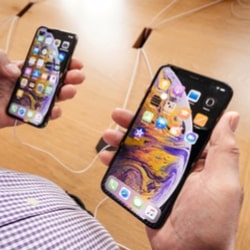 Although eSIM has already been around for a few years, the hype around the technology didn't really start until the release of the new iPhones in September 2018. As such, devices with the capability are relatively rare. The technology presently extends to smart watches and some smartphones; mobile broadband dongles and other mobile devices currently lack the technology, for the most part.
Watches with eSIM Compatibility
Huawei Watch 2 Pro
Apple Watch Series 3
Apple Watch Series 4
Apple Watch Series 5
Apple Watch Series 6
Samsung Gear S2
Samsung Gear S3
Samsung Galaxy Watch
Selected phones with eSIM Compatibility
Google Pixel 4
Google Pixel 4 XL
Google Pixel 3a
Samsung Galaxy Fold
Samsung Galaxy S21
Samsung Galaxy S21+
Samsung Galaxy S21 Ultra
Samsung Galaxy S20
Samsung Galaxy S20+
Samsung Galaxy S20 Ultra
Samsung Galaxy Note 20
Samsung Galaxy Note 20 Ultra
Samsung Galaxy Note 9
Samsung Galaxy S9, S9+
iPhone XR
iPhone XS
iPhone XS Max
iPhone 11
iPhone 11 Pro
iPhone 11 Pro Max
iPhone SE
iPhone 12 Mini
iPhone 12
iPhone 12 Pro
iPhone 12 Pro Max
Note that these are not exhaustive lists; other phone or smart watch companies may add the eSIM feature, either in new phone iterations or in operating system upgrades. And even if you do have a compatible device, your carrier has to support it too, potentially making your options rather limited.
Compare Mobile Phone Plans
The Pros and Cons of eSIM
Benefits of eSIM mainly concentrate around flexibility and convenience, while the cons are centred on the fact it's a technology still in its infancy.
| Pros | Cons |
| --- | --- |
| Dual SIM capability without needing to insert a SIM card. | Few providers offer it. |
| Filter business calls outside business hours. | Providers often charge a price premium for the service. |
| Travel overseas without needing to hunt around shops for a phone plan – just purchase online. | Relatively few providers offering it means your ability to use data and voice SIMs is mitigated. |
| Leave your phone at home and go jogging with your smart watch. | Few devices offer it – usually only reserved for premium devices. |
| Potentially source a cheap data plan to get better bang for buck. | A new technology contingent on manufacturers releasing operating system updates. |
eSIM vs Traditional SIM Cards
It's probably a no brainer that eliminating the need to insert a physical SIM card can be beneficial, especially for those unfamiliar with the process or for older members of the family.
No more tri-cut SIM cards to make mistakes with popping out i.e. popping out a nano SIM card when you actually need a micro one.
No more 'correct porting procedures' – just order a new plan online and you'll port automatically.
No need to wait for a SIM card in the mail.
No need to go in-store and buy a SIM card.
Traditional SIM card trays can be hard to open, often needing a pick or paper clip to pop open.
Traditional SIM trays can also jeopardise water-tightness and dust resistance of your expensive device.
Overall, compared to traditional SIM cards, eSIMs seem to trounce them in regards to convenience and practicality.
Should I get excited about eSIM?
eSIM is certainly an exciting idea in theory, but its execution in Australia may leave a bit to be desired. Currently, only a few providers have enabled the feature, which narrows your choice of plans; they also could charge a price premium for the service. Further to that, they seem to promote the linking of smart watches to smartphones, as opposed to all the other benefits eSIM can offer. However, eSIM's future in Australia is bright. We might see more phone manufacturers rolling this function out with newer devices and therefore, more telcos supporting it.
As the technology is still in its infancy, the devices enabled with it – coupled with the providers offering it – limit eSIM's accessibility right now. Currently, only premium smart watches and smartphones come enabled with the feature – you may not find the prices of these devices palatable; it's more than $1,500 for the newest iPhones for example. Overall, however, eSIM is a promising technology, but it remains to be seen how it will play out in the telco world in Australia. All you can do is 'watch this space.'