A premium-feeling smartphone doesn't always have to have a big price tag to match. Motorola's Edge 40 combines the look and feel of a more expensive phone — with a solid performance to back it up — but at a much more affordable price than the bigger brands.
In a competitive smartphone market, Motorola often has a hard task ahead of it: standing out from the crowd. However, one thing that Motorola has proven is its ability to create feature-packed devices but at more affordable price points — something the Edge series excels at.
Joining Motorola's more premium Edge series, the Motorola Edge 40 is the latest in the range, having been released at the same time as the new Razr 40 phones. For under $700 AUD, the Edge 40 combines style, a solid performance and great camera experience, making it a more affordable but great quality phone for anyone on a budget. Read on for our hands-on review of the Motorola Edge 40.
How we tested the Motorola Edge 40
I tested the Motorola Edge 40 over the course of several weeks to see how the phone held up with day-to-day use, from lighter to more intensive usage across social media apps, gaming, video streaming and more. I also tested the cameras and monitored the battery and charging performance during usage to see how it held up.
Motorola Edge 40 features and specs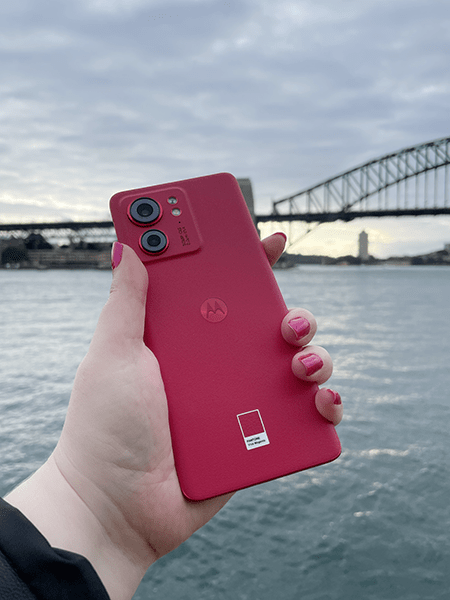 $699 AUD RRP
MediaTek Dimensity 8020 processor
5G connectivity
6.55-inch endless edge FHD+ pOLED display
Up to 144Hz refresh rate
Dual rear camera setup (50MP main + 13MP ultra-wide with Macro Vision)
32MP front-facing camera
4,400mAh battery, up to 68W wired fast charging (68W charger included in the box)
IP68 water resistance
Android 13 operating system
8GB RAM
256GB built-in storage
On-screen fingerprint scanner and facial recognition unlocking
Available in Eclipse Black and Viva Magenta (Pantone colour of the year) colours
Motorola Edge 40 pros
Motorola Edge 40 cons

Looks and feels premium — solid, sleek but not too heavy with a gorgeous finish on the back
Cameras deliver an all-round great experience
68W fast charger included in the box

Portrait mode and lower light macro shots can blur easily
Battery drains fairly quickly during intensive activities
Curved screen can be difficult if you need to tap the screen where the edge curves (such as exit buttons or using swipe gestures)
On this page:
Design and functionality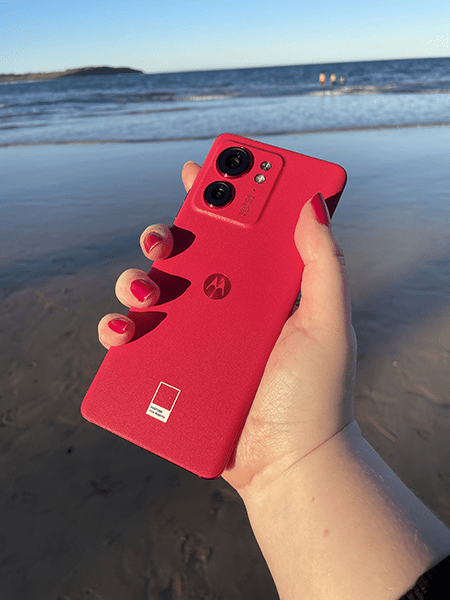 Viva Magenta with vegan leather finish is stunning
Curved screen helps to make it look and feel sleek
It's one thing to pack a lot of great features into a phone, but it also needs to look and feel premium to use. With the Edge 40, Motorola has certainly managed to pull off that premium-looking design.
The Motorola Edge 40 has a sleek design with a curved screen and feels rather solid. The curved sides also help it to feel like a rather slim phone to hold, and at 7.58mm of thickness, it is slimmer than the Samsung Galaxy S23 (7.6mm) and the iPhone 14 (7.8mm).
I was supplied with the Viva Magenta (Pantone colour of the year) version which has the little pantone swatch on the back. It's an absolutely gorgeous colour in person and comes in a stunning vegan leather finish on the back, which also feels lovely to touch. If you're concerned about scratches and marks on the back, Motorola does include a clear clip-on case that mostly covers the back of the phone.
The camera bump on the top left of the back of the phone is rather big and takes up more than half of the width, but it blends really nicely into the back. Looking at the screen, the buttons are located on the right side, with the volume buttons above the lock button.
Using the phone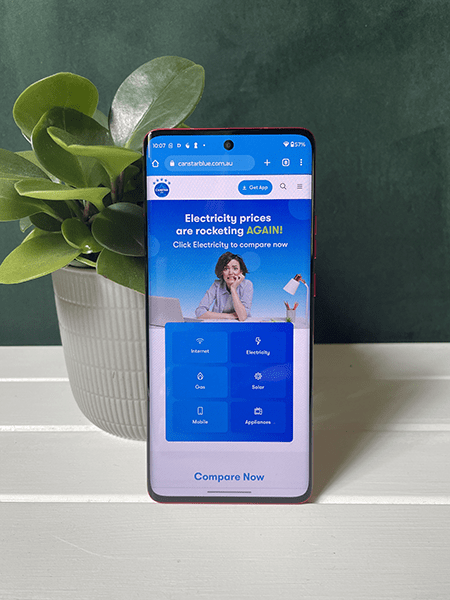 I really like the size of the Edge 40 with its 6.55-inch display. It feels generous in size and makes for a great screen experience, but it doesn't feel too big to hold. The curved screen also makes it sit nicely in your hand. However, it does fall into the trap where if you need to tap something in the curved sides of the screen (such as an app's button) or use swipe gestures, it can be a bit tricky to tap at times.
While I'm not a fan of having the lock and volume buttons on the same side of the phone (making it harder to take a screenshot), the buttons are in a good position and easy to reach with my thumb.
There's an in-screen fingerprint scanner towards the bottom of the display, which I found was easy to reach with my thumb. It was also rather quick and seamless to unlock with my fingerprint and facial recognition unlocking was also pretty smooth.
Overall, the Motorola Edge 40 is a phone that looks and feels great to use. Thanks to the curved screen and gorgeous finish on the back, Motorola has done an excellent job at making this look and feel like a premium phone despite its more budget-friendly price tag.
Performance
Screen quality is excellent and great for watching videos
Battery drains rather quickly when gaming
While the Edge 40 is part of Motorola's more premium Edge series, for the sub-$700 price tag, you won't quite get the best-of-the-best features that Motorola has to offer, but you still get some quality inclusions. There's a MediaTek Dimensity 8020 processor with 5G, along with IP68 water resistance, 8GB of RAM, a 4,400mAh battery with up to 68W fast charging (and a 68W charger in the box) and up to 144Hz refresh rate. Using the Optus 5G network, I was able to record average download speeds of up to 484.73Mbps.
All of this combines to provide a fast and rather smooth performance. Scrolling through social media is a breeze, and I found apps loaded rather fast and it easily kept up with fast switching between apps. Whether I was gaming, watching videos or just generally browsing social media apps and the web, I found the Edge 40 could easily handle day-to-day use and was rather speedy, for both lighter or more intensive activities.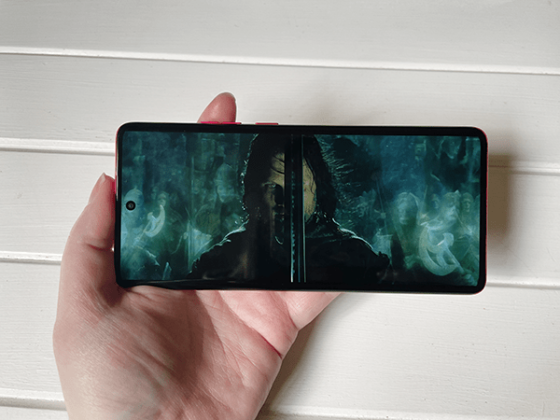 Viewing experience
The design of the Edge 40, with its curved sides, is made for watching videos. The screen quality is excellent, and the curved edges give it a more immersive feel when watching videos. The colours are vibrant without being overly saturated and the overall quality is crisp and clear. The screen did seem a little dark at times, and I found I needed to manually adjust the brightness when watching some videos with a lot of darkness. However, the adaptive brightness was rather intuitive and set itself to a good brightness for the conditions.
The built-in speakers also deliver with great sound quality whether you're watching videos or listening to music. Although I found it lacked a little bass and depth when listening to some music or watching certain music videos.
However, the overall excellent and sleek screen, combined with the great audio quality, provides for an immersive viewing experience, while the high refresh rate also makes for smooth and zippy scrolling through social media.
Battery and charging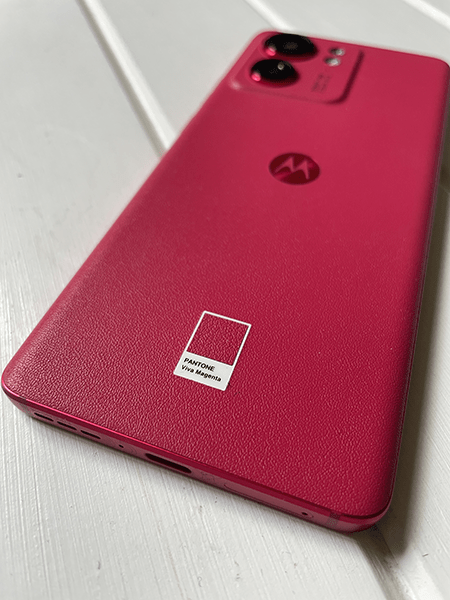 While the Motorola Edge 40 includes a 4,400mAh battery — a smaller battery compared to some cheaper devices on the market, like the OPPO A78 5G — you get powerful fast charging also included. Not only is the Edge 40 up to 68W fast-charge compatible, but you'll also get a 68W fast charger included in the box.
I found a day (13 hours and 25 minutes) of moderate to high usage (browsing web and social media, streaming video, playing games and regular idle periods) drained around 46% of the battery, whereas eight hours of lighter usage (web, social, gaming, and regular longer idle periods) drained 16% of the battery.
Streaming 53 minutes of Netflix drained around 6% of the battery, around 30 minutes of gaming drained 9% of the battery, while 17 minutes of a more intensive game (Diablo Immortal) drained 7% of the battery. I felt that the battery drained a lot quicker during gaming sessions, especially more intensive titles, so days where I played games a fair bit chewed through the battery much quicker.
That's where the fast charge and supplied charger comes in handy. I was able to charge the Edge 40 from 0% to 100% in 41 minutes, and just 10 minutes can get it from 0% to 41% — perfect if you're about to head out and run low on battery, however the phone does run hot during fast charging.
Overall, the Motorola Edge 40 provides the kind of performance you'd expect from a phone with a bigger price tag. While a bigger battery would have been nice, the fast charging (and supplied charger) kind of makes up for it. I didn't really experience any issues while using the Edge 40, it easily kept up with my day-to-day usage, was fairly fast and seamless and offered an immersive and quality viewing experience, especially when watching videos.
---
Related: Motorola Razr 40 review: A stunning flip phone with a more affordable price tag
---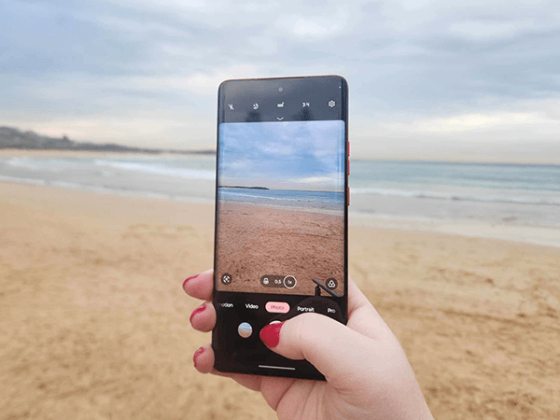 Cameras
Overall stunning photos with vibrant and true-to-life colours
Portrait mode susceptible to blurring the subject
Motorola has packed in a dual rear camera setup with a 50MP main camera and 13MP ultra-wide camera with Macro Vision, while you'll get a 32MP front-facing camera for all your selfie needs.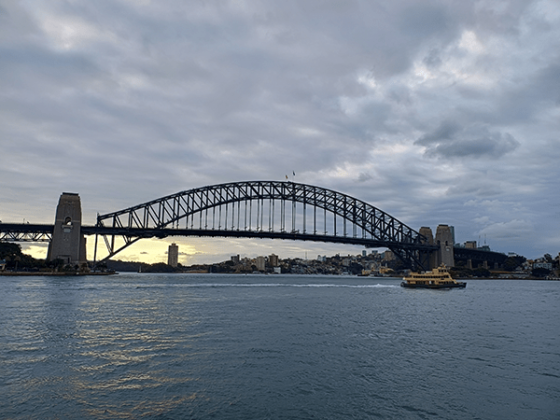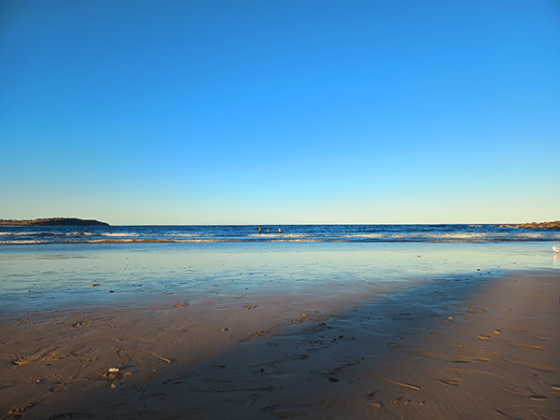 When it comes to outdoor photos, the Edge 40 delivers some truly stunning results. Colours are vibrant — without being too saturated — and true to life. Images are clear and crisp, and in bright, sunny conditions, it's hard to take a bad shot. Lower light conditions, such as a very cloudy day, are also fairly clear and with true-to-life colours, although there isn't as much depth to the clouds as what you get with the camera system of more premium phones.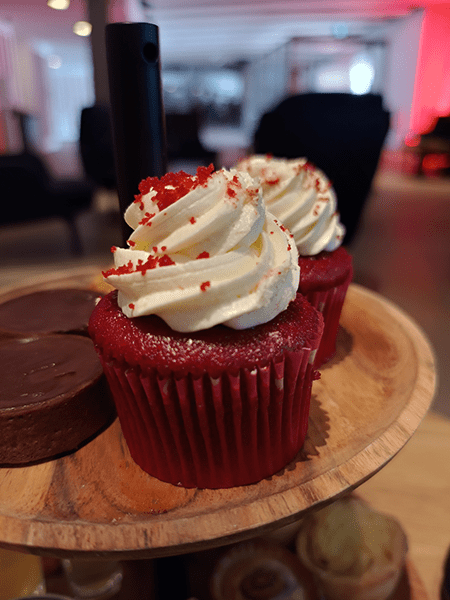 Indoor photos are also excellent — colours are rather true to life and images are clear without noise in reasonably well-lit conditions. I did find that in darker conditions with minimal lighting, images were a bit more blurred in places and it was harder to get the camera to focus where I wanted it to.
Motorola highlights the Edge 40's background blur for photos, including portraits, and videos. I found the Edge 40 did deliver a really nice and natural-looking background blur to photos, when focusing on a closer subject, which you can see from the above indoor photo. While other phones also offer this, it's still a nice touch adding depth to your images.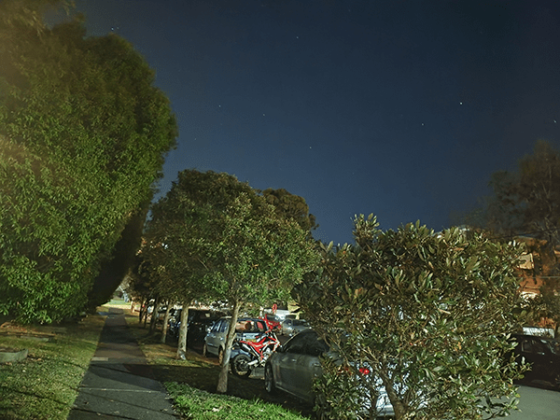 One stand out for the Edge 40 is its performance in very dark/night conditions. While it has its night mode called 'Night Vision', even without the mode switched on, you'll still get some great quality and rather clear results from taking photos in very dark or night conditions — but you'll need a steady hand for the best results. Stars in the night sky are visible on a clear night, and colours are fairly vibrant and the photos have minimal noise. A stand-out night mode is very common in higher priced premium phones, so I was fairly impressed with the results the Edge 40 delivered.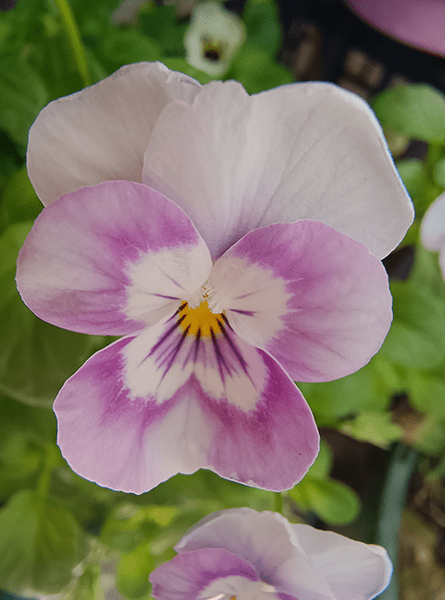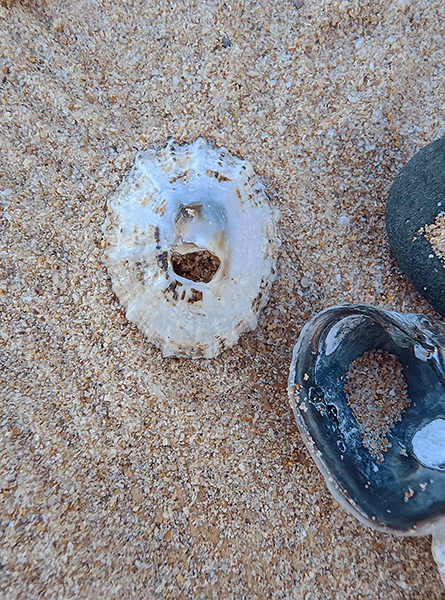 While there is no dedicated macro lens, you do get Macro Vision, which allows you to take shots 2.5cm away from the subject. It's a pretty impressive macro mode, although you will need a steady hand to get the best shots. Macro photos taken in a range of conditions — whether it's outdoors on a sunny or overcast day, or indoors with lower light — turn out pretty great and capture a lot of detail and true-to-life colours. However indoor macro shots with fairly low light do have a bit of noise and colours aren't as vibrant as in brighter conditions.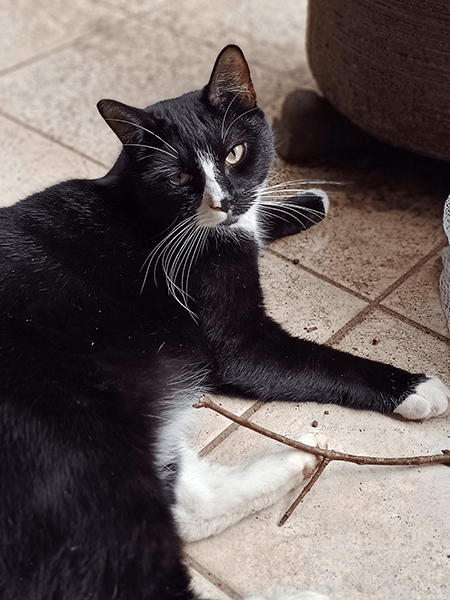 Portrait mode using the rear cameras offers some fairly decent shots with the option to use three different widths — 50mm standard, 35mm wide or 24mm full view — which comes in handy for a range of subjects, from solo portraits to group shots. While I found that I struggled to focus on the subject, once the image is processed, the subject looks fairly clear and the background has a nice blur, although there were some blurry patches on the subject on a couple of occasions. Portrait mode with the front-facing camera isn't nearly as impressive, and I found the colour and clarity of shots relied on brighter conditions. I also found that there was a fair amount of blurring around the subject, mostly noticeable around the hair.
The video quality is also excellent. It does a great job at picking up details in a range of conditions and with a range of subjects, although the audio quality is a little flat and prone to picking up a lot of wind noise on a windy day. The background blur when recording closer subjects adds a lot of depth and looks really natural, with fluid transitions between background and foreground subjects without the need to manually adjust what you want to focus on.
All in all, the Motorola Edge 40 offers a stunning photo and video experience, especially when you consider the price point. While it is by no means a perfect camera performance (with some portrait mode struggles), it can handle a wide range of photos in a range of conditions and handle them well. If you love taking photos or recording video, you'll probably find the Edge 40 easily meets your needs.
Note: Images taken on the Motorola Edge 40 have been digitally compressed for web.
Phone plans for the Motorola Edge 40
The Motorola Edge 40 is available from a range of retailers including JB Hi-Fi and the Lenovo online store. If you choose to buy outright from a retailer, you'll need to pair your phone with a SIM-only phone plan. The below tables compare a range of prepaid and postpaid SIM-only phone plans.
Here is a selection of postpaid plans from Canstar Blue's database with a minimum of 10GB of data, listed in order of standard cost, lowest to highest, then by data allowance, largest to smallest. Try using our mobile phone plan comparison tool to see a wide range of plans from other providers. This table includes products with links to referral partners.
Here is a selection of prepaid plans from Canstar Blue's database with a minimum of 10GB of data each month, listed in order of standard cost, lowest to highest, then by data allowance, largest to smallest. If you want to compare a larger range of offers from other providers, use our phone plan comparison tool. This table includes products with links to referral partners.
---
Related: Motorola Razr 40 Ultra review: More functionality and an impressive performance
---
Should you buy the Motorola Edge 40?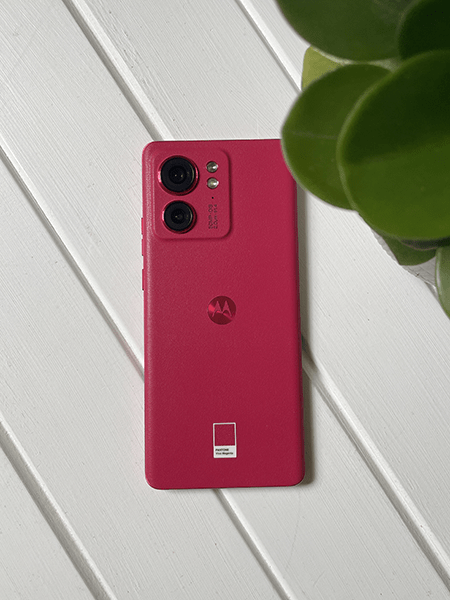 Motorola has crafted a device that feels like a more expensive phone in many ways. It looks and feels like a premium device, and it delivers a pretty impressive performance overall.
Considering how expensive most premium devices are — with Google's Pixel 7 just under $1,000, and premium devices for Samsung and Apple starting at over $1,000 — finding a phone that delivers a premium experience without the premium price tag is a hard ask.
But that's what I feel the Edge 40 delivers. On several occasions I found I needed to remind myself that this phone carries a $699 AUD RRP price tag. The curved edges and vegan leather finish on the back make this device feel like a much more expensive phone when you're using it, thanks to its sleek but solid build. I hardly had any issues with the performance, and while I would have liked a bigger battery, premium smartphones rarely carry the big batteries of cheaper devices.
While the camera performance was not without its faults, it still produced some stunning photos and great video quality. For your everyday photo and video needs, it does the job.
This is where I also feel that Motorola is really hitting its stride. It's offering some seriously competitive smartphones across a range of price points. Its flippy Razr phones can easily compete with Samsung's Galaxy Z Flip, and its Edge series can offer a quality and premium-feeling performance at a significantly smaller price tag than its competitors. If you're in the market for a new Android phone and want to see how much value you can get for your money, the Motorola Edge 40 might be worth considering.
| Consider the Motorola Edge 40 if | Don't consider the Motorola Edge 40 if |
| --- | --- |
| You want a device that looks and feels premium but you have a smaller price tag. | You're a serious portrait and selfie photo taker, or want a more impressive camera setup. |
Product used for review/testing was a free sample provided by Motorola.