It's that time of year again! Apple has announced its 2019 iPhone lineup, with three new high-end devices available to pre-order from Friday, September 13. The iPhone 11, iPhone 11 Pro, and super-sized iPhone 11 Pro Max will all offer lightning-fast processing, long-lasting battery life, and a new feature-packed camera lineup with best-ever video recording.
All three iPhones will be available on payment plans from the Vodafone, Telstra and Optus, as well as to buy outright from selected retailers. If you're dying to upgrade to the 11, read on for all the features and specs in each new iPhone, as well as pricing and availability in Australia.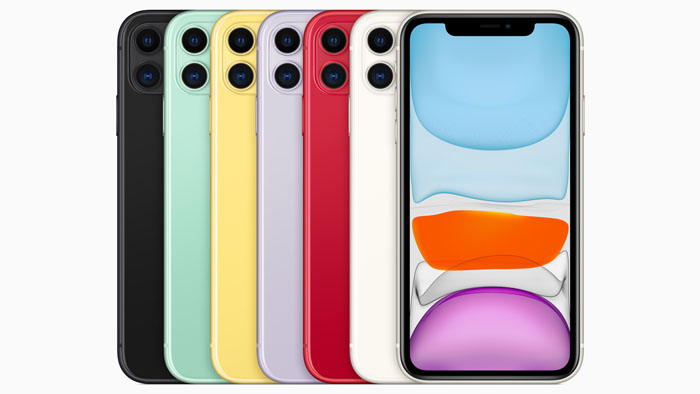 iPhone 11
Design and display
The standard iPhone 11 features an elegant aluminium and glass design, with a stunning 6.1-inch Liquid Retina display and IP68 water and dust resistance. Apple is touting the 11's overall design as its 'toughest ever', so you're less likely to write off your device after an accidental drop.
One thing that's immediately noticeable is the new rear camera configuration, which has been re-designed to accommodate the iPhone's updated dual-lens setup. Apple has opted to house its back cameras in a square module, rather than the sleek vertical alignment found on previous models. We're not huge fans of the change – but considering the camera upgrade is likely to offer a better-than-ever photo experience, it's a case of function winning out over form.
Apple is also finally saying goodbye to its 3D Touch technology, replacing it with a new feature called Haptic Touch that uses shortcuts and contextual menus to make navigating your device easier. In terms of security, Face ID has also been given an upgrade to allow for a smoother, faster unlocking process.
The iPhone 11 also includes dual SIM capability (with nano SIM and eSIM), a new immersive audio with an updated virtualiser, and Dolby Atmos support for superior sound. You'll also be able to connect two sets of Air Pods or Beats headphones to your device at once, thanks to Audio Sharing.
Cameras
The iPhone 11 features a dual rear camera line-up, including a new ultra-wide 12-megapixel lens with a 120-degree field of view – perfect for landscapes, group photos, and more. You'll also get a 12-megapixel front-facing camera with a new extended dynamic range, 4K video capabilities, and slow-motion video options (what Apple has dubbed 'slofie' mode). Users will also be able to switch to video simply by pressing and holding the camera shutter, a feature Apple is calling Quick Take, with the iPhone 11 range now offering the highest-quality video found in any smartphone.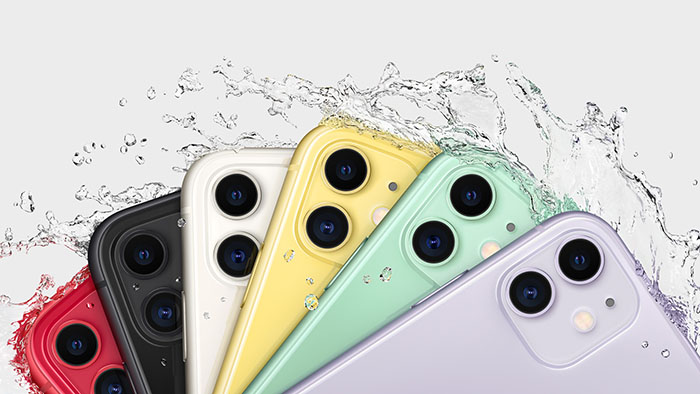 Apple is keeping all your favourite features (such as Portrait Mode and Smart HDR), but has upgraded the camera interface, and will launch a new High Key Mono mode for amazing black-and-white portraits. Low-light photography – a longstanding weak spot for the iPhone – will also improve, thanks to Apple's all-new Night Mode feature. Night Mode will automatically switch on in dimly-lit environments, offering clear and flash-free photos.
Another fun new inclusion that's well overdue? Portrait Mode will now work on pets.
Performance and Battery
The 11 series includes Apple's new A13 processor, an upgrade to previous Apple chipsets that the company is reporting as the fastest-ever smartphone CPU. The A13 Bionic's ultra-fast processing looks set to out-perform even high-end Android devices, making the iPhone 11 a great choice for mobile gamers.
Unfortunately, talk that Apple would debut a new bilateral charging system – allowing customers to use their iPhone to charge their Apple accessories wirelessly – has proven false. Although Samsung has launched a similar feature in its own premium Galaxy devices, called PowerShare, Apple continues to play it safe with its standard Qi wireless charging options. However, the iPhone 11's battery will offer around one hour more of power each day than last year's iPhone XR.
Extras, price, and availability
Despite rumours to the contrary, the iPhone 11 series won't be offering support for Apple Pencil. If you prefer to use your devices with an integrated stylus, this is bound to be a disappointing omission – but keep in mind that the excellent Samsung Galaxy Note 10 with S-Pen is still available.
In terms of operating system, the iPhone 11 features the newest iOS 13 out-of-the-box, with updated Siri and plenty of awesome new and improved extras. You'll also be able to choose from half-a-dozen colours, which include White, Black, Green, Yellow, Purple, and (PRODUCT) Red.
The iPhone 11 will be available on a range of plans from Telstra, Optus and Vodafone, in 64GB, 128GB, and 256GB storage sizes. Outright retail prices are as follows.
64GB: $1,199 AUD
128GB: $1,279 AUD
256GB: $1,449 AUD
iPhone 11 Pro
Design and display
In addition to the standard iPhone 11, Apple has also launched its next-level Pro series – a powerful (but pricey) upgrade designed for serious smartphone enthusiasts. The smaller iPhone 11 Pro features a surgical grade steel body with a matte textured finish, precision-milled glass for superior strength, and is IP68 water and dust-resistant.
You'll get a 5.8-inch screen with Apple's stunning new Super Retina XDR display, offering amazing colour accuracy and consistency, even in sunlight. The 11 Pro also includes the new Haptic Touch feature, as well as 30% faster Face ID, Audio Sharing, and new Dolby Atmos and Spatial Audio.
Cameras
Unsurprisingly, the 11 Pro series offers a major camera upgrade. Instead of the standard dual camera setup found in the iPhone 11, you'll get an all-new 12-megapixel triple rear camera system, including wide, ultra-wide, and telephoto lenses. This updated lineup offers 4x optical zoom, with all three lenses designed to allow for a larger field of view and an overall higher image resolution, even at a distance.
Both the iPhone 11 Pro and 11 Pro Max will include the new three-camera setup, which will be compatible with Apple's soon-to-be-released Deep Fusion machine learning pixel-by-pixel processor. An all-new camera app, plus advanced video editing features, makes for a seriously pro-grade camera package, enhanced by Apple's new-generation image processing.
Performance and battery
Just like the iPhone 11, the 11 Pro series debuts the new A13 Bionic chip, offering unprecedented speed and performance. You'll also get an overall battery upgrade when compared to last year's iPhone XS, as the 11 Pro can go four hours longer on a single charge.
Price and availability
The iPhone 11 Pro is available on plans from Optus, Telstra, and Vodafone, and in Space Grey, Silver, Gold and new Midnight Green finishes. Storage sizes include 64GB, 256GB, and 512GB, with outright Australian pricing below – be warned, the Pro series doesn't come cheap.
64GB: $1,749 AUD
256GB: $1,999 AUD
512GB: $2,349 AUD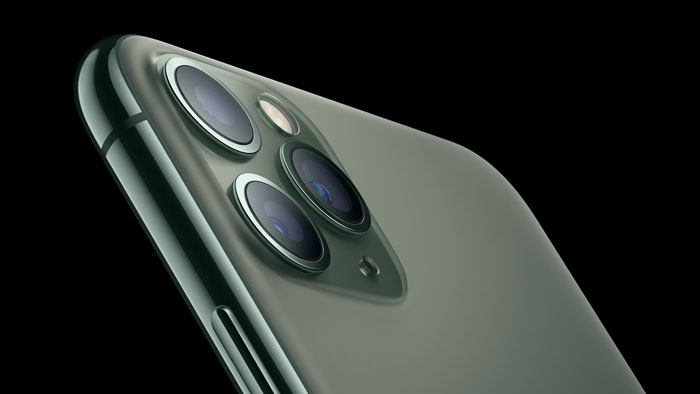 iPhone 11 Pro Max
If you're looking for something bigger, the super-sized iPhone 11 Pro Max comes with all the features listed above, plus an  impressive 6.5-inch display. You'll get the same cutting-edge A13 Bionic chip, all-new triple rear camera system, and a 12-megapixel front camera, with storage sizes up to 512GB (that's about 200,000 photos).
Despite its bigger size, the 11 Pro Max comes with a long-lasting battery, offering an extra five hours of power a day when compared to the iPhone XS Max. Both the 11 Pro and 11 Pro Max will come with a new fast charge adaptor and be wireless charging compatible, for easy on-the-go power top-ups.
The iPhone 11 Pro Max is available in 64GB, 256GB, and 512GB models, with Space Grey, Gold, Midnight Green and Silver colour options. The 11 Pro Max will be available on plans from Telstra, Vodafone and Optus, with outright retail prices listed below.
64GB: $1,899 AUD
256GB: $2,149 AUD
512GB: $2,499 AUD
Prices and plans
While all three new devices are available to buy at full price from Apple —plus retailers such as JB Hi-Fi and Harvey Norman— you're also able to pick up each iPhone on a mobile or payment plan from the three big telcos, with device payments varying depending on the device and storage size.
Pre-orders for all three phones will begin at 10pm AEST on Friday, September 13, will devices arriving in-stores on September 20. We'll have all the telco plan information listed when it becomes available.
If you're instead planning to buy your new iPhone unlocked at full price, you'll need a good value SIM-only plan. The following table shows a selection of published SIM-only plans on Canstar Blue's database, listed in order of cost, from the lowest to highest and then by data allowance, largest to smallest. Use our comparison tool to see plans from a range of providers. This is a selection of products with links to referral partners.
What about 5G?
As expected, Apple hasn't yet made a move into 5G. The iPhone 11, 11 Pro and 11 Pro Max aren't 5G-capable devices, and therefore are not able to access Telstra and Optus' newly-launched 5G networks; so whichever handset you choose, you'll be limited to 4G.
If you do want to try out 5G this year, you'll need to pick up one of the following smartphones:
iPhone 11, 11 Pro, and 11 Pro Max: features at a glance
| | iPhone 11 | iPhone 11 Pro | iPhone 11 Pro Max |
| --- | --- | --- | --- |
| Price | From $1,199 | From $1,749 | From $1,899 |
| Screen size | 6.1-inch Liquid Retina HD display | 5.8-inch Super Retina XDR display | 6.5-inch Super Retina XDR display |
| Battery | QI wireless charging, one hour longer life than iPhone XR | QI wireless charging, 4 hours longer life than iPhone Xs | QI wireless charging, 5 hours longer life than iPhone Xs Max |
| Chipset | A13 Bionic Chip with third-generation Neural Engine | A13 Bionic Chip with third-generation Neural Engine | A13 Bionic Chip with third-generation Neural Engine |
| Storage | 64GB, 128GB, 256GB | 64GB, 256GB, 512GB | 64GB, 256GB, 512GB |
| Rear camera | Dual 12-megapixel wide angle and ultra wide cameras with 2x zoom, Night Mode and 4K video | Triple 12-megapixel wide angle, ultra wide and telephoto cameras with 4x zoom, Night Mode and 4K video | Triple 12-megapixel wide angle, ultra wide and telephoto cameras with 4x zoom, Night Mode and 4K video |
| Front camera | 12-megapixel TrueDepth camera with Portrait Mode and 4K video | 12-megapixel TrueDepth camera with Portrait Mode and 4K video | 12-megapixel TrueDepth camera with Portrait Mode and 4K video |
| Operating system | iOS 13 | iOS 13 | iOS 13 |
| Colours | Black, White, Purple, Yellow, Green, (PRODUCT) Red | Gold, Space Grey, Silver, Midnight Green | Gold, Space Grey, Silver, Midnight Green |