Fact Checked
Plane talking: Telstra is number one for international roaming plans
These days, travel SIMs and international roaming packs are abundant. They make it easy to prepare for your international trip before you jet off – simply buy a roaming pack or SIM, switch your phone on when you land, and you're good to go. Gone are the days when you'd get by with a printed map and a last-minute postcard home. Thanks to smartphones, you've got everything you need to navigate, and stay in touch with family, in the palm of your hand.
However, not all travel SIMs and international roaming packs are created equal. Some roaming packages offer low rates and great value – but pick the wrong SIM or plan, and you run the risk of coming home to an unexpectedly high bill. That's why Canstar Blue seeks the opinions of hundreds of Aussie jetsetters every year to get their views on the best travel SIMs and roaming packs they've used on their recent travels. There's now an abundance of phone plans offering solutions for those who head overseas – coming in all shapes and sizes – so our annual review aims to cover all bases and get to the bottom of which provider offers the best deal for Aussies on the move.
In our fourth Travel SIM & Roaming Packs ratings report, only three telcos offering travel SIM products made the final cut. Many of last year's included brands – such as TravelSIM and Australia Post's FlexiSIM – have been closed or discontinued after the sharp decline in international travel throughout 2021, so have been removed from this year's ratings. 
While it hasn't been a travel-friendly 12-month period for Australians, our 2021 ratings still give a good indication of the products and providers that have previously ticked our boxes when it comes to international roaming – so are worth considering if you're planning a 2022 getaway.
Best Travel SIMs & Roaming Packs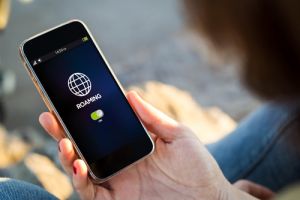 Our 2021 review of travel SIMs and roaming packs saw five brands compared and rated in the following order for overall customer satisfaction:
Telstra
Vodafone
Optus
Surpassing more specialised travel brands this year is telco giant Telstra, which takes home the gold with a five-star rating for overall satisfaction. It seems Telstra customers are more than happy with the mobile provider's range of international roaming options, awarding the telco five stars not just for overall satisfaction, but also in contested categories including customer service, network coverage, ease of recharge, sign up and activation and for use of its app. 
So, who offers what? Read on for details as we explain what these providers can do for you the next time you head overseas.
Selection of Plans with Roaming Features
To give you an idea of the plans available with international roaming features, the table below lists a selection of postpaid plans from Canstar Blue's database, listed in order of advertised cost, lowest cost first, then by data allowance. Use our comparison tool to see a wide range of plans from other providers. This table includes products with links to referral partners.
To give you an idea of the plans available with international roaming features, the table below lists a selection of prepaid plans from Canstar Blue's database, listed in order of advertised cost, lowest cost first, then by data allowance. Use our comparison tool to see a wide range of plans from other providers. This table includes products with links to referral partners.
Travel SIMs & Roaming Packs Compared
Telstra International Roaming
Telstra offers a per-day roaming option that allows customers to use capped data, plus unlimited talk and text, in many selected countries. International Day Pass is available to postpaid customers for an additional $10 per day (or $5 in New Zealand) and gives you a daily data allowance of 500MB, plus unlimited calls and messages. Telstra's International Day Pass is only charged on days you use your phone, and is available to use in over 70 countries.
You can activate Day Pass through the MyTelstra app at any time, and use this service to monitor your mobile and data usage when overseas. If you require more data, you can also use the Telstra app to add on an International Roaming Data Pack. This pack includes 1GB of data for $10, to be used in eligible destinations over 30 days. 
Pay-as-you-go-roaming is also available in those countries that aren't covered by Telstra's Day Pass, with rates for popular destinations such as the USA and UK around $2-3 per minute for calls, 75c per SMS sent, and $3 per megabyte of data. Unfortunately, international roaming is no longer available to Telstra prepaid customers, so you'll need to be on an Upfront/postpaid plan to use your Telstra service outside of Australia. 
Telstra scored five stars for overall satisfaction in our 2021 ratings, and earned five stars for network coverage, sign up, customer service, ease of recharge and for its app.
Vodafone International Roaming
Vodafone's main global roaming option is the $5 Roaming add-on, available on all postpaid plans. For $5 per day, you'll be able to use your plan's inclusions – unlimited calls, texts, and your max speed data allowance – in 80 countries. You'll only be charged $5 on days you actually use your device, and the feature is already pre-activated for most customers. It's a convenient option for anyone wanting to keep their own number and phone when outside Australia, and much cheaper than pay-as-you-go roaming.
Unfortunately, $5 roaming isn't available for prepaid customers, but you can buy roaming add-ons for prepaid plans. Add-ons begin from $5 for 200GB of data, 25 minutes of calls and 30 SMS with a one-day expiry, and can be used in over 50 countries. Pay-as-you-go roaming is also available on all plans if necessary, with rates of $1 per minute for calls, 75 cents per SMS sent, and $1 per megabyte of data.
Vodafone's travel options scored an overall satisfaction result of four stars in 2021,with five-star ratings for value for money, customer service and its app/website.
Optus International Roaming
If you're an Optus postpaid customer, you can switch on the telco's Roaming Pass before heading overseas. For $10 per day, you'll get unlimited standard talk and SMS, plus 1GB of daily data to use over 24 hours in 90 destinations. You'll only be charged for days you actually use your device overseas, but keep in mind that data use over 1GB in a single day will automatically add another $10 pass to your account.
If you're a prepaid customer, you can add $10 Travel Credit, $10 or $20 Extras Credit, or $20 Data Roaming add-ons to cover any usage overseas. Prepaid roaming rates depend on your destination, but Zone 1 countries are usually charged at 50c per minute for calls, 20c for sent SMS, and 2c per megabyte of data.
Optus was rated three stars for overall satisfaction in our 2021 review, with four-star scores for ease of recharge and for its app.
Is the Australia Post Travel SIM still available?
Australia Post used to offer an Australia Post Travel SIM, but the product was discontinued in early 2020. While the Australia Post Travel SIM may not be available anymore, Australia Post does offer a number of postpaid roaming packs, which may be able to help if you're in a bind overseas.
Why do Aussies use travel SIMs and international roaming?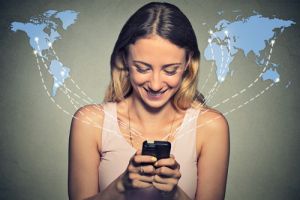 Travel is expensive enough without the added stress of excessive mobile roaming fees: you've no doubt heard horror stories about Aussies who went overseas, only to return home with a $1,000+ phone bill. Nowadays, this can be easily mitigated through the use of prepaid travel SIM cards, as well as international roaming add-ons from the big telcos.
Most Australians who use travel SIMs or packs do so to avoid any post-holiday bill shock. 64% of this year's survey respondents bought a travel SIM or international roaming add-on because traditional roaming is simply too expensive. And they have a point! Convenience is also a factor. 55% bought a travel SIM or pack because finding a local SIM card in the country they are in was too hard – they'd just prefer to hit the ground running!
Half of survey respondents are also experienced in international travel – 50% have used their travel SIM card or roaming pack in multiple countries, while 17% had to purchase multiple SIMs on their last overseas trip. And while there's still a need for talk and text inclusions, 56% of respondents stated that they used their plan mostly for data.
In good news, 61% of Aussies surveyed agreed that they'd recommend their travel SIM to family and friends. So well over half of us are satisfied with the SIM or roaming pack used during our last overseas trip, but there's still room for improvement. 
Aussies love to travel overseas, but want to make sure they're getting the most for their money when it comes to roaming. Our user ratings provide a helpful guide as to which travel SIMs and roaming packs are offering the best value, because they're reviewed by people who have actually used them. With that in mind, we hope you find this comparison helpful.
How do travel SIMS work?
Travel SIMS are a great (and cheaper) alternative to international roaming. You buy the SIM card before you go, and are given an 'overseas' number you can pass on to family and friends. Then, when you go overseas with a travel, or international, SIM you are holding a key to local internet networks. Employing the Global System for Mobile communication (GSM), a travel SIM uses overseas local networks to connect to and provide you with internet access, meaning you can continue to use the web as you travel across multiple countries. Because you are using local networks, you are less likely to pay high connection fees and are able to access a wide range of networks. However, due to the variability in networks, you might experience a wide range in connection quality between countries, resulting in occasionally patchy service.
You can treat your SIM card like a pre-paid SIM card, meaning you can pay or top as you go and when you need. Keep in mind that you will need an unlocked phone to use a travel SIM. An unlocked phone is a device that isn't locked in to one provider, meaning you can use SIM cards from lots of different companies in your phone. Most phones are sold unlocked but some have a waiting period before they can be paired with a SIM other than a card from the matching provider.
Where can I buy a travel SIM?
Travel SIM cards are available for purchase through telco retailers, or authorised third party retailers like Australia Post, Woolworths, Officeworks, Coles, Big W and 7/11. You can buy the SIM card in store or online, with travel SIM cards available as a single SIM or in a bundle pack.
What is international roaming?
International roaming is a data service which allows you to continue to use your phone as normal, even when you are travelling overseas. When you travel, your phone can't reach your regular network provider, so it connects to a nearby 'roaming' provider instead, which is a network designed to accommodate traveller's devices. With international roaming you can make and receive phone calls and text messages, and use the internet to browse, navigate, send emails, watch videos, do your banking – basically whatever you need to do. International roaming can be a lifesaver while overseas, however, as it both uses data and incurs connection fees, internet use can become very expensive very quickly. Understanding how data roaming works, and keeping an eye on how you are using your roaming capabilities is essential when using international roaming.
What is a local SIM?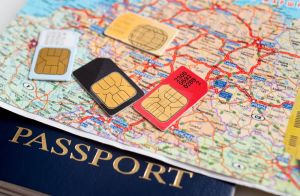 A local SIM is a SIM card you buy from the country you are travelling in, and are generally available to purchase at a number of locations, like corner stores, pharmacies, airports, hostels, supermarkets or telco retailers, but it depends on where you are travelling. Local SIMs usually have generous data inclusions and talk time, which makes it pretty easy to call people who are in the same country as you, but becomes more difficult (and potentially expensive) to call people back home. If you call home regularly, you are better off getting into contact via texting service like WhatsApp or a WiFi service like Skype. Provided you have an unlocked phone, local SIMs are a cheap and easy option for anyone who is travelling in a country for a considerable amount of time. However, as local SIM cards only work in the country they are bought in, they may be a less convenient option if you are passing through a number of countries or are only planning to stay a short while.
Is it better to use a local SIM or Travel SIM?
There are benefits to using both local SIMs or a Travel SIM, but ultimately the decision will come down to a few factors, such as your budget, where you're travelling, how long you're travelling for, if you intend to call home very often and what type of capabilities you want. A local SIM will be a worthwhile purchase if you plan to stay in a country for a few weeks or only plan to travel to a few countries in your travels, as they'll allow you to jump online, make local calls and use your phone normally at a (generally) cheaper rate. However, if you plan on jumping between countries every few days, or plan to touch base with people back home on a regular basis, you may want to opt for a Travel SIM, as it will take the hassle out of finding a new SIM every time you cross the border, or avoid monstrous fees for making overseas calls. But with each camp coming with pros and cons, it's best to look into all of your options before deciding on which one to add to your packing itinerary.
Image credits: Georgejmclittle, Pathdoc, Aleksandr Ryzhov