Most Satisfied Students | Central Queensland University
---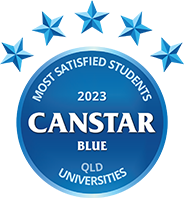 Central Queensland University was rated five stars for quality of education received, opportunities & career prospects after graduation, learning resources, teaching stuff, student support available and overall satisfaction.
What is Central Queensland University known for?
Central Queensland University is Australia's largest regional university (by footprint) with a campus presence in every mainland state. It offers a comprehensive range of courses and degrees for all study levels, including undergraduate, postgraduate, and research higher degree courses, as well as TAFE certificates, diplomas, and short courses. CQU's sunshine state campus locations include Brisbane, Bundaberg, Cairns, Emerald, Gladstone, Mackay, Rockhampton, and Townsville.
CQU placed in the top five public universities nationally for student experience in the 2021 Student Experience Survey (SES), conducted by Quality Indicators for Learning and Teaching (QILT). CQUniversity is also known for its remote and online resources, as it caters to areas and students who live outside of capital cities. Additionally, CQUniversity was also rated as the top Queensland University in Canstar Blue's 2022 ratings, indicating student satisfaction.
Does Central Queensland University offer online learning?
Central Queensland University is a leading distance education provider with more than 200 flexible, mixed-mode study programs spanning dozens of disciplines including allied health, nursing, education, information technology (IT), business, accounting, law and criminology, science, and agriculture. There are also English-language and other study pathways for international students. Students can choose to study online, on-campus or via a combination of both.
---