Most Satisfied Students | La Trobe University
---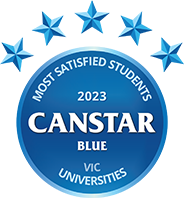 La Trobe University topped our universities review for Victoria, with five star ratings for campus amenities, opportunities & career prospects after graduation, teaching staff, student support available, learning resources and overall student satisfaction. 
What is La Trobe University known for?
La Trobe University, based primarily out of Victoria, is known for its academic excellence and is in the top 1% of universities worldwide, according to studies such as Time Higher Education and QS University Rankings. Some of La Trobe's top ranking course offerings include Archaeology, Anthropology, Linguistics, Anatomy and physiology and Leisure management to name a few. 
La Trobe is named after Charles Joseph La Trobe who was the first Superintendent of the Port Phillip District and first Lieutenant-Governor of the new colony of Victoria. He was known for his need to make a difference to the communities he served and for his progressive social values and their impact. The university continues to share these same values and is said to champion local communities and to pursue excellence and sustainability in all they do.
Does La Trobe University offer online learning?
La Trobe University does offer online courses to suit student's location and lifestyle. The university offers both postgraduate and undergraduate degrees in areas such as Diploma of Arts, Diploma of Business, Bachelor of Psychological Science and more. Its online learning is flexible and able to be adjusted to suit students' work and lifestyle. 
---