Most Satisfied Students | University of Adelaide
---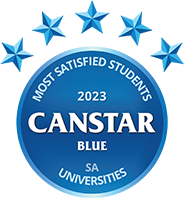 The University of Adelaide was rated five stars for teaching staff, quality of education received, learning resources and overall satisfaction.
What is the University of Adelaide known for?
One of the largest universities in the state, the University of Adelaide offers a wide variety of undergraduate degrees, along with postgraduate studies and research, in addition to a number of short courses and PACE (Professional and Continuing Education) offerings. The University of Adelaide was ranked in the top 100 of the 2024 QS World University Rankings, with a number of subjects rated in the top 100, and is also a member of the Group of Eight (Go8), which comprises of Australia's leading research-intensive universities.
Does the University of Adelaide offer online learning?
The University of Adelaide does offer online learning, but only for select fields and courses. Areas of study include psychology, data science, cybersecurity and business administration, meaning it may not have the range as some universities, although if you're interested in learning online, you can always contact the university to see if there's any hybrid offerings for the coursework. As an offset, the University of Adelaide also offers online short courses and micro-credentials, as well as offers Massive Open Online Course (MOOCS) which allow you to learn at your own pace, and for free.
---