Most Satisfied Students | Griffith University
---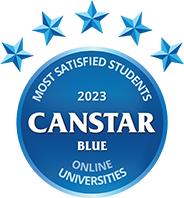 Griffith University was rated five stars for quality of education received, student support available, learning resources, opportunities & career prospects after graduation and overall satisfaction.
What is Griffith University known for?
Griffith University offers a wide range of postgraduate and undergraduate degrees and courses, with options to study part-time or full-time depending on your schedule. Griffith University also offers over 100 of online degrees, allowing for hybrid or external learning, with a number of its degrees, subjects and teaching staff having received international acclaim.
What type of online learning does Griffith University offer?
Griffith University offers over 100 of degrees via online means, with its Digital campus allowing for online or hybrid learning. Online course materials, virtual classrooms, digital collaboration opportunities and online assessment lodging are all on offer, with a suite of services and guides available to also help you on your online learning journey, including dedicated IT support and an online library. If you're not sure about what you'd like to study, Griffith University also allows you to search online courses via its website, with filters to help you find certain study areas or degrees, with examples of online courses including communication, computing and data analytics, public administration, climate change adaption and business administration.
---