Top Luxury Car Brand – Mercedes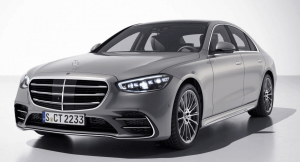 Arguably one of the most well-known car brands in the world, German brand Mercedes-Benz was founded in 1926, but has a heritage that dates back to 1883, with the brand today offering a wide range of small cars, sedans, SUVs, coupes and the AMG sports models. The Mercedes S-Class Saloon is arguably the most luxurious of the luxury car brand's line-up, and features retractable door handles, ambient lighting, Head-Up Display, 15-speaker audio system, climatised front seats, Active Lane Keeping Assist, AIRMATIC suspension for a more comfortable ride, rear-axle steering for improve control, and a petrol engine capable of 280kW output, giving you equals part luxury, and equal parts thrill ride.
Mercedes was rated five stars for reliability, value for money, driving experience, upgrades & extras, customer service, features and overall satisfaction, with four stars for appearance.