Fact Checked
Suzuki drives back to number one spot in small car ratings
It's not the size of the car that matters, it's about what it can do. That's why small vehicles are the go-to pick for many, typically giving motorists the same features found in larger options but for a fraction of the price. Lower running costs are also marketed as a major selling point from some car makers. But finding a new set of wheels can prove to be a mammoth task.
To help you out, we asked more than 600 Australian motorists for their feedback on the new small vehicle they purchased from a dealership in the last three years. Respondents rated brands on driving experience, reliability, point of sale service, after sale service, car servicing, value for money and overall satisfaction. Car manufacturers that received the minimum required survey sample size of 30 responses are compared in this year's ratings.
Suzuki took hold of the wheel in 2020, scoring the only five-star rating for overall satisfaction. It also rated best for value for money, and scored additional full marks for reliability and driving experience. It means Suzuki is back on top of our small car ratings for the fourth time in five years, having temporarily made way for Mazda last time out.
Best Small Cars

Here are the best small cars in Australia, as rated by consumers in Canstar Blue's latest review:
Suzuki
Toyota
Mazda
Kia
Hyundai
Honda
Volkswagen
Suzuki forced Mazda to drive away from first place, becoming the standalone best-rated brand for small cars with a five-star rating for overall customer satisfaction. Most other car brands parked on four stars for overall satisfaction, except for Honda and Volkswagen, which both ended on three stars overall.
Notably, runner-up Toyota turned things around in several categories, rating best for after sale service, point of sale service and car servicing. It was the only brand to achieve a five-star rating in these areas. Mazda got top marks for reliability and driving experience.
Read on for an overview of what the seven brands in this year's small car review have to offer.
Small Cars Compared
Suzuki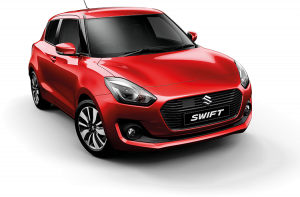 Japanese car maker Suzuki is one of the leading automotive brands for small cars, thanks in part to its flagship model, the Swift. Suzuki alternatively offers the Swift Sport. It comes with the same features found in some of the brand's other models, such as a Blind Spot Monitor, Adaptive Cruise Control, voice recognition and climate control air conditioning.
Suzuki also tackles the struggle around legroom with the Baleno. The boot is said to provide 355L worth of luggage space, or more when the rear seats are folded down.
Suzuki earned five-star reviews for driving experience, reliability, value for money and overall satisfaction. It got three stars for its after sale service and four stars in the remaining categories.
Toyota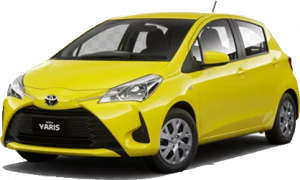 Toyota has several 'fun-sized' hatchbacks available, such as the classic Yaris and Corolla Hatch. Although if you're looking for a compact car that's designed to leave an even smaller carbon footprint, then you might want to check out Toyota's Hybrid range. These models contain an electric motor and petrol engine.
Toyota expanded its line-up to include the Yaris Hybrid, a small but mighty car that's claimed to be 10% more powerful than the previous petrol-fuelled Yaris. It's also said to be 15% more fuel-efficient than its predecessor, using 3.3L worth of fuel per 100km.
Fans of the Corolla can alternatively check out the Corolla Hatch for another economical and green option.
Toyota was rated best for car servicing, point of sale service and after sale service. It landed on four stars for overall satisfaction and everywhere else.
Mazda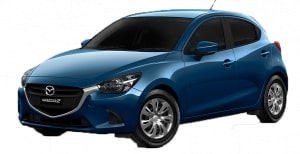 Mazda is a giant in the small car market, especially with its zippy Mazda2 proving to be popular amongst Aussie motorists. And it seems the Japanese car manufacturer has followed a winning formula, producing the Mazda3 as another small vehicle option.
For an economical car, Mazda claims its newer Mazda3 is 30% more fuel-efficient than traditional engines so that you can spend more time on the road and less time at the pump. Its Skyactive-X engine is also claimed to produce less CO2 emissions.
Mazda achieved five-star reviews for driving experience and reliability, and four stars everywhere else.
Kia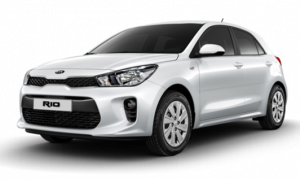 Best-known for its Rio models, Kia has diversified its small car line-up to include the Picanto, Rio and both the Cerato Hatch and Cerato Sedan. While recent focus has been on the Korean brand's SUV range, motorists still have plenty to choose from when it comes to finding a smaller ride.
Some features to expect in the new Rio model include an auto window defog system, rain-sensing aero blade wipers, 60:40 split-fold rear seats, as well as Driver Attention Alert and Lane Keeping Assist functions. The Picanto alternatively features electronic stability control, reverse parking sensors, LED rear fog lights and cruise control with speed limiter.
Kia scored four stars across the majority of the board, including for overall satisfaction. It got three stars for its after sale service and car servicing.
Hyundai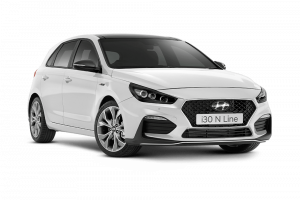 Producing popular models like the i30 Hatch and Elantra, Hyundai might be a worthwhile dealership stop if you're looking for a big variety of small cars. The South Korean car maker also has a few electric and hybrid models for an eco-friendlier option, including the IONIQ Electric, IONIQ Hybrid and the IONIQ Plug-in Hybrid.
Vehicles like the IONIQ Hybrid feature SmartSense and offer a variety of safety sensors, monitors, and alerts. Some functions include Blind Spot Collision Warning, Driver Attention Warning and Lane Following Assist. There's also the Electronic Parking Brake with auto-hold function, which is said to prevent the car from accidentally rolling backward or moving forward.
Hyundai achieved a split mix score, receiving four stars for value for money, reliability, point of sale service and overall satisfaction. It got three stars everywhere else.
Honda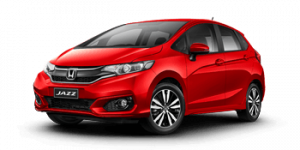 Honda offers a bite-sized range of small cars, including the popular Jazz, Civic Hatch and Civic Type R. For a daily driver, the Jazz may be worth considering. Designed to be small on the outside but big on the inside, the Magic Seats are said to maximise space by allowing you to flip and fold seats. Some other features include a multi-angle reversing camera, smart keyless entry and smart connectivity that can link up with a few different apps as well as music and messaging.
If you need to store bulky items, the Civic Hatch comes with up to 414L worth of boot space. Inside the car, the back of the front seats are curved to give rear passengers decent legroom and a more open feel.
Honda earned four-star reviews for reliability and point of sale service, before ultimately landing on three stars for overall satisfaction and the remaining categories.
Volkswagen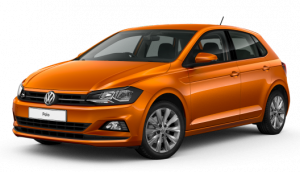 You'd be hard-pressed after stepping out onto the streets of Australia and not seeing a small Volkswagen car. The German car maker has exploded in popularity in the past decade, partly thanks to the introduction of the Golf and Polo models in the small car market. Plus, let's not forget the iconic Beetle.
One unique feature in the Golf is the Driver Fatigue Detection function. It's designed to analyse steering movements and other signals to check if the driver is fatigued. If the person is seen as too tired to drive safely, it will send a warning by sounding off an alarm and providing a visual alert recommending the driver take a break.
Other compact Volkswagen cars include the Golf GTI, Golf R and Polo GTI.
Volkswagen rounded up the scores with four stars for driving experience and three stars everywhere else.
Compare Car Rental Prices
Is a small car the best fit for me?
Buying a small car has various advantages, including being more fuel-efficient, easier to park up and more importantly cheaper to buy. Our survey found Aussies paid an average of $27,092 for a new small car. That's $10,000 cheaper than the average spend on a new sedan ($37,846) or SUV ($41,697)!
Here are the main reasons our survey respondents purchased a small car:
Price: 22%
Running costs: 19%
Safety rating & features: 13%
Style (i.e. design & colour): 12%
Brand name: 11%
Size: 9%
Lifestyle reasons: 5%
So, if you need a budget-friendly, compact vehicle to get you from A to B safely, then a small car is your best bet. But, whatever you decide on, make sure you do your research online before handing over the cash – just like 82% of the people we surveyed! And if you're still not sure, check out the best-selling small cars in Australia to help see what others are driving away in.
About the author of this page
This report was written by Canstar Blue's home & lifestyle journalist, Tahnee-Jae Lopez-Vito. She's an expert on household appliances, grooming products and all things grocery and shopping. In addition to translating our expert research into consumer-friendly ratings reports, Tahnee spends her time helping consumers make better-informed purchase decisions on all manner of consumer goods and services, while highlighting the best deals and anything you need to be aware of.