Kmart: Cheap and 'chopful' blenders
Australians love a good trip to Kmart. When you're not tempted by the cheap and cutesy homewares, chances are you'll tempted into buying some of the cheap, nifty home appliances. Kmart definitely aren't silly – the way they've transformed themselves in recent years has been impressive. They offer everyday low prices on everything in-store, and to great effect. Their blenders are not immune, with a range that is sizeable and reasonably priced. But how do they really stack up when the serious blending begins? Compare the range with Canstar Blue.
What's in the range of Kmart's blenders?
Kmart offers a good-sized range of blenders with an attractive price tag. Let's break them down with their prices below:
| Model | Price |
| --- | --- |
| Nutritional Pro 1000 | $49* |
| 1.5L Digital Blender | $49* |
| 1.5L Glass Blender | $39* |
| Stainless Steel Blender | $29* |
| Mini Blender | $20* |
| Drink Bottle Blender | $15* |
Source: Kmart
Compared to other companies, Kmart has an extremely cheap array of blenders. Though, it's about more than dollars and cents – it's what's under the hood that counts.

Nutritional Pro 1000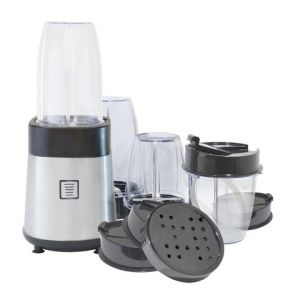 Modelling itself after the various on-trend 'Nutri' blenders, the Pro 1000 packs a wallop for the price. Seriously, in this price range with other companies, you'd be lucky to get 500 watts of power. With this model you get 1000w and a range of accessories to make nutritional blending as pain free as possible:
Two tall and two small blender cups for drinking on the go. It also comes with four travel lids and one shaker lid.
One blending blade, one grinding blade, two spare rings and one blender motor are included in the box.
It comes with a safety lock and a 12 month warranty for peace of mind.
For $49, it'd be an injustice to not try out the Nutritional Pro and see how it stacks up with the oft more expensive blenders of the same ilk. It's a no-gimmick blender that packs some heat under its hood.
Drink Bottle Blender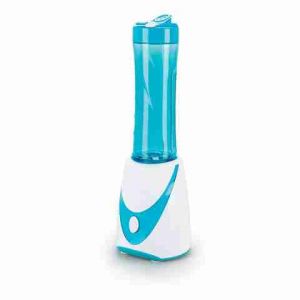 Coming in at the 'cheap and cheerful' end of Kmart's range of blenders is the Drink Bottle blender. Tapping into the trend of "2Go" blenders, Kmart's offering here may surprise you with what it can offer you. With a small footprint, you'll barely notice it on your kitchen counter, but it features:
250 watt motor. Great for blending a quick and easy smoothie or protein shake. Ever drank a lump in your protein shake? Disgusting.
500mL BPA-free sports bottle, so you can easily detach and start your morning the right way.
Extra bottles are available from $8 for a pack of two.
This blender is cheaper than breakfast at a café, and probably makes more nutritional food too. For $15 you get a small, no frills blender that's great for making a smoothie in the morning. It won't take up much space on your countertop, so it's a great little companion at breakfast time.
Other blenders in the Homemaker lineup
If a 1000w 'Nutri' blender isn't your thing, and a $15 cheap and cheerful drink bottle blender isn't wowing you, then perhaps consider Kmart's mid-sized blenders. Overall, they're at a price low enough to go bananas at Kmart.
| Model | Specs | Features |
| --- | --- | --- |
| 1L Digital Blender | 800w motor, 1L jug, pre-set multiple push speeds | Powerful motor, can crush through ice, pre-set functions are handy for easy blending |
| 1.5L Glass Blender | 500w motor, 1.5L jug, ice crushing blades, illuminated dial | A moderately powerful motor, with an ice crushing function, for quick smoothies and soups |
| Stainless Steel Blender | 500w motor, 1.5L jug, two speeds + pulse | A nice motor for the price to whizz through fruits and veg with ease, large-sized jug for all your smoothie needs |
| Mini Blender | 230w motor, 600mL capacity jug, two speeds + pulse | A small footprint blender for smoothies. Speed levels for chopping through tougher fruits |
Source: Kmart
For the price, Homemaker blenders cannot be beaten. The motors included aren't overly impressive, but aren't inadequate by a long shot. The digital blender packs a lot in for the price, and has features that other brands have on their blenders for much more money. These are great budget options for some lighter blending or for families who aren't obsessively blending tough vegies every day.
How do Kmart blenders stack up?
The most attractive feature of Kmart's Homemaker blender range is the price of all six models. While they don't offer anything particularly exciting or feature-packed – and you can't really expect that at this price range – they do offer decent no-frills blending.
At such small price differences, our pick would be the Nutritional Pro 1000. Or, if you're looking merely for on-the-go smoothies, then it's hard to look past the $15 drink bottle blender. At less than the price of two beers in a bar, you can be on your way to making healthy beverages sooner. All in all, Kmart's blenders are no frills and low on gimmicky features, but that translates to giving you a better price – prices that are sure to suit almost everyone.
*Prices taken from respective retailer, correct as of January, 2017
About the author of this page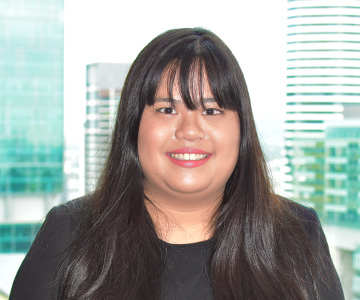 This report was written by Canstar Blue's home & lifestyle journalist, Tahnee-Jae Lopez-Vito. She's an expert on household appliances, grooming products and all things grocery and shopping. In addition to translating our expert research into consumer-friendly ratings reports, Tahnee spends her time helping consumers make better-informed purchase decisions on all manner of consumer goods and services, while highlighting the best deals and anything you need to be aware of.
What do customers think about Kmart Blenders?
In 2019, Australian customers gave Kmart 4 out of 5 stars for overall customer satisfaction for blenders.