The latest Australian Competition and Consumer Commission (ACCC) broadband report has been released – and in good news for Aussie NBN users, average peak-hour speeds are on the rise.
The fifth Measuring Broadband Australia report compiles the results of the ACCC's February speed tests, which measure the average NBN download and upload speeds of eight major Australian providers (Telstra, Optus, Aussie Broadband, iiNet, MyRepublic, TPG, Dodo/iPrimus, and Exetel). With more than 180,000 download tests performed, the report ranks the included telcos on the percentage of each plan's maximum speed that is achieved during peak hours (between 7pm and 11pm).
Overall, the biggest takeaway is that TPG has claimed the number-one spot for the third quarter in a row, surpassing notably fast competitors including Telstra, Optus, and Aussie Broadband. However, there's been a clear increase in performance from all eight included NBN providers, indicating that most customers can expect speeds of at least 80% of their plan's maximum during busy evening periods.
Download speed results
TPG has again achieved the overall highest download speeds this quarter, with an average result of 88.3% during busy hours. This is a quarterly increase of 2.2%, and places TPG in a comfortable lead over second-place telco Aussie Broadband (85.9%).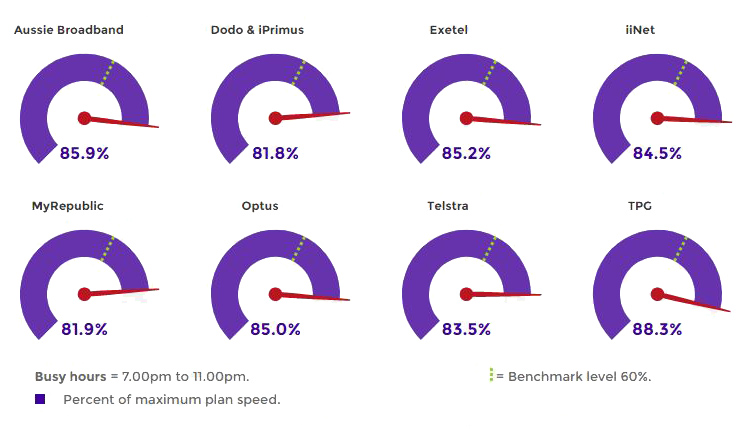 Interestingly, Exetel has delivered a competitive third-place result, averaging 85.2% and beating out Optus' 85% score. A relatively new inclusion in the ACCC's rankings, Exetel shows that the big-name telcos aren't necessarily the fastest on the market.
The full results are:
TPG: 88.3%
Aussie Broadband: 85.9%
Exetel: 85.2%
Optus: 85.0%
iiNet: 84.5%
Telstra: 83.5%
MyRepublic: 81.9%
Dodo & iPrimus: 81.8%
Upload speed results
This quarter's fastest average upload performance goes to Exetel, which has taken out the top spot for the second report in a row. With an average upload score of 89.4%, Exetel beats second-place telco iiNet by a full 3% during peak evening hours.
The full results are:
Exetel: 89.4%
iiNet: 86.4%
TPG: 86.0%
Dodo & iPrimus: 85.8%
Aussie Broadband: 85.6%
Telstra: 82.5%
Optus: 81.3%
MyRepublic: 81.2%
Again, while Optus and Telstra continue to offer overall fast speeds, smaller service providers have become a seriously competitive alternative, particularly when you factor in the differences in plan pricing. Paying more for a plan with extra bells and whistles won't guarantee a faster NBN performance, and it's often the lesser-known brands giving customers more for their money when it comes to speed and reliability.
Speeds increase, but some customers left behind
The ACCC report also noted that, despite the steady increase in speeds overall, some customers do experience 'underperforming' services; i.e., connections that are unable to achieve speeds close to the maximum plan speed advertised by providers. 13% of homes surveyed in the ACCC report fell into this category, with the highest percentage of underperforming connections reported by Telstra customers (19.85%).
Despite a relatively small sample of disappointing results, the ACCC reported that 66.8% of tests achieved at least 90% of that plan's maximum speed. In comparison, only 6.2% of tests failed to achieve a plan speed of 50% or higher – showing that most NBN customers can expect decent-to-great NBN performance, even during busy evening hours.
As tests are conducted on both download and upload speeds, the ACCC report gives a reliable overall picture on how the NBN is performing in real-world environments. NBN horror stories aren't uncommon, but for the most part, Australian providers are offering steadily increasing speeds, lower latency, and more realistic speed claims.
Improving your NBN speed
Of course, there are a number of factors that may influence your NBN speeds, regardless of your choice of provider. While telcos should continue to work on delivering fast-as-possible speeds across all NBN speed tiers, there's several DIY options customers can try out in order to maximise their broadband performance, including upgrading equipment, or switching to a wired connection.
You'll also want to consider if you're on the right NBN speed tier for your home's daily needs. If you're looking for fast, reliable speeds during peak hours, or you need a plan that can support multiple simultaneous users, you may want to upgrade to NBN 50 (Standard Plus Evening Speed) or higher, rather than sticking it out on a slower NBN speed.