Foodora Restaurant Guide
Foodora is a popular app that brings your takeaway food to you – perfect for when you have cravings that only a certain restaurant (that may not normally deliver) can fix. But where does Foodora deliver to and how does it work? Here's our guide to Foodora restaurants and meals in your area.
How does Foodora work?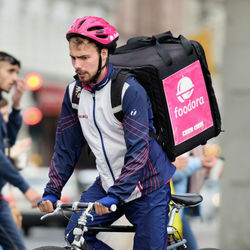 Foodora is a food delivery mobile app that allows you to pick and choose from restaurants and cafes in your area, and have the food delivered right to your door. Even if they don't normally offer delivery as an option, Foodora operates as the middle man to provide you with more food options that allow you to remain in your trackies.
You can order through the website and the app, which is available for both Apple and Android operating systems. Payment is online with an option of your choice, meaning that when your food arrives on one of their bikes with the signature pink carrier, you won't be scrambling for cash.
Foodora also recently acquired Delivery Hero, so if you're looking for that particular service, they're in the Foodora family now and no longer have their own app or website.
Foodora Delivery Areas In Australia
Foodora currently only delivers to the metro areas of Sydney, Melbourne and Brisbane. While they can provide you with a list of restaurants and we can talk about some of our top picks, remember to put in your address into the app or website to figure out exactly which restaurants deliver to you. Or risk your stomach being very grumpy for the false hope.
List of Foodora Restaurants
Foodora's website allows you to see all the restaurants they are partnered with in that city, however, remember that restaurants may only be open for delivery at certain times. So, if you know you have the tendency to feel #hangry and only THAT restaurant will do, you can always go to that restaurant's page to make sure you get your scheduled spring rolls at the perfect time.
Foodora has a bunch of food options, and they even have their own foodpedia, which has foodie news and a bunch of curated restaurant lists for whatever you're in the mood for. Here are some of our best picks from each city!
Foodora Restaurants Sydney
Suzie Q
There is a misconception that you need to go outside to get brunch, but Suzie Q proves you are wrong. Offering a small but appetising selection of food, Suzie Q is perfect for members of the brunch bunch, with poached eggs and salmon as well as bircher muesli able to be consumed in your pyjamas.
Soy
Offering all the sashimi you could ever dream of, Soy is an excellent option for pescatarians and sushi enthusiasts alike. If you're not in the mood for chilled seafood excellence, then there are plenty of hot options like creamy crab croquettes or the perennial favourite, Teriyaki chicken.
Medusa
Ever wanted a full Greek platter of gyro meat, chips, Greek salad, tzatziki and pita bread delivered to you without even having to move? Well, you can have that now. They also have a range of traditional Greek sweets on offer – Baklava anyone?
Malabar
There's nothing better than a classic curry to warm your soul and your stomach. Malabar offers a variety of South Indian dishes, including Samosas, Dosai and all the curry you can shake a naan bread at. And yes, of course they do butter chicken.
Arthur's Pizza
This pizza place has been around since 1970, meaning it's been serving up cheesy goodness for over 45 years. Offering a variety of family favourites as well as some new classics, this pizza place is a cheap eat to keep in mind for Friday nights.
Foodora Restaurants Melbourne
Slice Girls
"If you wanna be my lover / You gotta bring me pizza"… We're pretty sure that's how this lyrics girl. No matter what Spice you identify with, there's surely a pizza for you from Slice Girls. If you're not wanting to slice up your life, they have burger and sandwich options as well.
Etto
Sometimes you just need to carb up, and Etto could be the place to bring you those carbs. This pasta bar brings you a variety of fresh pasta and homemade sauce, and it's quite likely to get your Mum's tick of approval. Multiple mac n' cheese options as well as all the Italian classics should keep you going.
Fonda
Mexican food for the modern Melbournian. A brightly coloured menu filled with fun options like pulled pork quesadillas and Mex-Bim-Bap salad – even Kangaroo burritos if you're feeling adventurous. Don't forget a jarrito to round out your meal with the perfect Mexican beverage!
Stalactites
Souvlaki can fix most things, so it makes sense to have souvlaki readily available for souvlaki emergencies. Stalactites specialises in souvlaki, offering all the traditional mixes as well as a new spin (hello there, Greek burger souvlaki).
Gami
This place is able to give you chicken that is a cluck above your regular fast food haunt. If you're looking for the full Korean-style fast food experience, be sure to order the boneless chicken for easy munching, along with tteok bok ki (spicy and chewy rice cakes) for a fun alternative to chips.
Foodora Restaurants Brisbane
Brooklyn Depot
You may be aware of how American food has been trending all over the 'gram the last couple of years, but Brooklyn Depot was out there doing it first. Offering all the burgers and hot dogs your heart desires, but your stomach will thank you for leaving room for one of their delicious shakes.
Maru
One of the most popular Korean BBQ restaurants in Brisbane, Maru is hard to beat if you're craving Korean. Whether you go for the classics like Bibimbap or black bean noodles, or try something new like their "ziggle" selection of stir fries, Maru has the goods.
Piccolo Pizza
A crust above your regular delivery pizza, Piccolo does the classics and does them well. But if you aren't one for the classics, then lucky for you they do some different stuff that is also delicious carby goodness. Do yourself a favour and just order some.
Papparich
This is the perfect Malaysian comfort food, and with a massive menu spanning over more than 100 items, you'll be spoiled for choice. Papparich is well known for their Hainan bread with a variety of toppings, but the roti and the nasi goreng are also classics.
Mayfield Chocolates
Sometimes you want a hearty meal delivered to your door. Sometimes you want chocolate. Mayfield Chocolates are a must try for those who take their chocolate seriously. Put together a custom selection of your chocolates and share with a loved one, or not, because these are too good to share.
Foodora Contact Details
Whether you want to give them constructive criticism, or let them know about your favourite foodie haunts, Foodora has options to contact them. If something happens with your order, utilise the support email (below) to get a helping hand.
Email: support@foodora.com.au
If you prefer writing your restaurant suggestions in calligraphy, they also have snail mail!
Address: 49-51 Shepherd St, NSW 2008 Chippendale