Top Pizza Store ─ Crust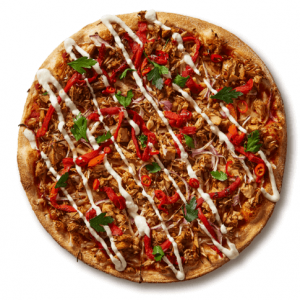 Perfect for when you're craving a takeaway pizza with a little bit of 'spice,' Crust offers a delectable range of old school and new school slices. You can expect a range of classic pizza flavours like Hawaiian, Margherita and Pepperoni as well as some unique combos like Vietnamese Chilli Chicken, Truffle Beef Rossini and Pulled Pork and Slaw. It also has lots of plant-based and vegan options as well as sides and desserts including garlic bread, scrolls, chicken wings, apple pie bites, ice cream and more.
Some menu options from Crust include:
Pesto Chicken Club: includes chicken breast, prosciutto, Spanish onions & fresh tomatoes on a tomato & garlic base, garnished with fresh avocado, rocket and pesto aioli.
1889 Margherita: buffalo mozzarella and cherry tomatoes on a tomato base and garnished with fresh basil, cracked pepper & sea salt.
Truffle Beef Rossini: beef, wild mushroom medley, caramelised onions on a béchamel base garnished with fresh parsley & basil, topped with authentic buffalo mozzarella & black truffle aioli.
(not) Beef Royale: plant-based mince, heirloom tomatoes, sliced onion and mozzarella on a tomato base with a sesame seed crust. Topped with burger sauce and pickles.
Smokey Pulled Jackfruit: BBQ pulled jackfruit, Spanish onions and roasted capsicum on a tomato base, with vegan aioli, parsley and chopped chilli. Made with vegan cheese.
Shepherds Lie: plant-based mince, roasted potato slices, mozzarella, rosemary, caramelized onion and shredded carrot on a garlic & tomato base with a sesame seed crust. Topped with fresh herbs, parmesan cheese and a drizzle of truffle oil.
Crust pizzas come in a large or extra-large, and vary from $15 to $26 depending on the size and type of pizza, chosen toppings, and whether you choose home delivery or pick-up.
Crust topped off the ratings with five stars for presentation of food, variety of food options and overall satisfaction. It rated four stars for taste & freshness of ingredients & meals, customer service and speed of service, and three stars for value for money and website & store layout.
What is Australia's favourite pizza?
If you're tossing up which type of pizza you 'knead' to order, our survey found Meat Lovers to be the favourite (19%). Supreme (17%) came next in line, followed by chicken-flavoured pizzas (14%), Pepperoni (14%), Hawaiian (12%), Margherita (8%), Vegetarian (7%), Seafood (4%) and plant-based pizza (2%).
When it came to crust, classic took home the first prize (37%), ahead of thin and crispy (32%), deep-pan (18%), stuffed (8%) and gluten-free (4%).
Our research also showed one in 10 Australians (14%) usually try to pick healthier options on the menu, and a third (32%) of consumers appeared satisfied with the variety of dietary options available, but a slightly higher number of customers (33%) preferred wood-fired pizza to oven-baked.
Compare Quick Service (Fast-Food) Restaurants
Got a pizza and movie night lined up? Sign up to Disney+ to complete it!
After some Disney classics? Sign up to Disney+! There are two plan options to choose from – a monthly subscription, or prepay for a year. Both plans include the same features, with unlimited downloads and the ability to stream on up to four screens at the same time. This table includes links to a referral partner.
Stream the Disney+ library, including Disney+ Originals, Star Wars, Pixar, Marvel, National Geographic & Star
Watch on 4 screens at the same time
Add up to 7 profiles
Unlimited downloads of shows and movies on up to 10 devices

min. cost $13.99 over one month

4

$13.99


Canstar Blue receives a commission for sign-ups through Disney+ *

Stream the Disney+ library, including Disney+ Originals, Star Wars, Pixar, Marvel, National Geographic & Star
Watch on 4 screens at the same time
Add up to 7 profiles
Unlimited downloads of shows and movies on up to 10 devices
Prepay for a yearly subscription and save on the monthly cost

min. cost $139.99 over one year

4

$139.99


Canstar Blue receives a commission for sign-ups through Disney+ *

^^View important information