Fact Checked
Pizza Capers slices rivals as best-rated pizza store
From the stretchy cheese to the perfectly crispy crust, yet fluffy dough base, what's not to love about pizza? Even 45% of Aussies surveyed won't say no to pineapple on pizza, a famously controversial topping, while more than a third (36%) say they can eat a whole pizza by themselves.  Whether you prefer a loaded Supreme or Meat Lovers, or typically opt for something subtle like a Margherita or Pepperoni, we know that pizza is serious business.
To find out where's the best place to order from, we asked more than 1,430 consumers who purchased and ate a pizza from a specialist pizza store or restaurant in the last three months for their feedback. Respondents rated their experiences based on taste and quality of ingredients, menu variety, speed, customer service, store layout, value for money and overall satisfaction. Pizza stores that received at least 30 responses are included in the ratings. So, which pizza store did Aussies rate best?
Pizza Capers grabbed the winning slice in Canstar Blue's pizza stores review, picking up five stars for its customer service, store layout and overall satisfaction.
Best Pizza Stores
Here are the best pizza stores in Australia, as rated by consumers in Canstar Blue's latest review:
Pizza Capers
Crust
La Porchetta
Pizza Hut
Dominos
Pizza Capers cleared the board with the only five-star review for overall satisfaction. Crust, La Porchetta, and Pizza Hut followed behind on four stars, while Dominos rounded up the results with three stars for overall satisfaction.
It's worth mentioning that Crust also got a winning slice with a five-star rating for its variety of food choices available. Pizza Hut and Dominos scored similarly when it came to speed of food preparation, with Pizza Hut getting additional brownie points for value for money and taste and quality of ingredients.
About the Winner ─ Pizza Capers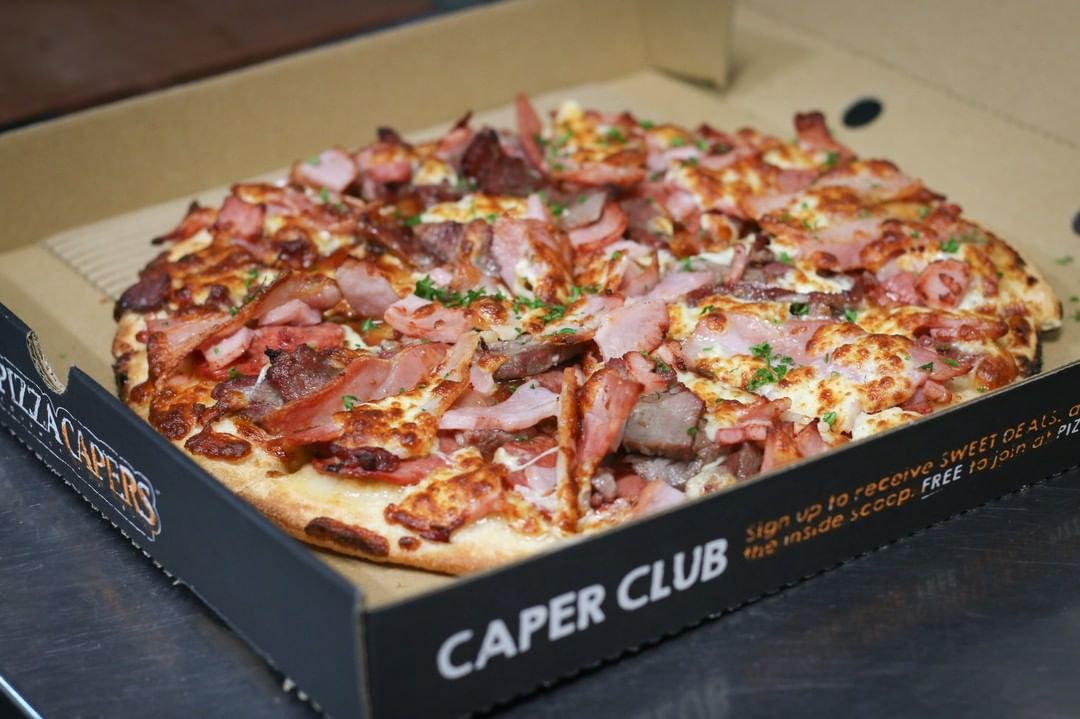 If you think a cheesy crust is exciting, wait until you see what Pizza Capers has to offer. Claiming to be one of the first to dish out gourmet takeaway pizzas, this franchise has been working hard to 'gourmet the everyday' since rolling onto the scene in 1996. Pizza Capers offers a mix of new and old-school pizza flavour combos, with a wide variety of toppings like Cajun prawns, Japanese crumbed karaage chicken, lamb, fire-roasted capsicum, sweet potato, cinnamon sugar, blue vein cheese, sour cream & chives sauce, cashews and red bean salsa. Even its mouth-watering list of sides includes everything from fries and salads to pasta, calzones, fiery sriracha wings and pizza bread.
Some menu options from Pizza Capers include:
Italian Connection: includes Italian pepperoni, kalamata olives, roma tomatoes, red capsicum, Spanish onion, herb mix, crushed garlic, basil, mozzarella and pizza sauce. Also comes with rocket, balsamic glaze, parmesan and chopped parsley.
Tuscan Pesto Chicken & Bacon: contains oven-roasted chicken, rasher bacon, pesto pizza sauce, mozzarella, button mushrooms, red onion and crushed garlic. Garnished with pesto aioli, parmesan and fresh herbs.
The Boss Hogg: includes pork and fennel sausage with red onion, roasted capsicum, bocconcini and mozzarella on a classic pizza sauce base. Topped off with spicy hot honey and fresh herbs.
Mac Daddy (vegetarian): includes macaroni and mozzarella cheese, with sriracha aioli, corn, red onion and salt & pepper paprika.
Sweet Potato Vegan Lovers: contains sweet potato, button mushrooms, crushed garlic, vegan cheese and pizza sauce. Garnished with rosemary, shallots, salt flakes and sweet chilli sauce.
Prices start from $17 for a small Classico and go up to $21 for a large Classico or large Rustico, while a large-size gluten-free pizza costs slightly more at $23. There are a few toppings you can add for free, such as Cajun spices, Moroccan spices, lemon pepper and garlic. Otherwise, extras range between $1 to $4 each.
Pizza Capers rated five stars for customer service, store layout and overall satisfaction. It achieved four stars everywhere else, including for taste and quality of ingredients, value for money, menu variety and speed.
What is Australia's favourite pizza?
If you're tossing up which type of pizza you 'knead' to order, our survey found Supreme to be the favourite (24%). Meat Lovers (20%) came next in line, followed by Hawaiian (12%), Pepperoni (11%), BBQ Chicken (10%), Vegetarian (9%), Margherita (5%) and Seafood (5%). When it came to crust, thin and crispy (39%) seemed to be the way to go, ahead of classic (33%) and deep pan (22%).
Our research also showed more than one in 10 Australians (13%) usually try to pick healthier options on the menu, and almost a third (29%) of consumers appeared satisfied with the variety of dietary options available.
About the author of this page
This report was written by Canstar Blue's home & lifestyle journalist, Tahnee-Jae Lopez-Vito. She's an expert on household appliances, grooming products and all things grocery and shopping. In addition to translating our expert research into consumer-friendly ratings reports, Tahnee spends her time helping consumers make better-informed purchase decisions on all manner of consumer goods and services, while highlighting the best deals and anything you need to be aware of.