DHL delivers five-star review in courier service ratings
For many, courier services keep the business world turning, helping deliver goods, letters and contracts to where they need to be. With many small Aussie businesses moving to a more online presence, courier services have become even more influential and necessary in recent years, allowing businesses to reach all corners of the country. But when it comes to selecting a courier service to trust with your customer's orders and client contracts, it can be a tricky decision, as the wrong one may not only leave you with an empty wallet, but impact on your business relations and reputation.
There's plenty to consider when selecting a courier company, because while you'll want your package to arrive safe and sound – and in a timely manner – you won't want it to cost you an arm and a leg. To help narrow down the options, Canstar Blue produces an annual review of courier services for small business, surveying more than 800 business owners and key decision-makers about their experiences with the big-name providers listed above.
The seven courier services included in our 2018 review have been rated in the following order for overall business customer satisfaction:
1st DHL Express
2nd FedEx
3rd StarTrack Courier
4th Couriers Please
5th Fastway
6th Toll
7th Australia Post
8th TNT
While DHL Express claimed top spot, plenty of its competitors delivered strong results – with all but two brands achieving at least one five-star result, with many achieving multiple five-star ratings.
Signed, Sealed & Delivered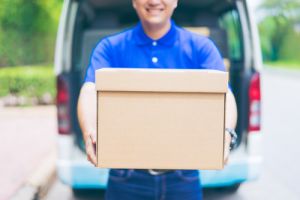 Two-thirds of survey respondents (66%) stated that their business always uses the same courier service, despite almost half (49%) indicating they could probably get a better deal with another company. When asked why they always use the same courier service, respondents answered with:
It has always been reliable: 42%
Out of habit: 23%
They offer good customer service: 20%
It is the cheapest: 12%
With 31% of businesses having a fixed-term contract with a courier service (with larger businesses more likely to have a contract), switching providers may take a little patience. But it doesn't hurt to keep your options open if your contract is coming to an end.
What makes a good courier service?
Our survey identified value for money as being the most significant driver of customer satisfaction, but other factors such as delivery timing, pick-up & drop-off options and reliability are also crucial.
Value for money
Providing a reliable service is crucial – not many customers are going to stick with a courier that fails to deliver items correctly. However, small businesses also demand value for money when they courier an item. That of course means paying a reasonable price for delivery, but also receiving an overall quality service which justifies the cost. This could mean having a helpful website, tracking process, or friendly call centre staff to assist with your queries. Couriers Please was the only brand to be rated five stars in this category, with DHL Express, FedEx, StarTrack Couriers, Fastway and Toll all rated four stars, while Australia Post and TNT were rated three stars.
Booking process
For many small business customers, a courier service's website will be the first step on the road to an item being delivered, so it's hugely important that a courier can deliver an informative and easy to use booking process, in addition to other online tools and over the phone support. With 53% of our survey respondents booking online or via the courier's app, this is an important area for couriers to focus on when it comes to service. FedEx, Couriers Please, Fastway and Toll were all rated five stars, while DHL Express and StarTrack Couriers were rated fours stars, with Australia Post and TNT scoring three stars each.
Delivery timeliness options
Time is money in the world of business, so chances are the item you want couriered needs to reach its destination in a hurry. However, not all deliveries need to get from A to B in a flash – sometimes just turning up at the required place and time will be good enough, but failing to make this time can lead to disappointment. DHL Express was the only courier to rate five stars in this area, with FedEx, StarTrack Couriers, Couriers Please, Fastway and Toll rating four stars, while Australia Post and TNT were rated three stars.
Problem resolution
You can provide the best courier service in the world, but from time to time things will go wrong. If you're the customer unlucky enough to experience a problem, you'll want it to be handled promptly and seriously. You can forgive one mistake, but if it's followed by the mistake of bad customer service, you won't be happy at all. DHL was again the only brand to score five stars in this category, with FedEx, StarTrack Couriers, Fastway and Toll rated four stars, with Couriers Please and Australia Post rated three stars
Reliability of service
Providing a reliable service is of the utmost importance regardless of what industry your business is in, but particularly so when your business is all about delivering items in a timely fashion. More than a third of survey respondents (35%) told us that they have previously sent an item that was not delivered. Just getting an item from A to B is the minimum requirement of courier services, but our ratings show some are more reliable than others. DHL, FedEx, StarTrack Couriers and Toll all scored five stars for reliability, with Couriers Please and Fastway rated four stars, while Australia Post and TNT were rated three stars.
Pick-up & drop-off options
The pick-up will likely be the paying customer's only face-to-face contact with their courier, so it needs to go well. This means turning up promptly and portraying a professional image. Good customer service can go a long way. You may also want your courier service to offer flexible pick up and drop off options, such as being able to leave parcels at another address, retail store or local post office. A quarter of respondents to our survey (25%) have used a courier-owned locker as a delivery option. The industry seems to be becoming more diversified in this regard, but for now DHL Express and StarTrack Couriers were the only couriers to score five stars, while FedEx, Couriers Please, Fastway, Toll and Australia Post were all rated four stars, with TNT the only three-star rating.
Tracking services
Being able to track your order once it leaves the safety of your business has become an important part of the overall courier service experience. A courier company that doesn't offer some form of tracking is well behind the times, but the tracking also needs to be accurate and reliable. For tracking services, DHL, FedEx and StarTrack Couriers topped the category with five stars, with Fastway, Toll and Australia Post each rated four stars, while Couriers Please and TNT were rated three stars.
Which courier service should I use for my business?
Courier services can be a crucial part of running a successful business, particularly if you rely heavily on sending deliveries to customers all over the world. As a result, it's important to find a courier that suits your business, as well as one that's within your budget. Ultimately, which courier company you decide to use for your next shipment will come down to personal preferences, as well as what you're shipping. As a result, it's best to do your own research to find the best fit for your business, as your courier service of choice will impact your customer's happiness, as well as your bottom line – so it's best to go with the brand that delivers on its promises.