Easyflowers the pick of the bunch in flower delivery ratings
There's nothing more 'unbe-leaf-able' than sending flowers to a special someone, even if that 'special someone' is you. Just ask the handful of respondents who admitted to sending themselves flowers in our latest survey (5%)! Whether you're sending a bunch locally or to family overseas, finding the right florist to get the job done is no easy task. So, which website can you really trust?
The nature of ordering flowers online without actually seeing, feeling or smelling them in person first means there's always an element of risk associated with sending someone a heartfelt gift. Plus, in most cases, the website you order through won't actually be responsible for the specific flowers you've picked as these websites simply work with local florists on the ground to coordinate deliveries. So if you've ever paid for a particular bunch of flowers but the recipient has received another type, it's probably because they couldn't actually be sourced from the local area. With all this in mind, finding the best online florist for your needs is a big ask. Fortunately, Canstar Blue is here to offer some guidance.
We've surveyed nearly 1,000 Aussie consumers for their feedback on some popular online florists. This year, five different online flower delivery services have featured in the results, with Easyflowers.com.au being the only brand to receive the maximum five stars for overall customer satisfaction. It also earned top marks on product accuracy, value for money and ease of site navigation. It achieved four stars for its range of flowers and delivery reliability and timing.
Best Flower Delivery Websites
Here are the best online flower delivery websites in Australia, as rated by consumers in Canstar Blue's latest review:
Easyflowers
Interflora
Roses Only
1300flowers
Bloomex
Easyflowers sprouted as Canstar Blue's best-rated online florist in our 2020 review, achieving five stars for overall satisfaction. Interflora, Roses Only and 1300flowers planted just behind on four stars, leaf-ing Bloomex at the bottom on three stars.
Easyflowers wasn't the only online florist blooming in our ratings. Despite achieving four stars for overall satisfaction, Interflora clearly impressed Aussies as it received five stars in most other categories but lost out to Easyflowers when it comes to value for money and overall satisfaction.
Why purchase flowers online?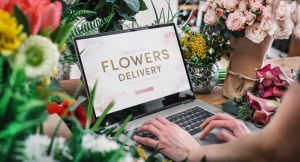 Buying flowers online can be risky business, so it's important to shop around and find a website that ticks all your boxes. On average, Australians spend $83 on their online flower orders. Since flowers are not cheap, shopping around is a wise idea. If you're unsure what type of arrangement to pick, two in five of our survey respondents (43%) said they usually opt for a pre-designed bouquet.
When asked about their main reason for buying flowers online, survey respondents gave the following answers:
53% cited the convenience of ordering online
18% admitted ordering online was their only option (i.e. no physical florists near them)
11% said they liked the wider range of options available online (including other gifts)
10% said it was to find a good deal on flowers
What to consider when choosing the best online flower delivery service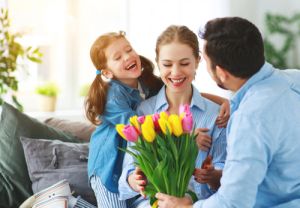 The world of online flower deliveries can get quite complicated. It's important to understand that the website you order from won't necessarily be the same company that actually delivers the flowers to your door. This is because online retailers work with local suppliers on the ground to ensure timely and fresh deliveries. While sourcing flowers locally means you can get the freshest bunch within hours, it can also lead to some major problems, such as certain flowers not being available in a certain area or region, leading to alternatives that may not be what you wanted. It also means retailers are less accountable for delivery problems.
Nevertheless, 68% of our survey respondents said they would buy flowers online again, so that's a good sign that things generally go smoothly. Aussies also showed a couple bad thorns isn't going to stop them from using online florists, with a third (35%) of Aussies revealing they've tried a bunch of flower delivery services. Two out of five (44%) would recommend their online florist to friends and family. Although it's interesting to see that the number of respondents who said they've tried more than one flower delivery service last year has dropped from 51% to just 35%.
Check out a bunch of other interesting facts from our survey.
Flower Delivery Websites in Australia
Easyflowers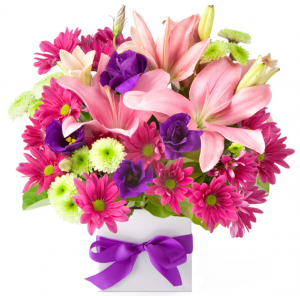 Easyflowers partners with independent florists across all capital cities, as well as major regional centres to guarantee fresh and local bouquets, it claims. It delivers Australia wide and across the globe, with the exception of some particularly remote areas. However, plants and hampers are still able to be delivered to most areas. The delivery fee is determined by the delivery postcode you enter, the time in which you need it delivered and the type of gift (flowers, hampers etc). Same day delivery for flower products to major cities must be placed before 2pm on weekdays (Monday – Friday) and 10am on Saturdays (local time of the selected city).
Plants and hampers require extra time to be arranged and in turn, orders must be placed before 1pm for hampers and 2pm for plants for next business day delivery. For remote regional areas, these orders can take 2 – 3 business days. Surcharges may apply in peak periods. It doesn't deliver during national public holidays and Sundays, with the exceptions of Valentine's Day and Mother's Day.
Easyflowers kept Aussies as happy as a daisy, receiving five stars for value for money, product accuracy, ease of site navigation and overall satisfaction. It rated four stars on range of flowers, delivery reliability and customer service.
Interflora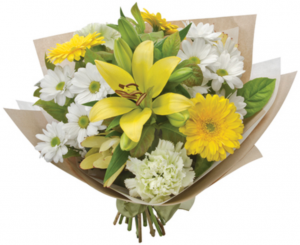 To help reach families around the world, Interflora delivers to 150 countries, including the UK, New Zealand, Canada, US, Germany, Ireland and France. It claims to partner with 50,000 florists worldwide, including 750 in Australia. It typically offers native and wildflowers as well as traditional flower bouquets and a basket range.
For same day delivery, orders must be placed before 2pm Monday to Friday and before 10am Saturday (that's in the recipient's time zone). Delivery is usually available within 24 hours, with the exception of restricted delivery areas which may take up to 48 hours.
Interflora may have achieved four stars for value for money and overall satisfaction, but it got top marks for delivery reliability, product accuracy, customer service, range of flowers and ease of site navigation.
Roses Only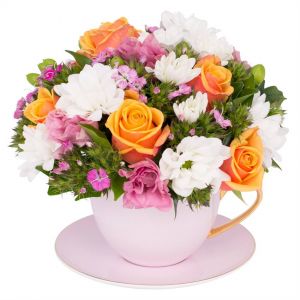 Despite the name, Roses Only has a large range of flowers such as gerberas, lilied tulips and a mix of seasonal flowers, along with boxed long-stemmed roses. Additionally, it has other ranges within the website including Hampers Only, Fruit Only and Wine Only for any occasion, whether it be for a baby shower or simply a 'thank you' gift.
Its delivery fee starts from $12.95. Deadlines for placing an order vary based on delivery location. It's suggested to place an order in the morning the day before you want it delivered. Same day deliveries are available Monday – Saturday, but are stated to cost more and are required to be ordered before 9am.
Roses Only scored a consistent four stars across the board this year.
1300Flowers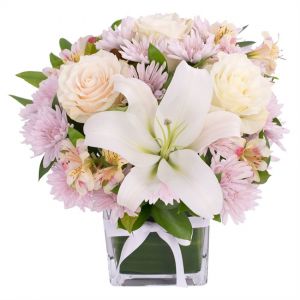 To provide a 'boutique' florist experience, 1300flowers says it handpicks florists with experienced local knowledge. It claims to use Australian-grown flowers and cut by local farmers when possible. Although it has fewer florists compared to other online flower retailers, it aims to maintain a close relationship with its partners. It offers a range of bouquets categorised by occasion or price. It also has a classic fruit box where additional chocolates can be added.
Same day delivery is available Monday to Saturday Australia-wide with orders taken before 2pm on weekdays and before 10am Saturday. The Standard delivery flat rate is $12.95 to most areas across Australia. You can even order 12 months in advance, so if you've missed someone's birthday this year, you're ready for the next one.
1300flowers rated four stars in most categories, including overall satisfaction, but got three stars on delivery reliability and ease of site navigation.
Bloomex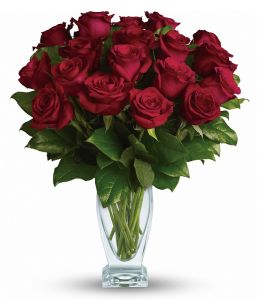 Bloomex was originally founded in Canada and has expanded to Australia, now delivering to Sydney, Melbourne, Canberra, Brisbane, Perth, Newcastle, the Gold Coast and Geelong. Along with traditional bouquets, it offers gourmet gift hampers, fruit baskets and other gifts including balloons.
With a motto of 'fresh, fast and fair', it aims to deliver low prices with same day delivery available for orders placed before 1pm (with a delivery fee of $19.95) and next day delivery is available for orders placed before 3pm (with a delivery fee of $14.95). No deliveries are available on Sundays except for Valentine's Day and Mother's Days.
Bloomex rounded up the results on three stars for most categories, including overall satisfaction, although managed to bloom when it came to their range of flowers where the delivery service rated four stars.
Other flower delivery websites
While only five brands made the cut in our ratings this year, it doesn't mean there aren't other online flower delivery services worth checking out. Here are a few alternative options.
FreshFlowers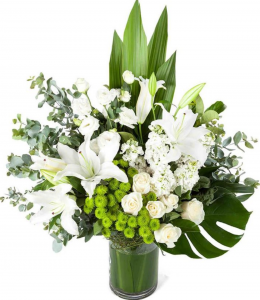 FreshFlowers is said to be Australian family-owned and been running since 1920. It delivers to major metropolitan areas including Sydney, Melbourne, Brisbane, Adelaide, Canberra and Perth, as well as most surrounding suburbs. It offers an array of flowers from roses and lilies to sunflowers and chrysanthemums. It also does native flowers and fruit hampers.
Fresh Flowers offers same day and urgent flower delivery Australia-wide on all orders placed before 2pm on weekdays (Monday-Friday) and before 10am on Saturdays.
The Flower Factory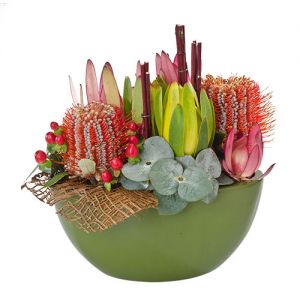 The Flower Factory has a range of flower varieties from natives to roses, as well as arrangements in boxes and baskets. Deliveries can be made to almost every metropolitan and regional area, plus many countries worldwide.
Same day delivery requires orders to be placed by 2pm Monday to Friday and before 10am on Saturday, in the recipient's time zone. Most deliveries can be made within 24 hours, but in restricted areas it may take up to 48 hours.
Petals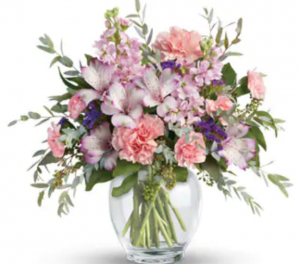 The Petals Florist Network boasts more than 20,000 florists, delivering to more than 100 countries. Wherever you are in the world, it's quite likely you can send a fresh floral gift to a loved one through Petals.com.au. Similar to other online florists, Petals offers several gift baskets and hampers in addition to a variety of flowers. This even includes native flowers and potted plants.
The standard cut-offs for same day delivery are before 2pm weekdays and before 10am Saturdays (in the recipient's time zone). There are no deliveries available on Sundays and public holidays, with the exception of Valentine's Day, Mother's Day and Christmas.
Edible Blooms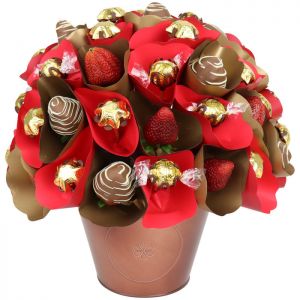 Edible Blooms is an Australian-owned business run by two sisters, delivering across Australia, New Zealand, the UK and Switzerland. It's a rather unique floral experience, offering edible flower bouquets accompanied with chocolates, donuts and fruits, as well as beer and wine gift baskets. Of course, it also provides traditional flower bouquets.
Edible Blooms delivers Australia-wide Monday to Saturday. Same day delivery for CBD and neighbouring suburbs costs $15.95 (order by 10:30am EST). For outer metro areas it costs $22.95 (order by 10:30am EST). You can choose a three-hour express delivery that costs $25.95 if you'd like to guarantee a specific delivery time for metro areas. Following day delivery is available for most areas in Australia if you place your order by 4pm.
Direct2Florist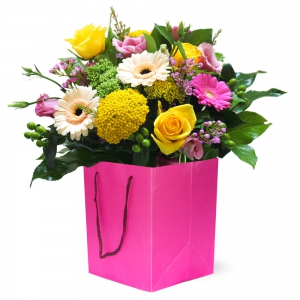 Direct2Florist is said to be a family-owned and operated firm connecting users to local florists based on products, prices, distance and customer reviews. The website allows you to search suitable florists and see their profile alongside customer ratings and reviews, as well as examples of their work. It claims to have 3,500 florists in 14 countries, including Australia, New Zealand, Hong Kong, UK, USA and Canada.
Opening hours are Monday to Friday 9am to 5pm, with Saturday hours being between 9am and 2pm. Most of its local florists aren't available on public holidays, as well as on Sundays, but it may be possible for a Sunday delivery if you order by Friday afternoon, with Direct2Florist able to check with the florist on your behalf.
FlowerSales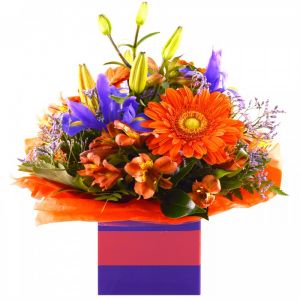 FlowerSales is owned by Ribbons and Blooms, an Australian owned and operated business. It delivers flowers Australia-wide and internationally. FlowerSales offers a range of fruit hampers, new baby gifts, plant gifts and gift baskets in addition to a variety of bouquets and arrangements. Its delivery locations include major cities Sydney, Melbourne, Brisbane, Adelaide, Gold Coast, Perth, Canberra, Hobart, Cairns, Newcastle, Wollongong and the Sunshine Coast to name a few.
Delivery charges are said to be incorporated into its pricing, so you won't get any nasty surprises at the checkout. Some remote areas may have a minimum spend enforced by the florist in that area to cover long-distance delivery, however FlowerSales states this is a very rare instance.
Which flower delivery service should you go with?
Buying flowers online and having them delivered right to your front door – or someone else's front door for that matter – is certainly convenient, but with perishable gifts, it's inevitable that something will go wrong from time to time. If you search around the internet you will likely find the odd negative review for every one of the five flower delivery services in this comparison report. However, the key is to watch for the trends and not just the one offs. That's where our ratings are helpful, to measure the sentiment of Aussie consumers who have recently used one of these websites. So, whether you have a big anniversary coming up, or are simply looking for a small gift for someone special, be sure to think carefully about your choice of flower delivery website and keep our review in mind.
About the author of this page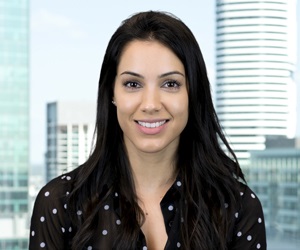 This report was written by Canstar Blue's Home & Lifestyle Content Lead, Megan Birot. She's an expert on household appliances, health & beauty products, as well as all things grocery and shopping. When she's not writing up our research-based ratings reports, Megan spends her time helping consumers make better purchase decisions, whether it's at the supermarket, other retailers, or online, highlighting the best deals and flagging anything you need to be aware of.
Online Grocery Shopping Reviews
Picture credits: Evgeny Atamnenko / Shutterstock.com, Altitude Visual / Shutterstock.com, Pressmaster / Shutterstock.com