Australia's supermarkets are winning the private label fight for hearts and minds, with shoppers switching in their droves to save money.
Canstar Blue has found that the number of Australians who tend to buy private label groceries over big name brands has increased by one-fifth in the space of just six months, from 44% to 65%.
Not only are more Australians buying private label goods, but consumers are also becoming more convinced about their quality. Three quarters (76%) of the 3,000 adults surveyed in December 2015 believe that private label Coles, Woolworths or ALDI brands are 'good quality'. That compares to 59% in June 2015.
Why are shoppers switching?
Head of Canstar Blue, Megan Doyle, says that when presented with similar private label and brand name products, most shoppers are inclined to take the cheaper option, believing there to be little difference between them. Or if there is a difference, it isn't worth the extra cost.
"Unless you have a strong preference for a particular named brand, chances are you will perceive the private label alternative to offer better value," she said. "You need to be convinced that a big name brand is superior in quality to spend the extra money. With private label products improving, the difference in quality seems to be narrowing and consumers are simply following the cheaper prices.
"Private labels have traditionally been seen as the cheap and nasty alternatives, but perceptions are changing and consumers are switching to save. There has been a huge change in attitudes in a short space of time.
"It's no coincidence that this change is happening at a time when the major supermarkets are placing more importance on their private label offerings than ever before, with Coles and Woolworths trying to cut prices and improve quality to stem the flow of customers to ALDI.
"The challenge for the big two is convincing consumers that they can do a cheap, big shop at their stores – that means convincing them about the quality of their home brands. A large increase in the number of shoppers favouring private labels suggests their efforts are paying off."
Another significant change in the last six months is the number of consumers who allow the cost of basics to dictate where they buy their groceries. Almost half of survey respondents (49%) said the price of things like milk, bread and eggs determines where they shop – up from 35% six months earlier.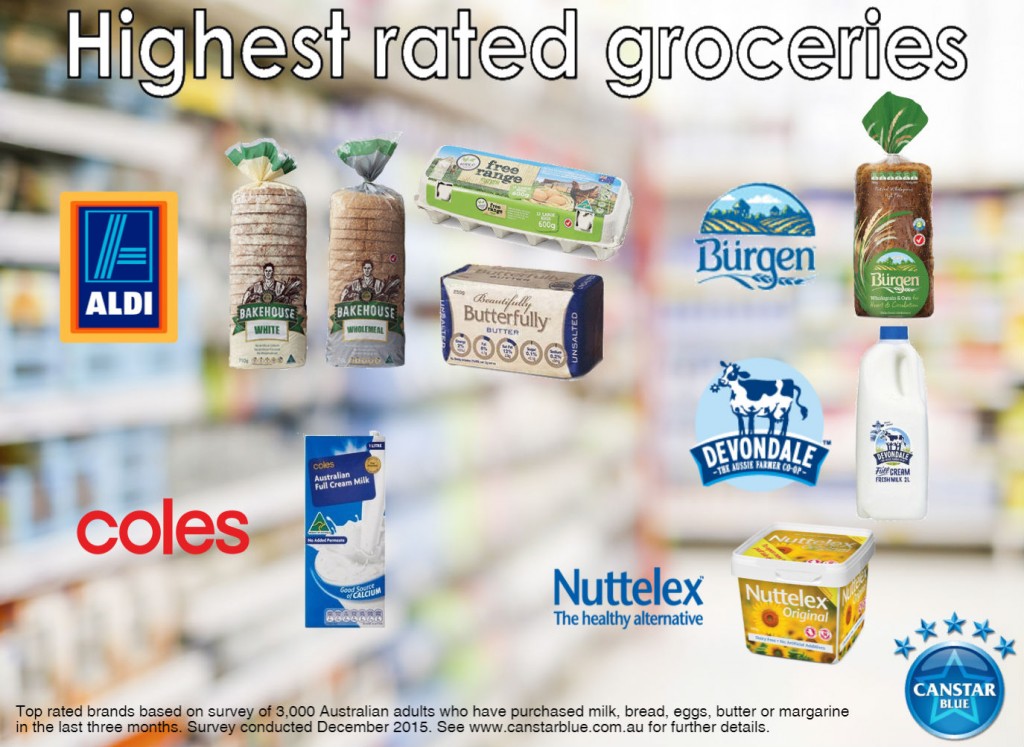 Highest rated groceries
Another sign of the popularity of private label groceries is Canstar Blue's latest customer satisfaction ratings for a range of shopping basket essentials, which has seen supermarket brands dominate their big name rivals.
Survey respondents rated the milk, bread, eggs, butter and margarine products they had bought in the last three months across a number of relevant variables, including taste, value for money and overall satisfaction.
ALDI brands topped the table in four out of the eight categories, while Coles was rated highest in another. The remaining three categories were won by big name brands – Devondale, Burgen and Nuttelex.
The eight categories and highest rated brands were as follows.
Private labels currently make up about 20 per cent of supermarket brands, according to market research firm IBISWorld. But that is projected to grow to 35 per cent of all food and grocery sales within the next five years.
"Even in those categories won by big name brands, supermarket private labels still performed well," said Mrs Doyle. "Some Coles and Woolworths products were rated highly, but the overall picture is that ALDI brands are impressing most.
"The supermarket focus on private labels means cheaper groceries for consumers, but it could also mean that only the most popular brand names will survive on supermarket shelves in the long-run. Some brand names are facing a fight to survive.
"A lot of shoppers will never look past those trusted household brand names such as Devondale, Burgen and Nuttelex, but for a growing number of consumers, it's the cheaper alternatives that are filling their shopping baskets."
About this research
Canstar Blue surveyed 3,000 Australian consumers in December 2015. The customer satisfaction ratings are based on the responses of those who had purchased the various supermarket groceries within the last three months. The comparison with earlier insights comes from a previous survey of 3,000 consumers in June 2015.
Compare supermarket phone plans
Other articles you might like
Online grocery shopping review