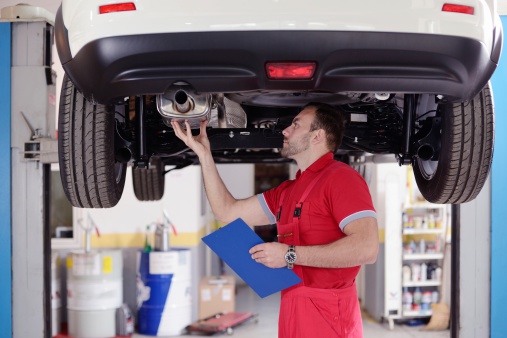 Since the Global Financial Crisis, car dealers have been highly motivated to drive what they call their 'ancilliary businesses' (i.e. parts and servicing) a lot harder. There has been some resistance from consumers, with many new car owners looking elsewhere for more affordable service options as a means of reducing ongoing ownership cost.
The response to that has been a flood of 'capped-price' service schemes administered by the major brands, most notably Hyundai's policy of offering capped price servicing for the life of the vehicle, offered retrospectively. These are aimed at making the standard service costs constant across the board, which will – the car industry hopes – reduce the number of customers shopping elsewhere for service.
There's a lingering presumption among new car owners that the factory warranty depends upon you getting your car serviced at an authorised dealership. Nothing could be further from the truth. The ACCC is very clear on this: any move to make the factory warranty subject to authorised service (in other words, getting the car serviced only at a dealer authorised to sell that brand) would be anti-competitive and therefore illegal.
You are, therefore, completely free to shop around for servicing on your new car, from day one of ownership. This is a good way to ensure that you're getting both a high quality job, and value for money. According to the ACCC, there are three basic caveats with which you must comply if you want to preserve your factory warranty.
1. Qualified staff
The person doing the job needs to be qualified. In the case of your car, they need to be a qualified mechanic. It's that simple. What this means, however, is that doing it yourself is risky – unless you are qualified. Changing the oil yourself might be one of the most expensive decisions you ever make – if something goes wrong.
2. On schedule
The servicing you commission needs to conform to the service schedule. Many Japanese brands still have a six-month or 10,000-kilometre service interval. (Service intervals are typically both time and distance-based.) You need to make sure the servicing takes place on or before the due date or distance, whichever comes first. Additionally, all the jobs specified by the manufacturer for that service need to be done.
3. Fit for purpose
This condition is about the replacement parts and consumables used during the service. For example, oil, filters, brake pads, timing belt kits, etc. These do not have to be 'genuine' parts. That is, you do not need to use Toyota-branded brake pads on your Toyota, or a Kia-branded replacement timing chain on your Kia, et-cetera. According to the ACCC, stipulating this as a condition of warranty preservation would be uncompetitive too. What is important is that the parts and consumables used must be 'fit for purpose' – which means, broadly, designed to fit your car. In short, it means that using (for example) a Ryco-branded oil filter, Repco brake pads, or Castrol oil, will not void your warranty – provided the parts used are designed for your car, and the right grade of oil, brake fluid, etc., is used.
This is very good news for consumers: despite the proliferation of apparently good value service options in-house by the various automotive brands, you can shop further afield for the best deal – without putting your factory warranty on the chopping block.
John Cadogan is at www.autoexpert.com.au.
Other articles you might like
Four things you need to know about your car's tyres