Review of Electrolux washing machines
If you have ever wanted a slice of Sweden but can't afford a European holiday, then have you considered buying an Electrolux washing machine? Electrolux is a Swedish brand that makes all manner of household appliances, including refrigerators and vacuum cleaners. Electrolux makes washing machines as well, dabbling solely in front loaders. Relegating top loaders to yesteryear, Electrolux's front loaders are tech-forward and eco-conscious. So, what's in the range and are Electrolux washing machines good value for money?
Electrolux front loader washing machines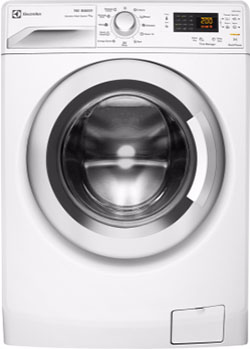 Electrolux currently offers five front loader washing machines. Models range from 7.5kg in size to about 10kg, with prices ranging from about $1,000 to $1,500. As of 2016, manufacturing was still based in Australia, but much has been moved to Thailand. We imagine that Electrolux still imposes its quality control on its Thai factory, so quality should still be what you should expect with the brand.
Among the five models, you can expect these features:
'MyFavourite' program: This allows you to save your most commonly used program and 'speed dial' it with one button.
Vapour Action: This not only sounds cool, it is cool. This is basically a 21-minute 'refresh' cycle that helps revive and freshen-up garments without water or detergent. It uses vapour instead to remove wrinkles and odours, so your lucky underwear can stay fresher for longer.
Jetsystem: This is a way of washing that is kinder on your clothes. Instead of pummeling your underwear until it is clean, Jetsystem gives a "constant, gentle shower" of water and detergent that massages through your clothes. Massaged undies – nice.
Silent Inverter Motor: A common gripe among front loader owners is that it sounds like a plane is taking off when a front loader is in mid-cycle. Electrolux has tried to minimise noise with its silent inverter motor. This aids in efficiency, but also improves durability, which is backed by an Electrolux 10-year motor warranty.
Woolmark Cycle: This is a special cycle with a Woolmark Certification, made for washable wool wear. It allows you to wash and dry your prized woollen items without fear of shrinkage.
Time Manager: This includes both a variable wash time and delayed start. So, while a lot of washing machines delay the start to when it suits you, have you seen a washing machine cycle end exactly when you want it to?
Quick Wash: An 18-minute quick cycle for lightly-soiled garments that you need. This could potentially let you wear your lucky underwear all week!
Beyond these features, Electrolux washing machines are also generally flat-out efficient as well. With regards to water and energy ratings, expect to see its washing machines score four-stars or more. Take the 10kg model (EWF14012) for example:
This large capacity machine scored 4.5-stars for both water and energy efficiency
It consumes 86L of water per cycle, and 304kWh of electricity per year (based on one cycle per day)
Top loaders of a similar capacity can use up to double this amount!
Electrolux washers are also made with convenience in mind. Its models boast 10+ programs, plus an anti-crease function so you won't be frantically reaching out for an iron after every wash.
What about Electrolux washer dryers?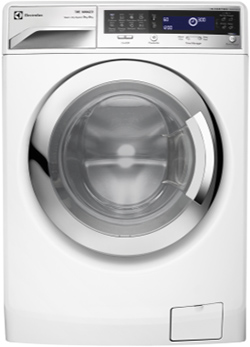 Electrolux also has you covered if space and/or convenience is a concern, with its three models of washer dryers. They come in capacities of (washer/dryer):
5kg/4.5kg – (EWW12753)
8kg/5kg – (EWW12832)
9kg/6kg – (EWW14912)
Expect these combo units to cost a little more, with prices between about $1,500 and $2,100, but what you pay more for in one unit, you might save money over buying the two units separately instead. While the drying capacities might seem rather small, you cannot deny the convenience of having it all in one package. You won't compromise on features, either, as the list includes Jetsystem, multiple programs, water sensors and the same great water ratings.
However, energy ratings take a bit of a hit. The 9kg/6kg model consumes 436kWh for example. Water ratings are still stellar, though – this model uses as little as 64L per cycle, thus earning a five-star WELS water rating. Another major bonus is that you can add clothes mid-cycle. This is a common gripe among front loader owners, so having this on-deck is a really handy feature. When it's all said and done though, perhaps what matters most is your hip pocket; are Electrolux washing machines worth the money?
Is an Electrolux washing machine a good bet?
Electrolux's washing machines are a very viable option for a lot of Australians. While not as cheap as, say a Simpson washing machine, many of the Swedish brand's models rival German giants Bosch and Miele in terms of features and efficiency. Electrolux models also often come in at half the price of these two Deutsch brands.
Besides moving manufacturing offshore, it's really hard to put a foot wrong with Electrolux. Its front loaders frequently achieve 4-5 star ratings for water and energy efficiency, while packing in a lot of features that make washing clothes not-so-painful. Its models also have a raft of features that won't wreck your clothes, and some intelligent cycle options for the time-poor. Electrolux also won't break the bank – with many models priced between $1,000 and $2,000. Overall, Electrolux seems to tick a lot of boxes, so it's hard to go wrong with the Swedish appliance giant. But always compare your options.